Thanks man that was my issue haha. I feel kind of stupid now. Thank you again for helping me!
20ms u would have to change the 0.02 to 0.01 cause look at the bottom right "total duration" u want that to be 0.02
awesome thanks… killer macro boss
Hello @bladePro what is the actual macro? and are u using now gluttony in 8.25 or spirit bomb?
/startattack will begin combat. Insert it at the beginning.
If you take a melee ability and remove the [combat] section, that will activate that ability as well and begin the macro.
I don't understand the 20 MS. Can someone explain it to me? I don't have Razor like the user above. I have a corsair keyboard and logitech mouse.
This macro is very good for tanking.
could someone link an armory / share a guide with bis item and essence? Dunno how to do perfect build.
Have a nice day!
Check the comments, blade posted some pictures.
MAJOR ESSENCE
Anima of Death
MINOR ESSENCES
: Anima of Life
: Endurance
: Sphere of Suppression
: Strive for Perfection
CURRENT AZERITE GEAR BLADEPRO USES FOR M+
HEAD
Hood of the Slithering Loa
SHOULDERS
Gorak Tul's Mantle
CHEST
Vest of Reverent Adoration
:CURRENT STATS ON BLADEPRO TUNED FOR M+
BLADEPRO DH TANK STATS

BLADEPRO DH TANK TALENTS FOR M+ [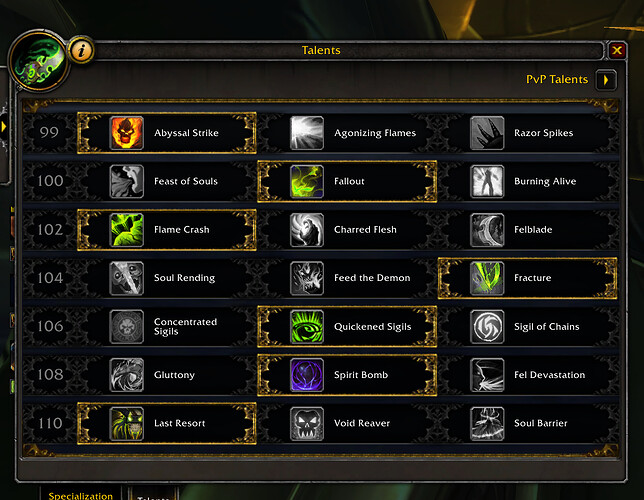 More logs and item preferences coming here later tonight along with tuning on the macro and corruption gear that i feel like is the best for m+
KEEP SMASH ING
HARD AF
WE ARE OUR SCARS
give give give

need to farm

Im new with essences and stuff, so how do you have anima of death as major an life as minor? I dont see how you can get it like that
@ryan-meyer You benefit from both Major and Minor when you equip a Major essence!
ryan-meyer
when you put essence in major slot - active and passive skills work.

does anyone see updated macro?
Hello,
I have imported this macro, created icon , but when I try to enter combat ( Glaive) it does nothing. again I initiate combat first then smash key. It stays stuck at demon spikes, only damage that registers are , melee, fracture and throw glaive…
please help and thank you
*************restarted and reloaded everything works now… than you
I keep going back and forth with essences on different high keys

this is my raider io for anyone interested i only do keys not raid.
i have rank 3 Echoing Void which is still been really good in m+ just trying out Crucible of flame major and vision major without gluttony
so… when you post update macros ?
cant import for some reason. any ideas why