I've been a long time user of GSE and macros on wowlazymacros and in the past I've edited some macros to fit my own play-style but never really attempted to make my own. Since returning to the game mid way through Dragonflight I've noticed the limited number of macro creators so I decided to create my own for personal use. This is my attempt at Arcane Mage, feedback welcomed.
Macro User Guide:
MANUALLY USE MANA GEM AFTER ANYTIME ARCANE SURGE IS CAST
Manually use either OPENER depending on whether lust is being used or not.
Once either OPENER uses the Shifting Power spell, activate ST_ARCANE_LEGION.
Let the macro fire until Radiant Spark and Touch of the Magi are off cooldown.
Once those spells are off cooldown, hold CTRL until Alter Time is used, then let go of CTRL.
Watch and wait for Evocation to be off cooldown.
Once Evocation is off cooldown, hold SHIFT until Shifting Power is used, then let go of SHIFT.
Continue main macro until you can repeat the CTRL and SHIFT cycle.
Talents:
B4DArSxcnei16P8xFL3rzzOyRSEUSDJSkigIJERSIRCkEk0SCAAAAAAAAAAAISSSSkkkEIA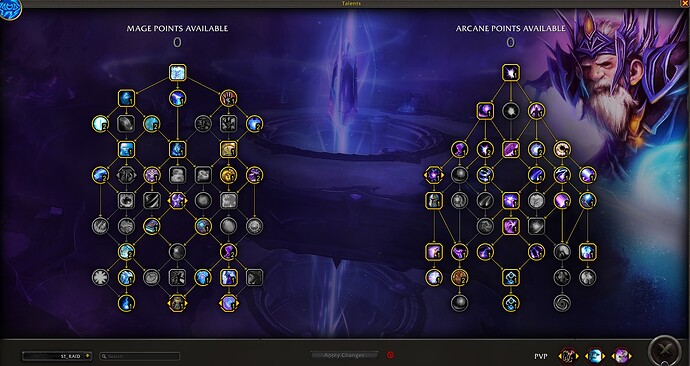 SINGLE TARGET MACRO - RUN @ 100MS (SYNAPSE)
dG07faakOQYPGGmlO0UGa5xsHHPKogPSmPYZuktJu5AevBtOY3Ga14OQ05Giwhe19Ga6FejdecWbvPfsuEikzIcLlksBes8rHQgPuvNueRec1lHKMPu6Mkr7KKFcvgQu0sfYtPmvvCvu0wHi9vQkERuL7Qe2l4VqvgmvomQwmkvpwvMmkCzjBgc5ZOugnvvNwv9AIy2iCBOy3e(TOgoK64ePA5i65cMosxNu12HQQ(orkJhcQZRuTEOQmFQY(vmObhqPbMDW7gX6QsXRnn(eCkq1bhWoCIsqdGjfwPWkfwPWkfwPWkfyx9u)zsWykKiYstmUREQ)mjyXBPiTid)SauBRiyDGLkquM8vSYyqZPC2)eF6oidSwEGYendoTyaw3A32QVR(QT2He5Yb7GJfOqYA3QCWwYFK5aCaLgCadPCYpNDIkahWqT2JkIIhk4aknWA84b646HjZazobfRi)8ZfII4lyBX4UKpUOg3YFi8jQaqbd1AVjzfcWbuAG1GYjzROLOWSpUEISFojgSJtKzuCgl6XO4mwaQoWA8i(pjJRhMmdKd()iIUyC2bpuy22kJzKcuBG14r8Fsgxpmzgi)OKelgNDWBzIkrgZifO0bwJhpqhxpmzgiZjOyf5NFUqueFbBlg3L8Xf14w(dHprfakqb7(O)SiahqPbhqPbhqPb24nEOw7njRqy8gpq1bwJhpqdL01xIxnUEImMmdSI8ZpxikIVGTfJtt(wCDXbQnWgVXd1ApQikEOgVXdSZo6cS7J(ZcGcQo4aknWgVXd1AVjzfcJ34bQoWA84bAOKU(s8QX1tKXKzGvKF(5crr8fSTyCJBCKvOOiWxgd7C64g32Qo5Ayh32Qo5Ayh32Qo5Ayh32Qo5AyhNoD66KdQnWgVXd1ApQikEOgVXdSZo6cS7J(ZcGcQn4aknWgVXd1AVjzfcJ34bQoWA84bAOKU(s8QX1tKXKzGvKF(5crr8fSTyCDBY1jFfuBGnEJhQ1Euru8qnEJhyND0fy3h9NfafSZo6cS2Cgnyrf6ItbLgygTqJIEXJ(ZcWAs(ZKF6oqbkyjc21)jOiLt(5Stub4agRmg25uqgyhYVqsr1azGDi)cjfTdKbuGcuWm01ljgO8fmFkUKREsEaoafSLfLhJt5WbS(fbAIVqcy(Pu0bKB0qAzPrWX3og(JmhqqVmgWoCIsqdGjtxSlPHWpr91IRPVimkTBK4dF42JSuMwmeBs(SLG40iljILKujRgR79EV379EVjMzMejsstUGfVLI0Im8ZcqTPTHeWU6P(ZKG1MgFcofcGfViQaLKhWhySi4Hqsmq5lyPceLjFfRmg0CkN9pXNUdYa7GJfO0wx1wLdw)Ianyw)euoipo7GhkmBBLXmsno8RpU2yJZN(PQXXchU2y48rzJ7gLooMnhhk4IghkmBBhNmMrQX1S)1srObXSorTipo7G3YevImMrQXHF9X1gBC(0pvnow4W1gdNpkBC3O0XXS54qbx04wMOsgNmMrQX1S)1srObX32dYJ7gX6Qsh3YeZsAtnWA5bkt0m40IbyDRDARX11PHKnDBYblwHiUEckO0atXXuGzh8UrSUQu8AtJpbNcmdD9sIbQ46aZNIl5QNKhGdqbBjxONtKiOfj(xc6plazafOafa

ST_FULLBURN (HOLD WHEN COOLDOWNS ARE UP FOR FULL BURN PHASE)
dyu1daalvzxek8liQHjYXeAzi5zQQPHORrW2Kk(MeY4KkDossRJqv3Jqj)JQQbsvQoiuwik1drftucUikzJseFuIQrsc5KiyLKaVKe0mjvDtsk7eP(jPOHkHAPqKNszQq1vPk2kjYxjH6TKe3LQK9Q8xQszWI6WGwmPYJrvtgv6YaBwI0NjrnAQkNgsVwQA2O42qy3e9BPmCe64ek1YL0ZfmDvUoHSDcf9DjkJNqLZtkTEsH5ts1(PYlo8rhNz4ERep61Z2ds0JMA4ZWHma5fM5)5)5)5)5)5)5FgMOZxRoZJSx2kt6YyIoFT6SYnwkbQb0MC0)urKZyjlTv5bCAiicpOoug0t7yptpmCEiYfEaUZOsu)u3u3y6Ni7mdxtoJw1evsyMAq(Alm8rhh(mLGvuOogqy4ZuiqBXvqim8rhNH8bRkdoGeGqRlRIS5dwr8CzzJlaY1lv4cGC9A0uZqMhgoxwfenUIhYCpzJ3hukbmOsL9YLXQ8qjWLvdneqzaHD7MHXFOnzy4Joo8rhN5u3PUcbAlUccbN6o1hn1mK5HHlaeBrajpWLvHVHqh8EYgVpOucyqLk7Ll7YUCfeaNyX3qOdEUSlhPscXNl)tKcXNl)lQtm9FUCmsQk1)5Y)ocFH0ZLjjjPeEU8NkkKk65YujHeLWZL)jsH4ZL)jsH4ZL)jsH4ZL)jsH4ZL)jsH4ZLjjjPeEU8Vlfjz65Y)ePqCgUwIGzy8hAtUB3mcsDIqzoLGvuOogqy4Z40qOdEJ9m8kQShCXXEgEfv2doQXE3UDZmIaEcfgD3zkga7XevHHHVBMAGdwaEWHptragImOY(z(UJyq8iJCzTYyGAOfbKV2cIbFdXmCidqEHzSjlGvnXXlbOXof3vCLO)x1qdn1IKXYJvqbwpQYeualKmciXPNvFY4GHHHHHHHHHHrWmZ677zraBghgyiqOWO7odt05RvNPNv5e0K27CGagq4QWGgZk3yPeOgqBYr)JFvNPgukcYqqEGQycKhAto2ZW1KZOJPumjmtragIZMPhgope5cpa3zujQyQdfvu1p5xywbqPqrm3OJZOHiaZmCVvIh96z7bj6zgrapHcJUd1mfdG9yIQWWW3nJLS0wLhWPHGi8G6qzqpTJ9UD72a

ST_MINIBURN (HOLD WHEN COOLDOWNS ARE UP FOR MINI BURN PHASE)
dy0SdaalOAxeb9lqvdtLoMqldvEgctdLUMi2gf03OKACkQohfX6isCpIq9pQkdKiWbH0crupefnrkLlIuTrIi9rrIrsKYjPkRKiQxsuyMevDtrQDcYpPKmuQQSuqLNsAQq5QkkBLc8vIu9wIk3LO0EL(lrsdwfhgyXuupgvnzu4YQAZuv1NPinAkvNgIxRiZgj3gu2nHFlQHJihNiKLRWZPY0v66iLTteX3fjnEIIopLy9uiZNc1(fCJfRqXQkMut7b5rEgCqfIRyvXauVyDv9H7d3hUpCF4(W9vfL2AppQotmjYPkchuAR98OAkkDd(HdjlkeX1A2Q0f(Nh8pZmmsGfygHczTuYvLh42zKya2NrvUlhXD(DE8seVevL(dMqPnaUI1TAAa)i7kwHIfRQbGbcWm17kwvz8w8B8oxXkuSk8lyy6VV4HzjCKtKTdgWWdhrMXdyiRCmEadzlexv45bUnCKdwMHuaulUiZBhiepfIWuzdh0bpq8HtAeNdH6DD7wfLFrYcxXkuSyfkwnyCWyz8w8B8oxW4GXfIRk88a36EjI2l4)Wro(mmZGfxK5TdeINcryQSHt4eoJ39ReZNHzgSHt4qCztI4HdH1ggVe4HtmYAchbE4WYYYLGhoeCXKR14HdXLnjIhoex2KiE4qCztI4HdXLnjIhoSSSCj4HdblhhBcE4qCztIvXSq6RIYVizr3Uv9eMPHqTgagiaZuVRyvzMHzgSLCvSbIy63yjxfBGiM(LRK72TBvL0Z7zRqZRIzfZczYL7Mun9VaBGfuSQs7PirHiMQAFxsoPap8PMtLcyKfya(r2jH8zyvXauVyDvjZAdDOYKx8ird9BUmLu5jggzKvwGtPptTjzDcXupjtho1doMt0NUktuuuuuuuuuuupvvDAAIUhA10abnaLNy)HK8Ifjlk5QO0w75rv5PNINvqsatWt9UDaCgvnfLUb)WHKffIisysv6c)Zd(NzggjWcmJqHSwk5Qs)btO0gaxX6wvEGBNrIbyFgv5UCXRHCCrtiyjsQkTNIu1QqayFvftQP9G8ipdoOQ2E)b0O2cfRQKEEpBfYqUQywXSqX7nEtQYKc4CE2k08UD72ca

ST_OPENER_LUST (MANUALLY PRESS IF LUST IS BEING POPPED ON PULL)
USE MANA STONE AFTER ARCANE SURGE IS CAST
duuVdaalGDrvu)IKQHb5yIwgfEMIPH4AQABsuFdPQghi5CKewNkQCpKQyGivPdsIfkP6HQiteK6IGyJiv4JufzKiv0jjvwjjPEjjjZeuCtjs7Kk(jOQHckTuqLNQ0uHYvjLSvjIVIujVvc1DLq2lQ)sk1GL6WuAXsIhRctws6YeTzsk9zvugnPWPPsVgPmBQQBtQA3Q0VPOHlPCCvu1YrYZHQPt46uL2osL67KenEskoVeSEQcZNu0(fMtgJDsExmTHhwioqGtBy0AXyhdgJ3sThuM4mg7KmgVLyPCTv8L4mgVQswawkjooJXojVQlSuNjfYRuFHOl(AQHLsp4AwvARwuXvL2QfXcwWRYHW18IZyStYyStYBOzOPQKfGLsIJhAgAYog8Q(HfxGlpVx59qgDXxZdnS3R039EwrrhD0usCPGEom1xXkIo6)hIbi60a9ji68NYgLbrdfA(be9GiFcIEOF5enGOZKOcJbe9u(NhbIMqigpi6XiFe9brpiYNGOhe5tq0dI8ji6pjdi6br(ee9GiFcI(tYaIEqKpbrpiYNGO)KmGOhe5tq0dI8ji6pjdiAd0JmEq0dI8ji6br(ee9GiFcIEqKpbrpiYNGOhe5tq0dI8ji6pjdi6br(ee9GiFcIEqKpbr)jzarpiYNGOhe5tq0dI8ji6pjdi6br(ee9aLbHGarF967ZlwHAsEvoeUMxwWcE1DR411xuILY1wXxIZy8EYuFfRGRZlgL7LMuKCDEXOCV0KcdUolybl4LUKwAkEPS4mgl4fglUqRAvTczvEnqgdckeujAYXG3sLcl0wHLX4LoL(18DV04vdHOg(5uxDvAQsFRhf0BpOmX98HPEEXS(YRaN36eOvOw1CCLUzzyHsn0bmdLhEaFb4wiATqR6LM7z6une4wDWDIgeAO9KIIIIIIIIIIIUD3LgnAq0PWRIxHgMu8cdepPdEh69Kv6lXfuwCp41tlKsKu4UMx2zYrf8wQ9616R7kKu0T8kCnVCDEHwQwRxFb7K86y1l5DX0gEyH4aboTHrRfJ3TM8qh0StzdEXG)e7KiuIEEHCvRj1H8KP(AwHTIRVROaxNfSGfmd

ST_OPENER_NOLUST (MANUALLY PRESS IF LUST ISNT BEING POPPED ON PULL)
USE MANA STONE AFTER ARCANE SURGE IS CAST
duezdaalkTlKI8lujdJuhtPLrLEgrtJKRHY2eQ(gQqJdvX5qkQ1Hus3dPugisfoiswOe6HsWeLsDrPyJiv0hrfmsKcojbwjQiVePQMPuYnfe7es)KQYqLkwQuPNkAQQ4Quf2QGYxrkXBfuDxbP9c(lQsdwvhMIfluESenzH4Yi2mQO(mvrJgvQttfVwQA2cCBcA3s63eA4cPJJuOLdXZvPPd11PQA7iLQVJuLXJuPZtvA9OQA(OQSFfdlCa0fY8WRVonOnD5f1xlpYdG6chidXuIiEHdGUWbYWmioMybKlCGK(eVDqi3lCa0fsUWgepjysLi078Hxf52Gi0wfJqmrcn8ietKqbmGHKQe7iwVWbqx4aOlKdFdF0N4Tdc5Eh(g(auxi5Q0CXxcn6NuljZhEvSKBtTscCQEg68Zppc5sW0wPOWyg88ZZysLRD(1vZw78ltg3nUDEPwXw78sogF1s787QOzxPDEzCMKPTZRukxMDEP7Y0C0oVuRyRDEPwXw78sTIT25zRsANxQvS1oVuRyRDE2QK25LAfBTZ7QzAxMDEPwXw78sTIT25zRsANxQvS1oVuRyRDE2QK25LAfBTZl1k2ANxQvS1oVuRyRDEPwXw78sECvkTD(Q)GaipEJsGKQe7iwbmGHuqnMFNaCygehtSaYfoqwquymdgkc5bXP2tWlueYdItTNGDHIagWagsAHy6P8JyUWbWq2YCXEenIbtIaPR2vQ5zvltZJIbzieSPTbBGdK0ajiAGtThsUX4OxALlUONi9cm87vOPer8stLIcH8yciv8fYIQ2uijDlReNnEhEOlD2sIWp)(82nB8iBZPS3XtbCQPBkOBH(MEDwGIIIIIIIIIIsqMz2333iGcsk)yUfrGSvdhe4dLokyibKlgXC5hsoKnHrqUoIvavUknKHyQ(nbcQyccTtQyhXkueY2eoB8hGb0fsuJqcK5HxFDAqB6YlQVwEKhiZOKsbTb04UqE8vaqxTE1miBQCwePKuquyud2eZjWb7fkcyadyaa

THE GEAR I USE IS LISTED BELOW