AUG ONE BUTTON MACRO
dyulkaWjbQQxPeIzPeSlLi6xkPgMa6yGYYefptuAAuu4AqABuuuFtvsnoeoNQQY6ucv3tGQmqbkhuvSqkKhQQktuvIlkaBeuvFuvsgPQQQtsHALcKxIOMPsOCtLOStG(PavAOiILIi9uKMQO6QuuARkr1xvIWAvcP3QQYDvLAVe)vjsdwKdRYIvQhRyYKCzjBwQpRKmAk40aEnfvZgIBdQSBk9BqgUQYXPOilhQNl00j11PiBhuLZlO1lqfZh1(PAbMKlGWekSankGhYl9XSVAP08mcygjxOl2f1M9tD6sj0mbMjBGVggrManJmWYk0LDdgkk5cimjxOl)Wa3gPIsUqjxHKwi1fljxaHjuE6wPUR71Zf1m2t)GdsT4rdaTEbpzHgdN1wia2vV90IwFgcXIwOKRqsWvmk5cimHYt3k1DDZt3k1DDVwF4vLUSfCHmMXE6NfYWHH79pvDQ3cygHYt3k1DDZt3k1DDVoQpS(06BmNXm2t)SqdeC7t)waZkuE6wPUR71Zf1m2t80nbXERu80nk6mOO)GdsT4hIEbpzHgdN1wia2vVzSN4PBcI9wP(pe8kmJzSOfTqFgnaKnk5cimjxaHjuNDMCfscUIrNDwaZiuE6wPUR71Zf1m2t80nbXERu80nk6mOO)SqJHZAlea7Q3m2t80nbXERubSHSEAzaRmOzmJfWSc1zNjxHKwi1flNDwO5HFLqFgnaKv0cygjxaHjuNDMCfscUIrNDwaZiuE6wPUR71Zf1m2t80nbXERu80nk6mOO)SqJHZAlea7Qf8uWgt4ie(nJ9epDtqS3kf8bWLNmcxN2aJzSaMvOo7m5kK0cPUy5SZcnp8Re6ZObGSIwaZk5cimH6SZKRqsWvm6SZcygHYt3k1DDVEUOMXEINUji2BLINUrrNbf93y4S2cbWUAbpfSXeocHFZypXt3ee7Tsz2pd1bVdHXmwaZkuNDMCfsAHuxSC2zHMh(vc9z0aqwrlGMHKlGWeQZotUcjbxXOZolGzekpDRu31965IAg7jE6MGyVvkE6gfDgu0FwOXWzTfcGD1Bg7jE6MGyVvQaWM(0aqwgZybmRqD2zYviPfsDXYzNfAE4xj0NrdazfTaIk5cimH6SZKRqsWvm6SZcygHYt3k1DDVEUOowMjtLDkg7jE6gfvPMHNUrrNbf9NfAmCwBHayx92tmMXEINUji2BLINUrrNbf1t4kw6G3ab3(0EIXEINUji2BLAXaGhGDLNGpYbxXygVGN4PBcI9wP4PBcI9wPEcoMWLNOAmG5fJzSaMvOo7m5kK0cPUy5SZcnp8Re6ZObGSIwanZsUactOo7m5kKeCfJo7SaMrO80TsDx3RNlQzSN4PBcI9wP4PBu0zqr)zHgdN1wia2vVzSN4PBcI9wPYb(8K2q5j6CivKXmwaZkuNDMCfsAHuxSC2zH(cq82iLs2cnp8Re6ZObGSIwaFTKlGWeQZotUcjbxXOZolGzekpDRu31965IAg7jE6MGyVvkE6gfDgu0FwOXWzTfcGD1Bg7jE6MGyVvksWvCak7umMXcywH6SZKRqslK6ILZol08WVsOpJgaYkAbKqYfqyc1zNjxHKGRy0zNfWmcLNUvQ76E9CrnJ9epDtqS3kfpDJIodk6VGbFOXu8nJ9epDtqS3kLriarDHbSR8eDoKkYyglGzfQZotUcjTqQlwo7SqZd)kH(mAaiROfW)j5cimH6SZKRqsWvm6SZcygHYt3k1DDVEUOMXEINUji2BLINUrrNbf93y4S2cbWUAbpfSXeocHFZypXt3ee7TsbFaC5jJW1PnWyglGzfQZotUcjTqQlwo7SqZd)kH(mAaiROfqybk5cimH6SZKRqsWvm6SZcygHYt3k1DDVEUOMXEINUji2BLINUrrNbf9NfAmCwBHayxTGNc2ychHWVzSN4PBcI9wPm7NH6G3HWyglGzfQZotUcjTqQlwo7SqZd)kH(mAaiROfTqn2UnbGOx(HbUnsfLCH(heC7tlgjArlAHs)QX4xeqyzf6suN5pMWxuYfTqxwPVxo9j5c9)fYhcG1CHk08dPS6OqnkGXOyqMw)YIeiSV)z)wu4z(Yxe7syS550G(GFqbDgm3C6Fuk9LNNNNNaEEmpaJngiG)ckONNNhJj9pkGXb9aAKqFmPnaHfQqFfnGLx4iaKvaZcl7)e6YoRPdXyRUWWRSAaiRyKqFP6ZeIwaHjuWdUsOWc0OaEiV0hZ(QLsZZi0)xiFcf(Mqq80GlfG2tAip9QZ03zv3cEAFrG5qqc9eU(qUPuE680az6dP8eu7P4xHGexFBaeanqf9KgYtACONI1ycxE680(IaJNEmTcUYQpnaK1tyi9PbGSlPhKhKXEcWoiMuLN2HE6Vxc(rpbz9uS(o8PlpTnP1q2ON0qql4Pl6jJ9ecG5LN0qEQbWLN0gk48eu3EcUZA6qqcxspiHs)QX4xeqyMXRZk08G7FciSadewGOcnaBdHN6pi4(o9Tbqa0HIrIw0Iwe

TALENTS BELOW
BEcBsJu/D+01p9npZvkV+nWIkTSJpFJJahkkSCSSSDAAAAAEAAkEIIiECJJAAAAIRCSiIJANB
I'm only level 67, so you will need to just choose your own last 3 points.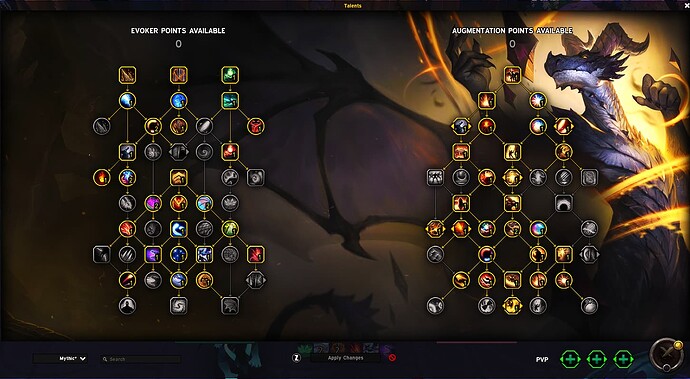 This macro applies blistering scales to who you focus, so make sure to set focus to the tank at the start of dungeon/raid or edit the macro yourself if you wish to change this
I include by CD's on separate buttons too, as I like to fire them off manually.
Usage Information
Full credit to Gaupanda, basically replaced a couple of spells/abilities to try secure a basic Augmentation rotation.
This macro contains 1 macro template. This Sequence was exported from GSE 3.1.39.