I am not new to macros but not an advanced creator either.
The changes from GSE2-GSE3 regarding Keypress and Key Release also play into the confusion.
My macro is the current PALYTANK in the forum. I am trying to add Ashen Hallow into the rotation It fires but it keeps cancelling early as it is designed to be canceled to reserve Cool Down time. I don't care to cancel it early. I want it to stay active for the entire 45 sec duration.
I have reviewed help topics and Lutechi's video https://youtu.be/tY1-_a47qMc regarding click pause but the differences between v.2 and v.3 make the older video not too relatable.
This set up will not prevent the cancelling of Ashen Hallow
I even tried "/cast !Ashen Hallow" also will not prevent cancellation of the spell upon 2nd keypress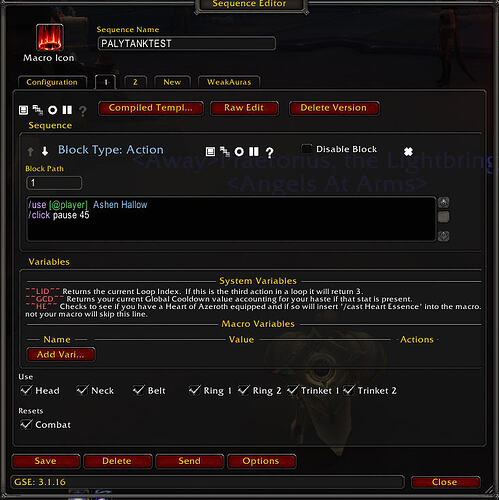 NOTE: I do not use the logitech mouse or software. all my pauses are real time