Thanks for looking at my profile and giving it a try! I've successfully been using this profile throughout all of Battle for Azeroth, doing all kinds of content from high Mythic+ keys to Heroic raiding.
I've just come back from a long hiatus of playing, so I'm building myself back up to enter the Mythic raiding scene again.
My setup and character stats: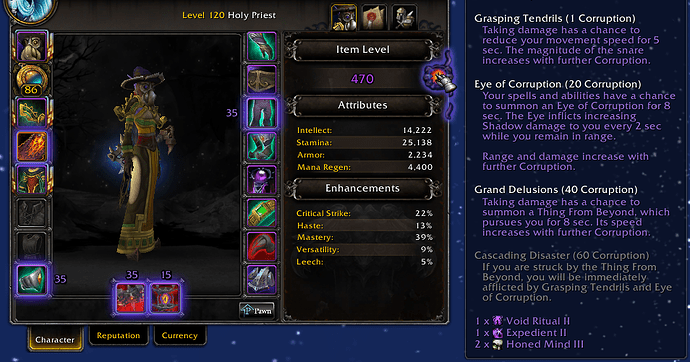 Targeting Priority:
Mouseover, Target, Self

Modifiers:
Left Shift: Prayer of Healing
Left Control: Flash Heal
Left Alt: Holy Word: Serenity

Step Function: Priority
Main Sequence:
Holy Word: Serenity, Prayer of Mending, Circle of Healing, Prayer of Healing, Flash Heal, Heal
Key Release: Desperate Prayer (in combat), Fade (in combat)
Additional notes:
If your stats are heigh enough, you should be able to fully remove Heal from the rotation and simply cast Flash Heal instead. I'm going to update the main profile with a second version.
Macro:
Simply copy all the text in the block under and paste it into the import screen when you click Import in the GSE addon.
de03eaakjj6uscmlHUfQ2LKq(LKQHbrDmQslJe9mQkttssxdL02GqFtskJdf4CskADQO9jPKbIIoOKsTqjr6HOqnruiBusQgje5KskSsiPxcbzMqGBcj2jK6Nsc1qrjwQKO8uPmvsyRss4RsIQZkjI3sPUlLSxGbd1Hv1Irb9yQmzj6YeBwf(SknAbNMIzR42K0Ur(TOHlHLtQNlvtxPRJsTDQQ(oeuJxsqNNQy)Gg4fOaG2lOHufJGkbGwjqbOP4hH2oO51NsL(85d0qsMcqJf97r0qCEaXOiuPHUq8tLqmJnA3iqCEaXij)yOleB6q8pi87PdXUVVqCsqmJzeeZq5i1ceRMLMdJO7qCvkvOtkwiUjAHmRNkOIGOY5CoNZ5CoNZ5CoNZ5CoevfV(kRHUqCH2KAZ65eIrjz3L0VOH4AbXkE9vwiUwqCtMdiQCoNZ5CoNZ5CoNZ5CoNdrfLS0CyeD)eIkcKJfIBbZXEcXSOFpIgIZdigj5hdDHOIa5yHygN0QZ5eIR(89aeJK8deN(fneJK8deveihlex7zpHyKYXdex5PU8eIBIwiZ6b0yKC8SNfG2lOvB2Bi1GgOHY70zvi6UjPoqbaTxGcaAVGwD33xi2MPAYUlPFrhP0fEIKXq3yqMIOAwEo)Sw2m3xFLnsPl8ejJHUXGmfr1S8C(zTSP0fEIKXq3OAwEo)SwqSsKzfzaALGwD33xi2MPAYUlPFrhP0fEIKXq3yqMclBM7RVYgP0fEIKXq3yqMclBkDHNizm01cI95d5QHiaTpqRU77leBZunz3L0VOJu6cprYyOBmitHLnZ91xzJu6cprYyOBmitHLnLUWtKmg6AbXkrUQmGb(aORkOv399fITzQMS7s6x0rkDHNizm0ngKPiQMLNtpyowlBM7RVYgP0fEIKXq3yqMIOAwEo9G5yTSP0fEIKXq3OAwEo9G5yTGywRjIa0ScA1DFFHyBMQj7UK(fDKsx4jsgdDJbzkIQz554w9yzZCF9v2iLUWtKmg6gdYuevZYZXT6XYMsx4jsgdDJQz554w9ybXkrgrVa0icA1DFFHyBMQj7UK(fDKsx4jsgdDJbzkIuQMLw2m3xFLnsPl8ejJHUXGmfrkvZslBkDHNizm0nsPAwAbXkrgrKbnwY(IY70jqbybT2kfvNn5wtsGglAtQnRhqdHepSOLEhOaSGglAbL3PtGcWcAiK4PYKr(Uauaq7f0Q7((cX2UuLH)AbXSYaebOvcA1DFFHyBxQYWFTGyV1uPpeblyblO1kexnyeaTswRgOHYtS)Pg0kA)cTMKavkyblaa