v1.3 Latest Update 12/2/2022
To know one's self is to know others; for the heart understands the heart
This is my sequence that I have been using for healing dungeons. No mythics yet just gearing up through the hellish heroics to get gear and practice. Yes practice. Ever pug heal these heroics ? Awful tanks that don't know how to get aggro. Even worse dps that don't wait for the tank to get aggro. Tanks that over pull because they think … well their not thinking.
Anyhow all that equals to great practice and good starting gear.
Loving the fist-weaving style. This is more akin to what I wanted with Holy Paladin. This style of healing really excels because of the following talents:
* Rapid Diffusion
* Teachings of the Monastery
* Ancient Teachings
* Faeline Stomp
* Ancient Concordance
* Awakened Faeling
With those talents we are spamming Faeline Stomp on cool-down and just going to town dps'ing mobs down all the while auto spreading Renewing Mist on party members. Couple that with 2 charges of Renewing Mist because of the talent Mastery of Mist and more often than not your entire party has the Renewing Mist on them.
Then icing on the cake pop Chi-Ji and watch the heal meters go crazy.
Well thats the plan anyhow. This is the first expansion where Monk is my main so I am still getting the hang of all 3 specs. But they are a blast.
Now with all my healers this isn't 'fully' automatic. I do use the addon CLIQUE .
This addon basically lets you assign various mouseover spells for your party for mouse buttons like right click / left click / shift-right-click/ shift-left-click / middle-mouse-button / etc …
For me this is what I use: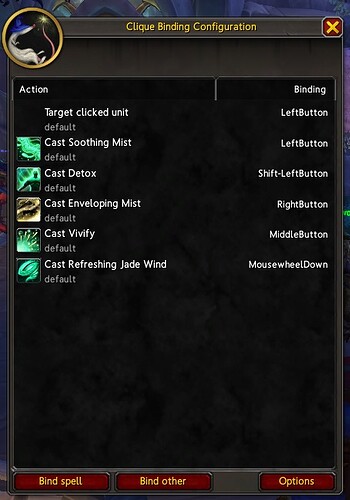 It does use [mod] keys in the sequence:
/cast [nochanneling, mod:shift] Faeline Stomp
/castsequence [nochanneling, mod:alt] Thunder Focus Tea, Essence Font, Refreshing Jade Wind
/cast [nochanneling, mod:ctrl] Invoke Chi-Ji, the Red Crane
Finally I have a [mouseover] macro for the spell Life Cacoon for those O-Shit moments.
/cast [@mouseover] Life Cacoon
My talents are as follows: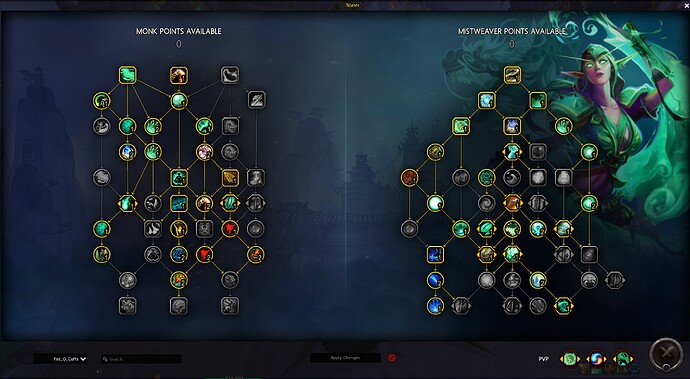 Mythic+ Taletns
B4QAAAAAAAAAAAAAAAAAAAAAA0SkGRCUKtIkESSjSiUEAAAAAAAAAAAAAIpFEJJkEJSOQKJBAAI
Finally this is a general Mythic+ Sequence not a raid one. Raid healing for Mistweavers will utilize a totally different tool-kit with different talents that I wont list here right now. Maybe Later

GSE Import String

dye9haalss3IKk5xQsnmGYXuQwMQYZuinnfOUMuTnsj8nsPyCsSofidusuhKuTqfQEijXeviUOcyJkO(OKiJKKkCsGQvQu4LssZubPBQGyNOYpjPkgQsPJskjlvs4POmvsCvsQkBvHYxvkASKuvDwsP0AjPk9wvj3vv0Ej(lPKAWs5WiwSOESWKv5YqTzQ(mQQrdKtRKxRkmBj1TjPSBi)gWWrvooPeTCKEUIMUixNuSDsP67KuPgpjv05vvnFk7h0YUOiC7cByWzkA9MdOpg4Cvs4(efHnuYmP(4DKe(e2hyFF7FG999T3hDxydHeuGPOiC7IIWgJqxKCnEkkcRk(FlfpNIIWTlmlC)ocX93bzMmkSzH7LsoFNfU37r07VqabiccHRxi(QcBQbCdAcA5PNgf2SW9sjNVBycUEHWWglbOgpJAuH7tyw4(DeI7VdYmnXAPgmkWgf2SW9E)UiSW9EpIE)fciarqiC9cXxvytnGBqK60tJAuyZc3lLC(olCVuY57uaPbDykSnmqOzcBkyIrnQQWMfUxk58Dw4EPKZ3nWCIrbg2ggaLmQrvf2SW9sjNVZc3lLC(UkWofpbTq8HTnihg22CHoJAuHBuHzH73riU)oiZKrHnlCVuY57SW9EpIE)fciarqiC9cXxvytnGBqrIw)0OWMfUxk58DGJ0oWdmSPcOL6AJLQWwceg2QaFWMkuccBuJkjjjm9iTaqtrr42ffHBxueUDHbnOvf)VLINtObnH7tyw4(DeI7VdYmzuyZc3lLC(olCV3JO3FHacqeecxVq8vf2QSdeAMpnkSzH7LsoFN6fJGTTAQNyJAuHP8Zdlm9iTaqss4(efHBxyqdAvX)BP45eAqt4(eMfUFhH4(7Gmtgf2SW9sjNVZc379i69xiGaebHW1le)Ngf2SW9sjNVtbqtac2aCyBemjbYOgvyk)8WctpslaKKeUrffHBxyqdAvX)BP45eAqt4(eMfUFhH4(7Gmtgf2SW9sjNVZc379i69xiGaebHW1le)Ngf2SW9sjNVRI1CH4dBmniyR6kEyuJkmLFEyHPhPfassc3GffHBxyqdAvX)BP45eAqt4(eMfUFhH4(7Gmtgf2SW9sjNVZc379i69xiGaebHW1le)Ngf2SW9sjNVB8As8aqtc2QUIhg1Oct5Nhwy6rAbGKKW1ffHBxyqdAvX)BP45eAqt4(eMfUFhH4(7Gmtgf2SW9sjNVZc379i69xiGaebHW1le)Ngf2SW9sjNVBa1jpCnSPoiu1mQrfMYppSW0J0cajjHtlefHBxyqdAvX)BP45eAqt4(eMfUFhH4(7Gmtgf2SW9sjNVZc379i69xiGaebHW1le)Ngf2SW9sjNVtfqlyBtI2Xg1Oct5Nhwy6rAbGKKWPnIIWTlmObTQ4)Tu8CcnOjCFcZc3VJqC)DqMPjwl1Grb2OWMfU373fHfU37r07VqabiccHRxi(pnQrHnlCVuY57SW9sjNVtzXhtHTTKA1mQrvf2SW9sjNVZc3lLC(ogVfcTq8HnvOeeg2QUIhg1Oct5Nhwy6rAbGKKWvefHBxyqdAvX)BP45eAqt4(eMfUFhH4(7Gmtgf2SW9sjNVZc379i69xiGaebHW1leFvHTk7aHM5tJcBw4EPKZ3n2s7l)3Ogvyk)8WctpslaKKeMYppSWgkaapHvbMhMKeUpHXsyEdRbfPfasyBPla6k9ljjjmWrznR60ye6IKRXtrrsssscJXdhGpIWTdMW2etEORHsMIIKe2qWjYiKerueMcPgJstHn(G1k9d)FARwmQ2oy1FvsgO6(OAQOcTcm2Jk9qVMn0nga0dWuzd2gJRRRRRRRRRRRRRZiJxbtLnQy9yKhmMUUUkctxtceavyBsq8brq8Rbu3vwNpFkrncvyvInWyy6CbGeUr3)2f2qiinKAWrjmv7yuAbGKXf2iyNOPojC7cJJOgwyddotrR3Ca9XaNRscJXdhGpIW9PnGjmf1Jkc3oyGbgyFcBaKdqdSkaQXJKi5v9k9lJljjjjraa


If this macro doesn't work for you:
Create a new macro of your own with a unique name and literally copy what I have word for word and see if that works. For some reason that works. Dunno
F.A.Q
Whats your UI - ELVUI/BENIKUI -
ELVUI - Has to be downloaded via their site - won't auto update via CurseForge
BENIKUI - (EVLUI Dependent) can be downloaded/updated via CurseForge
Can you post your ELVUI/BENIKUI profile New Version as of 11/22/2022

!E1!TZ1wZTTos6)kZlZB2Ns8MUK9jjz5yVL1Lvu(KzMurousWsCmfHgsi74Zd53(2naijajiLuozRj1U7djMIe367FDtaU0A5IL(BcybRcssXRz7sibm8QDKWT7ylNy7U0)TWnSDlN42XEjBPp5BhijHK41eEpiFJDlnzp0l)HpoF2O5dl6S3sFk2uwalKgV0)UPZV)FmDYI(pS0)zAm0LrF7qcjn9TG3f3Xp8pilNy1QysB1dN0D0yAcoFAJ3VpA(I7hMnAI(2Ry6T8SZhNU4OKqoCu23fL6tnJBXqbljsCWQiYYb6dAWFaSdg5YxCT0hNuOJhtbjXs)bhdVnc4OWD3sIjjbrCwnLr2ZftBtOVX2DtyczDvgBkFMWrp9qW6W4TYXxH9AT0hwX7FG8kHpYBctpef8(WDbjbRzKK7JFMUCLsJUTSWc(1QG1VSjHEynnsiAswoP1V1Yge6BZVAv2vqhybrValN7ibBUnjypXFDqeUAa(2Q)jsjVs43)ojhQdsd7dJd3hCahFbHX5Br01CU8cq7dO(7VzeobBiRH2g9ajElYvTnPKTIYy09ZcIbkFvbr8Ca05mcjax0D8YOip3mkcVAv2vWa)Aq0rIk9BjBPKY5SjA8X0Pze4mAAOqK1)XftHP6iJUay6VmVq1e0VcIyZOVrsgeWhzHQXavvJsIZkekx5zp9vIWWEu0RpE7t3sxFmDyqkd0YgJpdgVPlwmD887)4DlUcB09ZcsaD4RuV)1EwDVY22bA9J3po4Tb59EX0zA9c)DRRU2czEdo(8ZPfTR6uKFZRT6AD11WWViizljNYvMJYtaihW1boddir03gl0su6H8os6a7dQooGMMo4iObeNr5xvIIHwAB3DP)dukJRnwmMpm62kea)E2Ein3cwu)dAmP)QWOq27nmbC2JpDDyq0ys8XZygCrEuNmX48GWnhiSg6NyQKDTTt7L(Za7BsYmAcljiKPj8n0tqA027kR2Gm5MJjbck6CzhwUwCjKyXoJW014QipDC4n)3j7cxhr8HaqNZK45D11DTKI0GyWl5j0jr5VyjjuZe)FDlk7wCzkxtinDiyELqJ0zBL5zw2DbrlQgtt2UdO5H7OHRjlOB3c(58hoAYIrZ1wAYBHkNTaVAJdtsOjlc3tsSAGyUgyV9ARQmyvIHzs)XfnV0DaFsTaqv1cMO(rMSjnWJBRTQSpVvvHNVbxMxjxlpWwDP)uTOhNNhhBlUBQ2AmDBn)hfYIc2biK83f(mR)GS1OoLPCpp3RCA7QRYzY1Rj(UTJfyf1bd5)cj(oA0gvT7g9sGEP5pBqWwdmZ5yOviopJhbuJFco(a2rEdUejHnxomN8VosszWI(qMp26SfXy4cgt)00W0ZXGhioNE2OX1HHW9jjOnzq4jT7DqfFoS2lv96kONG3RczT4bMBTfiVT6HUlipxL)1KdAbZ7JJpdEGLxxGG4(Ke4FAM07OPD7yw72wt7(MWTiQVzj0TisIYSmZojCS8YcWmbSabOKaC4M7Hxpnmjn7yT1v52rdOBE)Jhds2C2Sxqm6cDFyuGbYPsypmuo3gAC46eAfBvdRSoQPvCjMQo2TkclR5DTEo312TTfHLNDw4K4EdYZxR52Ab6v9HBeGXhixKPIx7RCCBR7R7K0Id4cgnOfDA2z0JR5DPfhe8nbP7wrlueobZgOTbtgT48coyb0JiI8NcyR3DbHvSSTHEYPQxHNSGgO6BRjxH9h8K1jcf74L1s7gui7HWCvWeFMUjTYefqGJ4xQADL5wtnUb)bIWgz6IN5S1jhlMWa4CdmEDEKrWd1ZGdkWM7mZXWd1WDZ4Gonbp3jxK4vVNcNwwxzJRejU1hibVsoDUfD54WeP5CMyXlGIVGZ9bT)XHB2erK)(uUOkZSp5eYTZSC4bBzK988tjn6Mb0a(9P3pC0W76VOzBrEUsDHH2)FbUXjsLubFtZ)0jKLoTagYDyvHo7EXJE2ot02(m9Tz3fY9TxlvGToL85yYHJcYVCZPtfqa94GPZO5a(uSI2iUOosrv5yingy02d(h4Zxu)QlQRsK3sTQGe27v7RXocqBDXekijLZU2Otjxescz1fwjblmb(kLeOPU5IkgSL(RPXqZbNCBjPyDywfSLx(K01jbhUFTO4mRPhJzvQiwdflZp9aK)mooW45NvuUo8F6kNgl5FTL)1b)7bU9kCftzwNEKfbEyH8EECXd3pze284xeLccTzXF9jzXtTGFdozItpWPy5yx0wT1C1bofCrDpNJq2iQw2wLrgR95XKaodAJqivuMohrXVYU5oAs4FGXgIYPFhTMI1hKsJyHhkQQCJf4YFhjiITtwHSSQQ2U5cllQLm38sF4t3hefTO8Scn(yCi7zutvVIXyFWhjQAoWXX)kRp8kSFhqJIAO82A8RCbRCKDf8LPaBpjCdChSWf5dT)3Mc9JW4L389SRT6WNtzefEPOHUdApOepRh361PTB7wD8SbNNU2UwlF(AehUSi0TBL3R(rh2Xlckg159M6oyO98XOOPfZwr9TRO6Toy)nqYEbauuzTFB9B9CuQRoqdXswDaJfSEhkrwqx6JfKwuZwGiZQGk6rrHFyjuBE6z5BJ4Z4q9HuG)Z(YN3e(8ZHRpgXENxU2V8zqGNWIqv)VOWhV21HxQCubPSenrrMviomu4vFqgSzonIGomslpmvQDpsgpDZ0pnbvfG1wUG3)2PZho6PPtWmmspMG9G7dQ0iMEC)EASPNSgt6zvqfs5WRh4pke4j88wcJ3GxrRs0sYqrKuN4G7kvL1iRxVTIm6AvL2wIxkaIfk9Jj0JhunKX6oviwSkEluDAju1FJu2WVyPOeaxzYBPU40uvuMkUBniJugDpQ8XfFdiXHVCmKhN7oUxNQAOY7RnB6QJc)vFynkiJzxdjLTg(RqbL)Ie(IgVXGFS)jSScF(97Y51pB0RDfjqBH)vCbmlHas6S3aMQHxg7fmBdZfVkmymBvD7zwMp4Ll0eXQYyuGxIvxiMeL)ulob4Ba4hZOHiTlPsDVHyAQg9bczSjwssfcODyKlqVUWZlOgDqvBtX1xMJNs(xy6I0AupZS6dRAeIUtWsCukkzHqsJKv1Cl5rVQ3t(0UwK6K(yMVmbcgxtIqlimDjfZZXHVAxPi8f31K0VkqctgHDufaok23LiEnswIa2KCw4R8VLRjCijeIMYF3krqojra74QzKKuACq0vX04SRx6Vp4B4lUGlir5MISQxdHk1J)zPe7eIu662XdsxVRfKoGNlg9tn2Lb5J9V1tj8zxi6zplaBQRNNLdOYbdaNHP9wJfScexvfHAAbYjghXscRp0UIxP4nJg84T36drmEIFHQ95Lhp1TENKxlEHUkQEHXPGuRyyv0brW4s(60yoOFT5xQ6zJqjkuiRXdCEngBKKkKjvbe8N0j7KPOh2cNDDZDYYng1wNNkurDlZlkqX1gXg)JseokeHOkfNKzNpmDnI)ApeV54(V89V2iem4XCYthvYfiRe6UgOYcMSb5KGepLCQEk8NQK6uKqE8CB7tephdQScYDBLp79i(WmFC)hWUSjmfBXy6XucAt(Xi6Bk7NfHrOXO)n6)xNVXRfyTyT(mVxL5zQmkmbiyUyb9J3KVfv45Gj(LaJwfyeqagCvq28PSGzWaTd8krJJpSgPsrdUnHUx4gAGwGswbgaD)EkX062QoSk1ffRx1OyfmMgJNjCIW3Jdx9PDqM68hVkIU(Lj0SGB6r90qXYeqsS5IXQjH6PNrtvntPYM2(EsrgXmKkdNaF6Xz65nKMVNUQKSGwIbBc2hSf0CwzCg5OjQnbPm0R1P)IOjQO)EQCnzgb4QIMWsdWJNbeN8aLhQGasxlblftnAjd0KQvW1uKtMmI)5drYS6lypcle5wgRgusjujAfEzqkwO5GLA721ZQRJBBhxlhplELc8mGUYeKjCB0KJz66o2T86aqVA50PNDNUUNjOPc2IetKg6PYEkS70YmJRSXwoJeRs7vyPGLfNu1yTSo7zbu7)hk1)7akLLRRgyQFfctBWhMBvC)1Qcug1FTbj)1goqVlanGJMFD3FKG(LDu)ZouFHF6kr9fPCBmXB1s7j2R3sDVp(W0pziHEp9UuidRtd1OYHwMa44CjLyWyeOAQfsUzGNE5ykchukhxBvAsZTnl)TVOZbReWTAKC9Aj(RuLgm7jOwl)tK(FZ27Q84l3I3GX5pdNavZjWynZyNvfyAoMDdXPvdNF5XSpvSqTiQ)BjCyLCUDQeq)KapAGk(PH9WyTb(viI95bzu5L7yWCPSMVRs1R1RuUE8TC)B3oV)4rMcTzklt(jjYCwMnu3xZf4xV06n8MnzNFkSfzSjEbp1LhzLuAFC2tYvzL3bNsOa9Q2BijWFGxKMwUXfVln9Klove74J75VSJuosHZjlzfO0xA(YnHVSK(2jYRULXxtKuxZPEDTZvD4xNkAysx5NBvoU0syCkPmxoScsaUeYOVPg4O0oyWTeGy(wDQKnP53MKAqwG73Nj8QHSu83)nfugz(AXDIk(SzLKnSIMyv(9CviEuF1zv4L5eBvQPef3rDNj0w1M)Ur9FyXDLCgMHxrx54uIcvP4zA85XhyKKcWr2mEDEOfrv6fI7a(U0xlsO8nBwXgBpLY2XppPdKAYID5cihNtc4Mvd5NyoDpmcuJzDrOZU6DoOeuwJDNVfUZ7BHAn)u6LDY7SKNqpRcv)NYoKFpTHeSPOhU9Az1RDRoDDDqHT4i(1YPNTLx7UTT746LnyLVltBPlbEnqrfEC)j9Ltu1JeOuREO25M046hbHoiGNyyZnuz10xaCLZ(bWi3aK8aj9NVe5YxHgT5TqG5ZIkEsHzzyspX5pe8NbAOc0RhdZpvjYTSkCB0IDaU96WcY9rA0gCgY2LX3aZuEdHN)FDmC9l)NGPIE0TIHvP9ATO8ELvoE)oKhny8YpNE4cziKAUItawTCguOW1HL(KG)4umNYnjxb3EfFFTMkIvWtxXNNfdEMv)4DfTvDRHj7dKQ)CmbFSNVgMgMDQc)8bc4qKXIiF57FftL5)47FfaW)wwhv2Rdm(6RnFDkEMqE1TYK0(YMJuShMn)5zLk3uEQtQTB9AB7LN1cL(OuS2mw7aj9yRYVh0a)w4YB8Xir4H)nX(5iJnn3Ql1k910YWWQvmfEL1aZgA7kJST5XrtuH4Zqs6JqOmLHlBP05mziSYXpXL6mcRgZL6wn4ryPbMrXcScN3TIoyBtC69z5SPQmPUAotQfNurkU48Q(vvq)lMWQJHI0h5oOu(6betHmwdLhy7Yalz5lDrQN3m62(p(a)(6FvdQRv5FbfQzAKafeNB8W014tdJYl1sflD8o54GzAogfVHl(kiZfjxqdUIe)f6H4c7SBi)Bx5F9K)Tt2ZZgHE8YWWDYGomKp1n7cE)4Ii(ZYDSSsQqiHTualHZNerIffAg(z(UFTdMUVYVykBhyEVnaHmdFctT(HzPVM9Lnap2iz3tiP4DOOKTLFOpEEr0ob3Cn6vghAzSA55JIVq5NJuLkaVq8BXMbT4K0u0aLJxJOvPVNYi7lAGV43RYuzqGK8d(NsUxqW3V)1FhSEy0e19l9TZVF0KBE4V)0Sh6)3buVl0YJOQQM5nCptl5Gk9IvaU10ZkGpIiAQPvmfiDn3SFKvF9gx8HmNlnz2W)hJf9JmKnXwpt215Y9pblA0KrJ))m8NSYW)NGt9N1EtTmC1UVbBjlnPSA21w5JFYgVnZEot((pctPzopZyYukrGk(KlTLs3SarmfMflNNWx3SpOo4xRaEkFoCGFyZ1ZH0UNSLT7K1sorfuQDy9J4Tl)l0d)f6WqOeIG4PzRN8(4uEOT57J2yYrM8Ztu2AuqZKisw1ZNyFkAzIZjObqJ5KlEMqcKNEX4PtMo8U5thpkprd85(fyw8xVtW5bOAMpauYhORjWZSD4f)Xcsowf5mVMEa)KlXEaMtE66ql858nAIUaRvgtjVIeDfLmdxjzr(5NKywiMNrW(dzFtU(R39H)64V)vZ2raIc6rMpHXqSU(BoW)4abgkSLl)WhqGbacWp8HhcxdyjoMet(lx)x6VDlG)ji5)(d


What nameplates do I use ? – ThreatPlates

T3122PTss7NO4LuRZxc2qSxBBGXG35o8wcegTIqYJKijoxSFv(FrM7MxS)QQ(GAjKWyIt2ZPK1kbu3Q7U(QdDvvFGLMlxSC(SI8njPX4hZc3f)CAyf9LQ8NEI)4ldlRsYEAuw8UxEilPAq6ZBdxgTC(0vRs3VoEn(Ws8bIA2OstI3xveMUC4Y5lclEkUAo(07cl(C8A6JJstGEekEyEzj()3LVVmo)lXfnBN8ID8MrRxMVkegJuP6nEs2(Y6oCa(SfHp)C8ATxxroQ2GpMgO3CIVKP14QVrL1ySkBPQLZdPH9I2y0eJ62E5eZA0b)mV)PpYXe8teOqpchVtMDj9fTwqdn4Tcr8tmUWhQwEv8o6PZWAtpBCrsC26uvtPOhSCpfqHf9X9HfRtcZeVzBGJQJS5MLg(sCb9ObrL5P7RIfWeHeTzR1Ku9lcWwjHGl0bjdnqIggky6clfqrfWHk6J1GfhhueOvBadFshqgafo9IA0t0WTpqTRe4OsFDOdFL2Ghv3MWxT0zl4JOEDaeF5keeVpUmFFXQ4pLSghEaAoopRAEY3rjkd(3UmpnValIZYEI(3ibxyyyX1XjpTf7g2Y5Z3M)v9EkcH6I1XflI)w1(IyG03wehwndnDuYls7TqilI)Dj9k)o0rOKb(XPzPVmiTAw(xJl4gdWMz6MnLc5C(dEOmEy4Qp)ur((S1CIisRVKMq4vwrKHuluqctpr)Be(VCsvrfds3Vljlz)o8Xn7dEBqS5UBfz1HX348I4wJVxazetFoYJcdrjz8bn231J3ra)sWMwo)BupOO6oA1PtiwrybWOR2UCIpnwMagXjobbixMMS6Za7jF)tBBZfgMM89VdIPtKM9jB4Rar1Oqo2nFBsC66AemA5yBhMjZ1W3Gz5fa)D5Mp4yJ4rFLuSCSNblW02Z1XYniW3IHLyHJ1nIrYLPHLuNVpl5VVpEECfQTucDmcxBJx9zG8VjBv(UNdRsIsJhSEDEg9gkYDSQTAsXeHm8L7JdxvLKNHeZ15G2yAmxCE2xMnnBEC6g8dB20HobbRxLuUkpllEvf3wUUyvBsxqGDakYsoeiRbLgJoSBEVrDDBz8M3XX0G576cVHHHLVzDZdVTTRLTh8Fwbo2gIXp08og(U2M(2gmxppMJdwId28pKjzRJRHCLgihynUWLdTxWWxHB68ay1ZZZiW0ZWW2ia6g)6HvpLe1xjvTT1sCDbV2OnVULz5fTv6hdiLdZlWgqfpxpMTcAV5PmqpfA85vHv7l18)rsC4BddoVGahdltxdxoYjqBBKlauGLLVfGQ1OnquOqILJLNLNHPxBPLAE57POcQ9LVlkFwEswvj5lixBA(ZXRWVE1OblU(3MCZhVEb81jMn0EmuZOmH1xbw9vGDFf40xbU9uaqeFAW93o9YFtBio2HXaC2dadphtxlhDv2aZadhhdMTPBGNBTkBFmbj59(2Ow)mAu7FgnQZpHgf4AZgC7GRUzYHcw1QQTeS0kWQVcS7RaNEkagj3n4JJ0fE8Sn9CdSan4adBWaPshJ7bhqw(2EEwU2GMUTlZ004arLFGMW6hVjS)HBcCkX7F4MR05og9P2tfaIhGTfhgie4577BgOecAAkOT54MCS(gYDZfnAWfNo53oy4ogmJ75W89CGjZSym)wJk2BPYwVLkB)wQSZBPYUVHkJXlm9Jpm6Fx4JDAMNM1EqwYUWvBXOMAs)(gUmlONSnn89Dn0S90jYuXrLV942Vqnb6Y8nzxhhUonjl(3tI)k5infxgokUoVi57GJ9HPZFoCf43k9wGl7Wu(BYl2X9xhZgrryw5ZHfXzREHEtkSarpaUEE5mYHbCU1KqW38qY5jHAMiEG5vVaD78PfrLaJBFw8L55PRZ)k5ld2oyhrHzaFFXlphVjCvSwihHR5vztAi4F98PpS42BMmckrgDyLobPf(1VhxuLSQ(run5rG8cHuFGrpQIcfSo0tGgzUYrVioXyi4uO558PBYktwhpiB1wEun4Gggpxo42rx94Sr3F5OjlqZViIYFFfGI07G0Vg(sPm0MBY(i44)ZQV)PKQTyq8rDrvFWTgQAJhhWRQF9bPjpLTlgJK7EYXNdXzjyPvvKmgDVolGd5bCrxI6NF7OXiBmgI0yn35Zsm(gS2hI)ZVCFzv(UJfjVIffk6aXOqXNW3dW1RJ3xKa(rU6MmGDub1Mhl46NjN(uzL5UrxDZd3Htoead2PFAjFAIRbyG3H159swvtrfn1RgFCbuvybne4dYQTXaToFnGL7tPkTJNQh1qiI)grY(Hs12(YyvscH4ctQs(s9ducnlcHWgXUeQUkNkWNjXTH6P7SorJawVim7ZnYnPm1InsRPm1IQuzQqrmTg8Hzf2s6G50XJxmaMrIJHsqQbeZrmEID0sPy9lIjP6W303P(v9C44nqQxptP5iXjTmwE5VhwuIjYy)ZlP4UdVEMmpayV(EhMyfM6dODRk2NTkKdB7c)gzCAFkbS3MVcTdYJmC(lqGiPKuz8MKvjCXGD57ZOmOGzndmkck9fvXzApzaVkqLFMB3rRmnlregK)mAY9(804RIRIPGxhSh0XalXR4cFXzH122kfZba2rUgSHrQQyeF73fXtogwPoTM2NzNARdDAVrAe5nzWHBzNPBNrwwdBVDAKPIplf3cUf8FRq5HsL3cTJRVLN5TkUT)5TYlxBFf6S4A3H6mREcZlOXFoFGmZ0IUPjClIiDCY0t2EUD0EjmZwod1FXwhVy7JxSZrlUsAijEDJzy5ShxNArY(n8ROZ5uw3IPpE9duX0Si88t47YCnSSTvzdGZ5b1vqQDtyWAMNPWpoWFWGaldlhxtMPwOD(gy(r8nTb37SnCT5MlQOWXV)MPQUdEzFJaFhOEMSo7UvobHUR4oFA7zh4arI4y57BR3DqONgGbgMbZWN5B6Q6U5xp4Ubt49gkLO3YggUBwVs4Nmm89bVbzUWNmmuoKY9Ge(JTJp8pU1P7rexisf(bgWRZ89HGL8DmzC7Cn6lR4vUXH8(ct4c4YPbdGgaK1anlddplBdmtqoUA91S7Vz08fIEdS)6z6faUo7y6XuVVEVTjg)l1B9u7O(kPsp2BI4Cn9Drl8Emtl3a3U6ol)OOaQ7SdSDmHw1d8RhWrnhUbkkiWMbttWaPcnIRobny3z7567y465IHE2TaOVRVhmNl1D(WCraCA646asU6yji15zaE9J5RZYSodOxncIfSHmVJh8xqggiuqeSBzEgBZkF(0DGuTVNRf2XmFEx6WfvW0zad)aFtpiAdv4YQGSoDUNLRh1z9a(yNbQxgwmVax3aOzmus8YiZp5oZlYGZ7aX)GaqOmWmiWX1wlXQa6ciSfOMctWBZhgEKsapS6ovU2eh49kIGowiA54AaAnbUAiwZClYTuWSmXHbefhqUgDzPWYCTLGuWmxagNSDWgNZsD5YfMqGFaMfeG5dLBPWrAEf907U81LAgyP4BaNA0whnM9jSoAd2xeQIj0wzCgBj0OTkSOoIWCyRflI7USmMu45BJdtR2sD)LBdZipyebLUqMh6hUH)a4nNL8T4uWDNnGxnpCd3BN6vnRZfckcF64W1XZXwu4F8qLpx8v9SsUMnnMpYqszQGO5yiJD4CXPXFjovoJ1qfizXDsexn2gnn8CrBxxXdAJdN17lXfr5Leibd2YQ2CxRgCxlvRJXUE9SHA(bxiMPXJzzydMvarlHCio7eoZJVhAkbtJVzTyExl3drITXd0tYBYW0UhsETEdemOAjk)BpaZbCZLavYNhNhK4FdPiDHWXGwSTLHdZXcmhzz4PghCHh6DPiL1E1EgIuZbtefyhGE2dZxfOrw0C8bo(W8vGUTHJYeeNhjyhuKl4qduSIrccF6l1OUsmxjVWrbzyuuKxWRsCckyEnqAqvfe1cpaSEYvd80zf5pvetbXrAMCV6fRhi0AY18H2NgTcdwTS9GR6tMI(P3O2YhQV2QD0mviTUAVMHL2oWIXb22fCCb4pmecdoEGkS0iSTiQElgPIGKZnAaKIcLXEhwuK)1hP8jjcCWIEtXk51wRHz0szedfQwNhQa92s7lARR7C(qFbcUyK5RXbZRhve)tDgs1Hj7sTHh4V1jSBa4vSnl4dMsRLICY0MVkm1xJoxXtHXW9B20rVEHTE)YxbuS1LPYB(ZjImlCDYtBtPnIHgqnuMJSH7RQWee2vxe4ieacCeDJf1p65msnjaFNMisvbiBdSMP8nXX1JgC7IRho4(hh8W9dMdfcXmS9tBJZg9nyuItSj06MUllz1L8D6XxtQwTDqrCO2YU3RYj1Ils2Xn7sP0dWszAzWVph1VVugOp(KRGAO3QlaKRkrK2V8IkXOxvnjd5Q4OEyj(Tff4vLKqhNKwfZx0Z00LuUr4HmVihqiAE4iqBIePrLl8DKrAVy6SE0FBN3Z2sD2nMIMCiqmoiSHItncJgncbUi8fum0bPP83sy8dzT3byoL6dzkcUwL)YlHVfxGWoHG8(HOeq1nF1Nvn6b7FhHI948Ig9N2ZvVIGvjtKMAy87qNmDXIP3XTmH2LAAvOEZ1OMgC(U88QT4wb7Bq9l5A53ggfNsMZpaUTRTTCKmLCA58LNJ2dYxSY6ZGIKW0)8pMqMs1uo7YbX2jd20Ow4s2tNuoAW5uvEAYAUdUS13JqMGxZ16fDcwF49eTesy)kGlrxDs4fzks4hc()Qr8TXB4wzQT50jiz8oIrYA)RaKEtz(deBAku9M2uCDSV6Q08aCbrh73LvIz9I4cszu3lCEnH03t8)xOmkmDWjkM6IV295FTKMwKJukMHZs5cbw(33hIymcF1A8x48Rvc(xicYNR4ebXpWZsx434ZTnrUyRI9O6qcHvOQV0YWvjL4u9Yvms3VEYzB5u(VVt2JOoGoGYvwvrE6565r7UQL5Xo8D24igjvoF0LBf6ZTR7dXWFiFig(xKpeS)ZWfc27Vleysq(3zxioicV(GRt0SY)15cH))s5cHEemCb8oDQG1WPci83)YCPyX13C5VDo8KJi4YSpBEc3RcZJ4vXkklbn9QabW3Gi9p0gQ5OsNVHnxZpIRd2TCD4C8C4apfE3MCgvTos(jWXYdzPj7sQIxRYMmoIGUxvGsFqmv8DHpX3NdnE9Pz48TXLYzF1A360Gn8eCxqLfIOFGSqO69MB8RoCSGNSUldZg88ZPAdc5HssCwdF1WrWL65VklhNJrJt2v639Gr6YSbZ8nz24FNWV3M9KZlueDH6UC3TdJoNVhW)VSO9)YI2jko)FDUa)VwzrRolaY1Pqm5M2z7JVnvpHmd0FAloWiMydIFQU18wB5k5AuIlIZ9XFjUOenPHDj)yUrBznsKd6LsTLtuU7A5BR5vsKvUvzxSS(eS29joAoTTEmnz2Uogqzmh5IztlnUVvGPRzGdZX2ZKzQ2Kk4MVvVXFpp9DYD0RE7)(E2bX9i8PbnaAyAeGh7rxhFxp76wN2(EmAVt5dOhtUdaiU5w9fWSClPrbpog3N0jc3UepgxizhZd3peYvw2qTnpWDrsR9koUwZMKIlnvyhnDGHCLP9Q3MK46xlo9cEh2ZViub5BWLoKUAWFm6w)TwaPNkOXe6UgvkeJVNFI4EmijVi(wPMFo8N9iTf05ov84ITjzkmrUFRlvw2crJN1K7xfZTHGIWikFFn8fHUQqFERCkr3AaUszKD2I)8paKSS2oBPMbuohSRrHyEhXGa3yiilLP37sFEAm4oLraU3yT0g42nhuz8n8)H83gk3DnlXVCf03tZlKCf3LDXXWqtD5dE17xTU21wVqQmvY9Hwe3Ft(2QVNnArpdeUDNESaY3zcYZoD7PzWP8MKxD3lLXPBWboUTEG5R13wcqmNJHzk53uhW786hAg17Ph38N0uo6WzpNds8bx680CDH7IATJkZF4M3uAocKJ6Hf4oHQQSBFrAoT8CHXJhk5ZQYHeKubJhFQi8z(2j4OxTfcqg9hqCIkWhfbVY6I8Nx24Ebz0UNREP2kJJHEBpfDqQIdru481Tgpo)X7tfDboMNcgfGO7L(gnSw3gLvfL2NyyVxjdCUFh(N1Lz7QoV7ta1Gk1vOb(Q1NnoIUW7bgAVUadz5N7)GI8bwTy1XIlOFrLQJ45o4uAbD2MASHFKQZiiEPGo4dvUkuhQHn16oWZoXnid1t97SpjtEAQlnJgsOO1E3F9M8UVr(TLtZ0PFRAkh62eEhKBMtPVd9x)4ceDNyHxESQ((s61UoAQvqLPaqxRenTJzT5BTAlLokDnrjNRyR2ff0RCKz)M2ySsoz7bEZG(R8591(WX9SR95BXPdhfvUxs7A4)A9xRtx1a4QXv8JkjV6SKMUZ1YtUIWK1kGHVfmD0WDn3A3(SIDV957uNJY5)2d3ERu28c)a(y)cFXMd(cp(2o7V9WG7h1ue(cxBnhFMovDGAWRYfQcEYTAOpTXMV8M7V8wvJCrGLOAoMIQzqPvCX93myYh1QOP8ciWvEhXysdQlVF6851dDMOwMYT4kFvQMVyW91vsUli9L9jJCA5QBgC30jxPQNNOAgYE0xSG8Q9Y(hW4h66yKDOyETCinpGseqJB3qkq5bRgBxy5vY(VQ(iXYDy7qN5NVpcF4Ht6DGXVAhQL0Xj59oFxql7grMExQ2j0Icwk2YOheDH(4dSkrhY9n8vB4fUHnU9Mgw1vgxCoObKOoTubnhd1do9HC9itASJ79V4moFmx)FNJm(V8Wgm7nSbZEdBWQrydBqxgewNPRWaoZtYVSb9O5VKTcp(91BtLiT5zilezIgHytl0LE7sUvtwh0yUhA2D6mF17ZxYOlFyonl(5kTFqZ23WsiNlo6(WiBrsf)0L3quwj05QpL2hqj7brrfXFjHsMSCxWioybJrR1TWNM0NEqTGAX9WeeO1EQMOhzrh0(To7c8UOPrRSCqd6z95T4M6QIlk2)CL4AHtUIAC3TxgvpZxCXcksenxGBCYa0dSuD2qAC4EcBMo6ghWNOES8IYi54vNr7JPGQRrpi4KVglLFCW8Dyg2wMwGUekP7Y1TBCG39KNiMiXHYZbpNMG(bO5YlPAP(bHOE9Butf)I(z1fl)J7tsxVd8buvLwprme74w4HF0CCcSSnDWZaPjZcQvROzQHl(irMU(UN6IQhFd7lQyvZleqLiqCZBfqxFFabrJDUmhBx9tefE8(c8yaoYCccSfJCAAxhxdpFe09GxkGBxr7cbuMNxUxJDCSzu6IDeRBhopJEkWtVCZJldAE3Lf4Y8CnSnmD8d8RXxpt8yS6zagz9SzQt0vH4OscgNnSDnnehcuYJgc71oMndBDyDe5U8Pu0Id3naBvuz8Wc(ykDJWiV9jw14uBmVSISP29rURwHsQL5FuTMooSCJ(2ZXiJq)kefiKxlSIgv5KwCJtz1joA4y9SafA3vOfDnqF9BV0EiKUjJdwr1MxEPmDevgCx7Lo6DBDWE)JoUXvuJO5Lr03LAw)RdwBEHMYmOoXaBBG9uBNaM4IcHBcXZbvjbtWwbE(EMo1M4Af49XUMu1tGhN9aCaz8Yh5QLT9nZkB5PF5YQw8y4z3dQY)059nwv93DwFTloDZ57JX3TzNtErepddav4v3CrzEwy6e970CC3pX32ursVi5xvYtZuzi(q7WzYtyk5XeDm5gsJ)A6rGl057S(q7nSD4AVWVkvo0N0wbljotL15MceRxfpjxmsWn1H6ox)0d8RppLVDaexnNOjqObbq9S8nvzexEmyXcNUVA6M6ZRS4(vs47z3bnI9L6(SUz31JB3gAedju1zmdhulAawNtZAUCVXJoSJqAVF6TJE8JpCZTx1Rp2z1XdzxptCdM6HC9sTTGCN(4l4m)Wr(wtapE7OFF0TnU0SA5Ixt)6EpdlDv4QTXQR6zkjD6Ni450n7hUY))w8lWhOBI9)8pwhdXN9PKS1FpViRSd7xJDTympdy4zH3fgbA33iTCrZt5IMydRjw5pYpKL91H0kCuF1zrwZ08IU2ad8a8I6dOJ50zRN)kZ3SjYYCdFhYiwl2hZcrhgE8RqVSzFbsT4JH3EcD3XGJq7(rJrfRJIJIF)qdns6qOqR3AdfnrXUrd7JHgyPks3eVlo4td50dXxWhoaSTh07(Pt9T6UZH8Dok57Or(mBkRJqW1RJBK0K5S(ffGW)tblaXz)5FmoDpTnD)PJk90TNd6Wok6W0qhhRacDgA2amg2GxLfx8usmOILawAkAlIm223ZgazldMJRJNPwuQqGOo22q8DwMGpM2U1b67bEEc6KMgyWF(S6RNMxrSPJHYzaqa12aG8hWgoIjbiS0ATNaMHd5SWeVgq0eDgxc46AgY2(uyAAtzLgHQdg(Tug7NOUU2FDjJ2DWzq0W4VbrBVceznKenwQgr77ZVHkMB2VjJpgNuwH3am)cTBCqFEgaXCZJQEOZ9d8nmiC4UMZBCNoV5()5)aCJndN1PfR31oiWYKHxVlmJahtTGVS8zwE8RBnhqjPv(LoUWqZo8mqG7An7rK)AZnke4o9zpyMgUUCN(AkkmwFeTj9F(pkltEcLqVl8PDHDAVSNC6h1xjVkq0v3EgWX4dei8H)kHJXTmha)H8SSjCmQ1C7GhJ)Z)VwtBm2oWaKOCDDyoO9s9BY9oSHAZHMomF8AkkTgcNbKmQTfYH2oWOsajJ0HeFtBIvnH1V9ry08urcTHAF3nnQ12NbHoHDuRInMR00MVeSZA6hf9RsrsjmHemAghNUMVq5nTe09mH49PMLfuOTRHTLpMlufNxyjOlxQ7PdBt(BFfxQN1YlkwKN7MwUuxUnCxy2JGSuXoz3ibelhhh(Voo3X6384CWN8D)Ammk7QZqo4o2rnjYAzs0HVE9w9q24mvP7R(5t0Qo6CizRJsYwTjzAn(N1Ktpth(Voz3U40YdJO8hq8)O87MD4zabZyhtdywdUomcTiH9PnT8p93r)rlouPVrEt6xzUXR)wvHN2YoTHXy4pscimkjnP6LhJWFN0YZekZ6AWma2PztMy2V17pLNcUBevSF12FggWB28NbxCI5rTH3y(ByYvUNf3z2VUlM)YSWSV)lr)TUZods)oZJQdB2qagVhEjDy7E0H5bMFqaE)m0E16QZGSNzFu9w726TCrCNJiIJ(s3XevVpc4An(zqStCoQ4TEYoWOv9i70tS7NyNVA7(QVJFI4dd2crw(tGS7UBohaW(OaqtUTNvaFJBB1FKRxhNKcIELBAph9pRWwB2HNbem36OXSQpxTjEpDtSNzM9px9hJHOMaxi5lQ1pBT9d6WZacMzEuDEZ2684yQQ1s8buiE17Y3t1qHRW0M3EFTGhAPVj(KDJD)z9(w0VJd2u7dpfHhhSaD0wLOs9RWG6SUsJt8ugvGBsLxksW9Q7TXvWdexZPHPP5FvLO)FpPmHp9orvIvSq9dK6cE)R9Rpm(12vRu87us7n8J(VlPYwAyp1vT2sKhmhVFP60xNQ(9bKZmosZmdpmgD3iIFar4)GI8AdDoz2B3jlUV(Iw3ZCo7a)S4xSeX3uScX35)kMeP9RO7Rn80o1PVcGqNl1JqJhJ3uxHJrNhSwLrkS(uif6hYdU2T26RDIsy0i8vKSBuNJIfnfn6Ov4v44SKts(cQF0b)AV8EU2Fv0k1xs3fRMgxyFHP6hECrIccX93(Y))


What combat text do I use ? - MikScrollingBattleText