v2.0 Latest Update 12/5/2022
Upon the wicked they shall rain snares, fire and brimstone, and a horrible tempest, this shall be the portion of their cup.....Psalm 11:6
Fun class! Was hoping for more but not too shabby. Does tons of damage. But historically all new hero classes come out the gate waaaay over powered for an expansion or two or three. This is definately a work in progress. We'll see how it holds up.
This is a really simple dps rotation. Until we find out how we can do press-release-hold type functions in GSE then certain abilities you will have to do yourself such as:
* Eternity Surge
* Fire Breath
* Deep Breath
Just remember on single target boss fights just do Eternity Surge and Fire Breath rank 1 just to apply the burnout procs.
MS: ~100 iCUE Corsair Mouse
Mythic+ Talents / Questing / Raid
BsbBAAAAAAAAAAAAAAAAAAAAAAiAAAAAAAahkkIJRCSkUSSiESLSiESCQSiEhkkA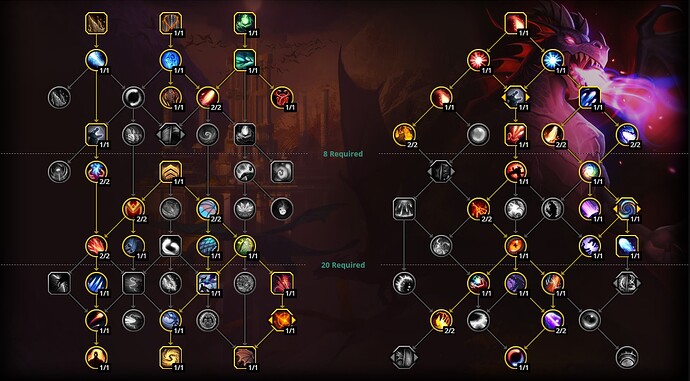 Single-Target-GSE-Import-String
deKvdaalOQ(fIAysvhtPwMs8mkmnOKRbKTru(MQ04GIoNuQ1bvAGqk1bHyHqPEOuutKiDrIQncPWhvsnsIOojqTsOkVesfZuv4MeHDsPFkfzOqk5OqQ0svf9ustvLUkrKTkf6RsbJfsvRfsrVfb3fr2R4VqbdwvDyqlwj5Xu1KLkUmkBwQ0NPsJgPonQEnuXSrYTHKDl53egovSCk65Qy6kUUuY2HcDEeA)ao7CJDhv6tK1nzXGc2U(H8yxYn6d4zKKth4W6eDPFzzV3Y2BJ(EzrLa6nfNCJDNB0gHMC4kk2j3mrr8dxuNCJDNBS7CJDhLShEgGpHs4PHvXO4Ll(aFuIo4EO5DhsaFJxq9y(g7suYE4za(ekHNgwfJIxUKa(gV9ybAj6LOdlkIF4IktSl5g7okzp8maFcLWtdRIrXlx8b(OeDW9qZ7oKa(gVG6X8n2LOK9WZa8jucpnSkgfVCjb8najRDBqrVeDyrr8dxuzI1i3y3rj7HNb4tOeEAyvmkE5IpWhLOdUhAE3HeW34fupMVXUeLShEgGpHs4PHvXO4LljGVHSnwYAh9s0HffXpCrLjwSYn2DuYE4za(ekHNgwfJIxU4d8rj6G7HM3Dib8nEb1J5BSlrj7HNb4tOeEAyvmkE5sc4Basw72GIEj6WII4hUOYe9jZHbNyxIEj6WI(qiCIQdZbnAv(HlQOOLjxyYhIzYefCTQfNAAeAYHROyNCZKjtu1H5bln2Tr0gyqCqAzcp5MjQeSbkfoWCJEHuSAorX(Sc7QHNgp3O5wYOwjj0bSdgrzGE0tlfmcccccIBdGXJJd66khpkCWbrF4kxve8WtLRAZrrAn0cZOsWpcArzseTrCDnHOGMrxRYBKzE4IkwJ9UDujGvlif4AyMyKvdxub7OwikwuPprw3Kfdky76hYJkL1f2IAIDhvDyEWsJDJLS3O3MAo2DFFF)su5vxHPN1SaLdCGR4u8HyWotMmja

Multi-Target-GSE-Import-String
deuddaalkPFrjgMs5ysAzOYZOktdvX1qjBdQ03uvnoOuNdvP1rbgic6GqSqOkpKc1erPUivQncfQpsHmsOqoPQYkHkEjuKMPsYnPi7uIFIQYqHcCuOiwQs0tjnvP6QqvTvuv9vkOXcf1AHc6Tuk3Ls1Ef)fkXGb5WalMk5XszYkHlJ0Mvs9zQQrtfNMWRrGzdPBJq7wLFt0WrXYr0ZvLPR46uuBhkPZRuTFqDQPNsnk7LigXxblMWFv)lfU0JUc8g8zwag6IOCBCC1Af3nw8GnRAutGgP8LEk10JYpGuaCHsFPNjksBeY7LEk10tPMEk1OwAG3adz7KnhWDuuX5BfgIOCHbphX6XkmeHmOGDkPDyiVFwBy)NcxulnWBGHSDYMd4okQ48Tdd5X6NRwJ23zOrrAJqEzsHl9uQrT0aVbgY2jBoG7OOIZ3kmer5cdEoI1Jvyiczqb7us7WqE)S2W(pfUOwAG3adz7KnhWDuuX5BhgY7FJhwCr77m0OiTriVmP4LEk1OwAG3adz7KnhWDuuX5BfgIOCHbphX6XkmeHmOGDkPDyiVFwBy)NcxulnWBGHSDYMd4okQ48Tdd5HlhV4YB0(odnksBeYlt0(odn6kPKj6skdfmPWfvhkdgB(AJqErXasHKum7zYe97CzwGo8difaxO0x6zYKjQYqBFStP6f1qkGaeZKGx6zIAIoa2GbKE0oaLEZlkEpx4DgU0BzfdRyerx4JPFmyLOhMXSd7peeeeeeFd)WrqaM47ghuciarx57wveCWrDRQXrrmposYOMepPJ8i3jeX3Neqeqg1i1n)uYNqEP4vR8g1e4mdq)UHsIv6nc5f8IYMUgygDsPgTaisJYEjIr8vWIj8x1)IQm02h7uQ8G7F0oFgNsDBBBJlQ7BTKSrnwsKbmaxcuXSh8YKjtc

If this macro doesn't work for you:
Create a new macro of your own with a unique name and literally copy what I have word for word and see if that works. For some reason that works. Dunno
F.A.Q
Whats your UI - ELVUI/BENIKUI -
ELVUI - Has to be downloaded via their site - won't auto update via CurseForge
BENIKUI - (EVLUI Dependent) can be downloaded/updated via CurseForge
Can you post your ELVUI/BENIKUI profile
E1!TVvw3josw6Fn9B46ifAbHNNaBW2ZXSmaUYU76u4uica1wirlfyNUEi)Tp3BeAjcTbuzntvp0VKPrkwURF3VBiPv6RwUAXgxM7A34e8Vz7JPUm8V2t93TNTAcXC1Ip83W2VAIzxYk2Qf0VDKg7td9O8zq)gBuu8bywlU7L5Zgo)UIjBTAreouMlZpkC1IhNo)P)50jl7)8QfBJcHPm8BhJPjjF4(P4kl8)n6Qj6AfBQwpCt3hfgfllx6we5z0R0o9ZdNV8P7W9jDDCWvjME8u6iwwA2fRRwJlfn0DDaD1a1f193aZbJBmAyEnVrYRtcmXtjGNy1IbN8hfawu4Q7OH0y3aUPoIrpWDt7IJ(GT)E)yQxvdBcFNWvp5ORNF4U01xY8QVAbiXhEM(oLVY5)yufNYg)KJbUFE3E3yxpgn(PWTrRwJR3AxV32ehD0lkq4AwVAI2pPraN(U8)ko7VGjWCdEdeNhPUBgf7EGUWZnaLgWUT(FHAY7u(1Fm1c1f1Hd(H(hCpIRVqX42TGipUvEje9bA)t3pe3GnupySbptd3HwvsDbzRJySOdZCdbnFDHsS1fMCMI4IcDxRmnYYmtJW)ko7VGf(D3Gtuf9pDKcnxNBMIcpLmntbNfL4lCz9Fz5uyRoXIwcw23MxeAcXxUbSzrFqJh4YxzrOXa5qJsUZkkkp4bCCrNylOmgggSyZXK7CtaN4QfErHVtJzZC3rtWnCT7oEKvIxS7XN8esHx0Pqw1qIwIwGyfFo8bSElYI(6Y)Pz62ON()K0)3a)FmedeRbOqNVRtpXc8dPRwm9LLp)0KH4WdFtOZgeXV(skkHo8BwSBieYhdPGPRDXyvK5QlCsum7jUfHUrewStALrHAVaweGkRFfsVHQ54igMD3vhwLUwfExVOJygi7zyp5UlyelObqivu8DkPFoKSiq9S1KJFYLKhLHEy(qgiZ9WXm07)2J3(3g)9VwBSeG9efW8pwG43AWhaYbrW7tJEZq8SBh0NlNjq(BWYk7aSEBOXkxdg8PqF2weXqfnhNaElrfniib))uSBoYvSR)gdUKba2)gmp3G8GvlPHUiEdD9PTBtYw)sb78DJOjxy4ZPWWPGYYDKvWPN)0dpU81xMblDuaLNNvaSbl0XC4b(iLx5nUhGK1yuS(w2MCdrAh1ejpq0Wuiqo2FdeEoA687g(60j5vA66a5caeUaauUEQt5eiy1ctTTUmMR3E0TSmA1INYNplZtJd6BfcsHqPlgJypmaJlMJ57PyW5GzEN4wzjdEHBWn0d8uZI8rpWGPlxoDSW8Gb2qMl4p5jNEUhU3hWkbQj51wyYlKhG(TweuwCXClaKf6dEerqeXo3MPBOjUJi6r5Q1AkRGfXLtaoxEuwkwgTcJDUT7ghbkUBscOv1fet(pbX)fkiEDus5y4cLuxyHY1koX6dUF7(tXIQ(qmGYEkk7ueWIbG95QGOef(7zLT0PgiIPTya)9SLJ0Cmy2C0lhpx42KtrQyFZv2QAtjnURKbr3o3JaEJhh2)5Lpwkt)UHtwoCE5GJZ5oLDBfBNPCy5ZdhTu2LAXx4Juw9iqdkJZebQeqyrCJZGUuGOG0qYnKAk4i17Bus3RpEVo)bWyhN2s34Du2dbrFidYHrD1PFSCoyQMGcx0GxgnArzxQHCUlPz7uUJy0nw9mn7AbuqC0j9qcpBVXYOoSBYp1RyXh5yBA3txN4yAzPByRHtRBd5UMTeDGSxEDBkLhzWwrpka)JywFikUi16(HCvhaGEn1giNvgMagII1FDUwpnK3mJYMN7fCks7SCKlUCx0H1USmmv5aaxqOQeDL3HNHsmKQ2Z7Kq284uYm8l8jEl0wVhef9RkUuO3diL2TF4M8Uf5uUe)kZNNzRYsz3qfavPKO1nbxYEWqffgE0JxiGpGrXrhewjzqgorqGpa0NgQc84Wb0q)3o5pJhJ(yUlxvrtVUeWLQAkcvU17umMTCtQ(EBca5W4TYjR63ulX2)fiw(B)8XCe3TYDdmzk2kGeOVrrxROsPOftQfilnOPjvar)uKYABY9kLs8OusfZUcSa0snlMUX3l7WsKyJTg6wA9c2Nb81A(4(plb7mo6ucftb4ipdkfNxhigPo6sEbaRN0W9AIvYJ7j1eRPjflboGT(bbIzafoLq9XXvdo3O59hpSmohsSqfNR(YqIunUje5NXpFT65NjJXkx0B50zP(SssGTsSz3wRjDPu(kX2i80HhIJoDmbpXOQ8(Ez2RPIgSuyoKxoqLuzcv651WusH1yXeLGjRqGuHRyAKAfwJNRc6peRsP8XRLF5fscre22kpuTAGA5XAmETEX)wQaUSfqC6UPzUp880VCEJwrAFt53zQFvCQBpaaiNo8R46CnnkvlbIg6TlheXsKX5xjUIBNlSNezDsjak3owYcwo9uSGv5bjYx(75bThJ9HmFgKWniW17Taq67mJgNef6g0jeiVN(3LioR9NoJkLtXwOT)q0s(dGtLmXPw4xvpNQ2Os0AryPsK4zk1EL4F3fIlGwKQbFDeEuzC8dq65poLqMVJOvK6n1sEVI4NMXs((x)Ln(B367DkG9jhr)x)fE8vaYhfVnxX40h8HHXJIvP150RDLueX3gJjNCTuVIwEoxvtk5v5Moh30RqfiKv)1GX3(gmC1YlOeOU5z7RlRkvX5p0qxsnUo9u4y8NEhwsDlD2oRQPBmwt8GVGID6ovl2veS0AzpbC2aC368L9(mk)2RdI8EBsuwnq1IJkfdXcoqiJlkQ1t8GN5lageJhIXaHzzT8WTvk0N)GNsFmcMvoalLZvvMsrbr6wiMlbsMMIyRLF)(bh3ZFar2gY8s(jSsEPhSvXtqgIuofemTnwsg)KJ05GnYQlu1xRRfXqZWKyQJf97DrSyZLjNAlfkqQ(1wrNRN(BfkV3qiL6WTusznKGvA5PWhv3JYQX(aQ0WdkJVE)0VmrWTCEAFlv4vxPDi5BMC6WHOW6UJCpUYx)47hvRF5hUb)ROkJ8hPtklNABLQRwbr4eE3GYi36fpvKUAkfKmvGhZgVTSii3AOsdonutSmr4g4XH53))svxTRNCu(JhwwDtT62NPWlVQyMX2QPsPA1ukfFzgQeRupeF9N1GtdOB3q0KRCOB2RMo8n5hLErSJewxgitvyaz7JCWMmLhMAlEskh3qwZbDCikITN)UnninVxybGcndC5LHWFYFW56Pp38ShBUEreNiij7nfraZMWMtD5EmXZFFqAWppXnF3sN5N8qPvPpIG7WHKplXqEnB1FDd1DtUqPPz0JOBz7yt6AALjIvUQqGn7PP3dW2DmnkLnoU)K(zRzLxqfwQuP8AeuR1OaQU5XaubVh0GbsgRsAio)4CbjvOykrX9f9uMKgnxBcv9VTu47YgldGOTx2aSFo(7eHak5K)CmMdFhlUFzwsgg6paFVyG2yx8qua)0dFMUvmmyNYhiC))Nt(EV9FdjvQzDflR04vgbS3J93SjGkTXW6n2n097FDoDhnubrOjdcCDr8yAbf4)4VIdRpXyrHYjNzoczwqIrbAQUw(pakyZbc98l9UFI)A)aoTUFbYUxdWSbuODlK65)13)kay(bhKXn2wAxfMANklP9fUIfYLDdz4CQoPVNjYBkXS5qNd(EXrk1D3iI0GRruVyDMpftvZ2YR28TqcHrim6n4apJZQgHsSEwYk3APfIuzBiTQCcBm24ak5pavnKwUmrP7fQ3SkeCbrDgLvwypJ0qmA1yuiGsMsHzXSsWJDDM9dz95keXQsZfQTmrDWJaKfvcNcWb((x)zyjaEEYVatJM)0Wj3)8)41zp3)FaCDxQ0Zs1uI6FP9ykNWwD0IdLEpQkFVcKFeCTHrjxXP9H97r6dY7nU2Lm3knz2D)FMj63Zs2Mz9cnxxQ1)mMOHtgo(VE2N6uUm6))qbzTz4Vil1pA(M8Ha04jxPL2gy6PvlDebQpCRZy5VER4FaXL)EmkTB5z1YRtI5EX3NWUOOnlXYg(zTnXjLAyNYkTRDkTuh(5)HdxLIRr6aT7Moqc)Cqw7wAC5Vp75Vo7DtFV8It7aijtEkMtVYlo)bHespXsFx(ZKrHoZFvEfQXeY50LjgNrhGiMZk8SsKJgpDY07EC(0XdZPjH3p)ZXGj6AkPu6GOvwXBWu(fR5G2mugkoyrZ78Lt67pr9Blz9jFXHolEstfFNfHrqp3(uXCkFghS8I3IdS((HJ6)YZlfEm5V)JMgv(3AsdBtApRC94GFIhEx)MdS5xjPWqYqvoz)6i34nIG6O3OYhQ0sXVfNfuC0wyD8vo1PzsxuCgtFMWOhkgWcXVfTglL(KG6A(jn2nRb3haSGX0Wt5b(XRgz5yByPRr6PzAB21UhEqH8xy9rogg4jiQ7OtS1C00tVZ6vJ62vtJ0L0t3XHa)lr8Girx3APnLj1PsHuXDii)7uHo)D7wy8ZF30YqvZEx2n7wCnHRKZEU4j5w(MlGRlog6zz3b9nRRDPZ8YiTpUGmm49xg96i81v(obK8yoLq5d3QdoONMXPZ2r(63agToeKO6GxEAS7hdYN9YPZuMf(BTo3OJN7d)0Ylgx1Ti)I3a(Ko3alV4rrL9fKuJewV4z60Rdbp2Bu2WDDani6JXIVahjjn9kPtgfueEzqusYaEkv2EvEBab0wVJjIR9CueJ)8jkwwmTQSEXVgXcnfAGC9pJcP9ZOylwZkZs6YwwKog2q7NlI88DdWq8ly7mr7y3mx9Cx)nax(wMN0gA2Xgvo1WlfZFnZe8y2wD0XZ9hFcic1RoBtTsQjjtsHwMQlKSUDuRdbFJf(z6EFpaTakPEb2fDlRo3Gh(p3r7ggspx0lgviKnraP4FLMKYmiAC3SdgCGhqwilokqvvkRh69S6yINVWYO4D7XtXAFKVhaGUBhIPxzlGnaTxJ9JJJIx6FGgR3IkCdKm1Zwoqq)c8ieU8u6tD7c8i64XD2pOCwBd2wBf5ICo5Qlb0CeLU4ZmREGHgHUm1T6GpxMPkFQExgSerNJLzRy5jkakfoKclcWnEXE)TS(dAgqHyzcqwLIZU00aIHEhDSacVc8JrbBKdPBfGabX53BG7UlgF1W0aq)CKovWRXdq42)50)9jAcunl6ygyBtPF4x5LWS0N)fKCzQMrpcMpD8o460ymn01)SP6gqO1so38RnSQJzo(fh18s9D3K78YorwLP0gkTWq(W4lWEOB5akhhss8O4A3m0vjc3O(iCIse(9(7WporGs3oKWyzZx9yfgyeFXlWe)OKoZmS6PqE5A8rCwlyDTHVd3BzKRCOuJrEJtpL12rW1q)FbT8Rjh0apJYSsT1W0P(OgGHeVuRWwmiAZNpCciIFXbpqal(YSpmVrfvO6YMc8Oe7dxW9r(xW4vz2T7yyARISDnZhzZP3fuv(dCQS1PvEt66q1yo1t)7ZAv5YCk8AXqVhxZ2zsGQ4qg5xCz4lUYfxwrNav1i9i5iXHVvDpZqh4pBf5Df4ajmU9h8QE7L0nZghPL4ycEC4YeMVqOt9Ee5s5gvvH6SzoD7qCWnCYWLTe(zaAgWlSOcABLN0HAP69apOu)LxMNWcPmNBLmA3AIWPIbA1CDDdnieer3t5O(m19DQCbpfnLaJgA1uQZNlK6DbZBXdFR8dJRftBP6wxE0EwAjppH)T)FnZUhGLdwLPpD3W7ES)Y2ti5DoHFs4l(3aihnnWuygvWToJZ1qd2ZhXJf5INfVYzEcM9fIzrCGsn90sFJ6Gn7ctI6kXamhf4C1pWVqrSxMgHMBax1Od)Din17xlOCtANLW13xCuwxfizk)70DfFPxoxLvBEdf04YnAxlkeIEDV4G9UqhmEwd64lKDLdiOTPzIrf4HQS62BXd3YpGE7T3t36EkG9)c```