deleted … peace out community
welcome to join my discord community
Haha I got my hopes up seeing this post


Hopefully not too far away!
Oh HAPPY DANCE!
I like your macros, very interested in this one. Will you be just doing frost or will you do other specs too?
Nice too see, i enjoy all your macros. ATM runing the shamy macro too lvl up from 117.
Hopefully he do blood and unholy too.
too slow for see the gse?
Such a tease lol…can't wait for this
Looks great, makes me want to level my vulp dk! Can't wait to test it in the morning! Good job thanks!
Hello, unable to import the macro for testing, coding error and not in Orange

@philoo I had no problem importing it and using it atm… so error on your side!
I see it gray instead of orange as below …
so can't import error
@philoo I see it gray as well but if you copy and paste it, it works just the same as orange.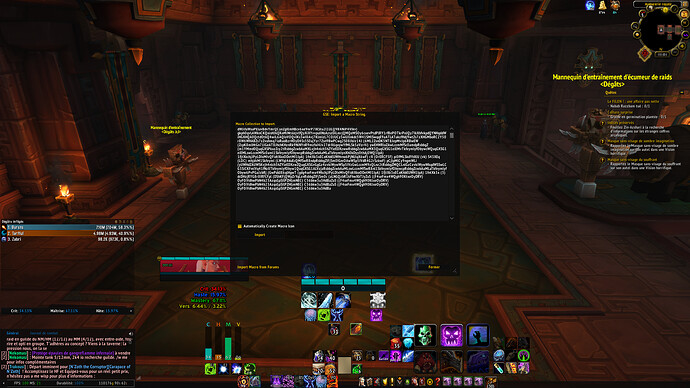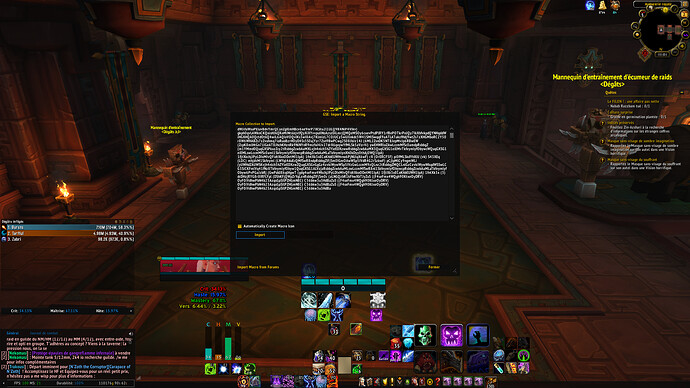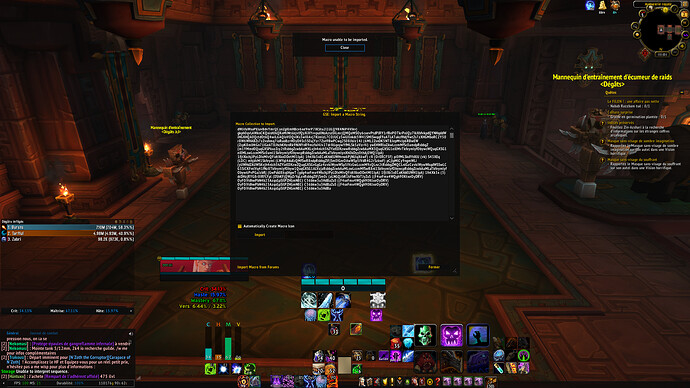 Here is the proof that I can not import it, the fact that is in gray and not in Orange as usual the import does not work … You can export it to me in orange … thank you bcp
dWJifaWsuPElKQTHu1mrkDyeZgIEmHBcP8lI(MO0Drs2jk7LA3s1(v8tjk9xrL0VHQNdAOqWGvA4ivoiQehfvsDmroNKwiskwksyXqYYvvpuuPEkPLjL1HuyIsunvjmzrX0fUiQsNgkxwLRJk2isQ2QefBwuX2fvIpIKsJdv1NHqpdjAKQctdWOvLmmGojQIBHu01uL68IQwjQKCBjYRvfTtUWSKvU5HwA5HrT5kACj3p4HXRznxyTGG86b0Al1APuY6JdjDwtZsZzPGGLboRC2Y50r8W7WHRAZsZz5AohmW6ioRuoBzWGy4D4Ss5SCbjYzX6Zw2(nRuoldFwQ)XHXSA8XEEZsZzlBhz(zl)iXRz14J98Mnh8)SWdzoZs4e4Z(6iiHwl)YHWbzywZkAeXhVm3hIH3HUWSKlmlzvYbEZ(4i)ywEHWRloZAwLccmMfOc2anJsRsbbgZ(o1YMmdWQuqGXSPk9zZcA2BRsbbgZcubBGMrVvjh4n7JJ8Jz5fcVU4mlRvPGaJzbQGnqZ4BvkiWywGAcGsZQwLccmMfOc2anlbAvkiWywGAcGsZsjRsbbgZcubBGMLAwLccmMfOc2anlrPvPGaJzbQGnqZsawLccmMfOM4dyLwCC6OfRewy1AXhR)8IKrz9XrYyuwzN4PrzLAoKHrzLcSoIjJYkc4WanI4J7chw5(YtXH8iWZfoSQXrh150fbgE3kcFm8pwK3k3xEe(he6cZswLb5J4fx)kLFw074Vi)suHEMJKHkZAwLccmMf9s4zOb8fwobvZcuRv(MrPvPGaJzrVeEgAqqgunlq230Z3HvkW6i2mkRi8p0iIpUlCyT4J1FErZOCywZfMLSk5aVzFCKFmlVq41fNznRsbbgZcubBGMrPvPGaJzbY(ME(MbyvkiWy23Pw2KzVTkfeymBQsF2SGMrVvPGaJzbQGnqZYAvYbEZ(4i)ywEHWRloZ4BvkiWywGkyd0SQvPGaJzbQ1kFZsGwLccmMfOc2anlLSkfeymlqTw5BwQzvkiWywGkyd0SeLwLccmMfOc2anlbyvkiWywGkyd0S0BRsbbgZcut8bSslooD0IvclSAT4J1FErYOS(4izmkRSt80OSsnhYWOSsbwhXKrzT4J1FErZOSY9LNId5rGNlCyvJJoQZPlcm8Uve(y4FSiVvUV8i8pi0fMLSkdYhXlU(vk)SO3XFr(LOc9mhjdvM1Skfeyml6LWZqd4lSCcQMfOwR8DyLcSoInJYkc)dnI4J7chwrahgOreFCx4WHdRCHt8c)Bn3ijWxwv6obpLBw7DYkAKohcsE6X9ZLRhy4DJYHdBa
Usage Information
1 - Raids / Dungeons
2 - Questing // Visions // All in One // No Frost Strike - Only Death Strike for self auto heals

This macro contains 2macro versions. This Sequence was exported from GSE 2.5.8.
Macro Version 1
Step Function: Priority

KeyPress: Empower Rune Weapon, Death Strike

Main Sequence: Howling Blast, Pillar of Frost, Obliterate, Remorseless Winter, Frost Strike
Macro Version 2
Step Function: Priority

KeyPress: Death Strike

Main Sequence: Death Strike, Howling Blast, Pillar of Frost, Empower Rune Weapon, Remorseless Winter, Obliterate
merci Beaucoup



Your description of version 1 says " no auto Death Strike". However, version 2 doesn't have auto Death Strike. It is the Empower Rune Weapon that is auto.
look at the sequence for version 2 … death strike is substituted for frost strike
I see it now. I didn't realize I had to scroll to see more spells.
there would be some possibility of assembling a macro using the build of m + (3233111) I like your macro in advance thanks!