v2.0 Latest Update 12/5/2022
For the Angel of Death spread his wings on the blast, And breathed in the face of the foe as he passed. And the eyes of the sleepers waxed deadly and chill, their hearts but once heaved, and forever grew still.
This is my Solo/Mythic+ build. SIM's >95% on a target dummy. Which is excellent.
As usual the Deathknights classes are always a blast. Virutally unkillable when you replace Frost Strike with Death Strike this becomes a monster of a class. With only a ~10% loss I do think that is a suitable substitution IMO.
Simple macro that pops the following on cool-down:
* Death and Decay
* Remorseless Winter
* Pillar of Frost
* Empower Rune Weapon
* Raise Dead
This should use Howling Blast only when Rime is active. Should being the keyword there. It might and might not. For me it did nearly 99% of the time.
Tweak it to your hearts' content. There is but one [mod:shift] inserted. It's set too Death Strike but feel free to change it to a defensive cooldown or whatever. Or you can put in there some offensive cooldowns like Empower Rune Weapon/Raise Dead and then remove them from the sequence themself. Totally up too you.
MS~ FIre this as fast as you are comfortable with.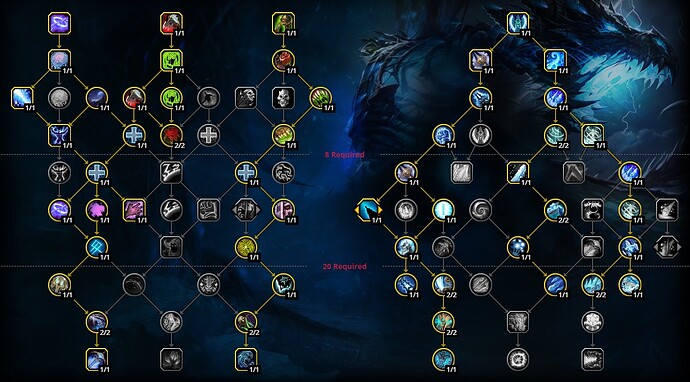 Solo/Mythic+ Talents
BsPAAAAAAAAAAAAAAAAAAAAAAkIAigkEJiEJSikECIJJJJBAikERSSSSKJBAAAAAAAAAAAA

GSE-Import-String
dyeziaWjuLOrHQKofQs5wOkv)cOggIQJPILPQEgkmnHQRjj2Mq6BiOXHQ4CcL1HQIgicKdcQfIq8qjLMOKkxeH0gra(OqWireoPkLvIQsEjqMjI0nLuStO(jcunuvYrrvHLIi6PuMQexfvvARiu(kQQ4SOkH3ke6UOQQ9s(lQk1GvLdlyXOKESunzvQUSsBwsvFwiA0ssNwkVgrz2OOBJsSBq(nGHJkhhbklxHNdz6IUok12rO67iGoVIMps7NQ1rfHpYaDJusVHJaFxdCTK4gMOc)vrwnH(aaPIWhvKrSWOfyL5IurgODEnwesfHpYa3dO0FrKfG78jQAR(K)(RUnKv9NLJgzRsLYG7zdacPIWhve(OIWhzo1PG251yriN6uH)Ya3dO0FXjSsuEKvMCRm4E2aGuk8xfHpYCQtbTZRXIqo1Pc)LbUhqP)IhTcpvKvMCRm4E2aGukmdve(iZPof0oVglc5uNk8xg4EaL(RY5t4rwzYTYG7zdasPWXvr4JmN6uq78ASiKtDQWFzG7bu6VisqCmdZDWF)fNXpAfzLj3kdUNnaiLcxrfHpYCQtbTZRXIqo1Pc)LbUhqP)oXIsiHKlRm5wzW9SbaPu4OQi8rMtDkODEnweYPov4VmW9ak9hJt0pJyYktUvgCpBaqkfMqve(iZPof0oVglc5uNk8xg4EaL(lESyX4rwzYTYG7zdasPW8OIWhzo1PG251yriN6uH)Ya3dO0FXJD4jUSYKBLb3ZgaKsHJPIWhzo1PG251yriN6uH)Ya3dO0Fmor)mIjRm5wzW9SbaPu4d5Qi8rMtDkODEnweYPov4VmW9ak9hJt0pJyYktUvgCpBaqkLrYLBdPWFzLj3kJuaaozwUCeaBOE2aGKDnAaJwovQu2niwz3yMelmAbwzUivuQu4VkYiwy0cSYCrQid0oVglcPIWhzG7bu6ViYcWD(evTvFYF)v3gYQ(ZYrJSvPszW9SbaHur4JkcFur4JmN6uq78ASiKtDQWFzG7bu6V4ewjkpYktUvgCpBaqkf(RIWhzo1PG251yriN6uH)Ya3dO0FXJwHNkYktUvgCpBaqkfMHkcFK5uNcANxJfHCQtf(ldCpGs)v58j8iRm5wzW9SbaPu44Qi8rMtDkODEnweYPov4VmW9ak9xejioMH5o4V)IZ4hTISYKBLb3ZgaKsHROIWhzo1PG251yriN6uH)Ya3dO0FNyrjKqYLvMCRm4E2aGukCuve(iZPof0oVglc5uNk8xg4EaL(JXj6NrmzLj3kdUNnaiLctOkcFK5uNcANxJfHCQtf(ldCpGs)fp2jodzLj3kdUNnaiLcZJkcFK5uNcANxJfHCQtf(ldCpGs)fp2HN4YktUvgCpBaqkfoMkcFK5uNcANxJfHCQtf(ldCpGs)X4e9ZiMSYKBLb3ZgaKsHpKRIWhzo1PG251yriN6uH)Ya3dO0Fmor)mIjRm5wzW9SbaPugjxUnKc)LvMCRmsba4Kz5YraSH6zdas21ObmA5uPsz3GyLDJzsSWOfyL5IurPsLY4Nnqgm7raPIszKgqj)YDpK7DzFY))ZN8kNZNWkFz1SzOUqgurwjWCHsKmIGUGVtk)scYyokdgvjYToVGFUZkuTrG0AHjzKW1ss(Orgz3IKmIYxebUDJpmZmladdddddddddddlRMzwT1f(lRMae7aZBq5oi(cLnairez1XgkYfas4VSRWiNc)LrILjNmIF8hV7V62qwfLJgzR)417B9b2mt)r8DGAaq(REGH)iySxu2GI0FbO7(dXUxL3C(I4F)X7(JagaO0FwoAKT(JxzzMvBDe4rODh5pcS6ow)nby7V7aq8Y0FvdeF9xc4VQBGP)MaShOLz9(laD3Feyak9xc4po2SW5pa2P)Uhyje5YBYizODx4VSsJLLadmjRbfPWFzWSZQadzK26vzfG9aAji4iJCeyjmKfbJOeBhOgaKWmo)JmIcvpWOV1cWcxidS2y2YPiImCGLvgOBKs6nCe47AGRLe3Wevgj2bqRl8xwnZSARFXKns4VmJB73Qt4FLJScbVwHpKto5K)Lv3wFGnZu4JsLkLa

If this macro doesn't work for you:
Create a new macro of your own with a unique name and literally copy what I have word for word and see if that works. For some reason that works. Dunno
F.A.Q
Whats your UI - ELVUI/BENIKUI -
ELVUI - Has to be downloaded via their site - won't auto update via CurseForge
BENIKUI - (EVLUI Dependent) can be downloaded/updated via CurseForge
Can you post your ELVUI/BENIKUI profile New Version as of 11/22/2022
!E1!TZ1wZTTos6)kZlZB2Ns8MUK9jjz5yVL1Lvu(KzMurousWsCmfHgsi74Zd53(2naijajiLuozRj1U7djMIe367FDtaU0A5IL(BcybRcssXRz7sibm8QDKWT7ylNy7U0)TWnSDlN42XEjBPp5BhijHK41eEpiFJDlnzp0l)HpoF2O5dl6S3sFk2uwalKgV0)UPZV)FmDYI(pS0)zAm0LrF7qcjn9TG3f3Xp8pilNy1QysB1dN0D0yAcoFAJ3VpA(I7hMnAI(2Ry6T8SZhNU4OKqoCu23fL6tnJBXqbljsCWQiYYb6dAWFaSdg5YxCT0hNuOJhtbjXs)bhdVnc4OWD3sIjjbrCwnLr2ZftBtOVX2DtyczDvgBkFMWrp9qW6W4TYXxH9AT0hwX7FG8kHpYBctpef8(WDbjbRzKK7JFMUCLsJUTSWc(1QG1VSjHEynnsiAswoP1V1Yge6BZVAv2vqhybrValN7ibBUnjypXFDqeUAa(2Q)jsjVs43)ojhQdsd7dJd3hCahFbHX5Br01CU8cq7dO(7VzeobBiRH2g9ajElYvTnPKTIYy09ZcIbkFvbr8Ca05mcjax0D8YOip3mkcVAv2vWa)Aq0rIk9BjBPKY5SjA8X0Pze4mAAOqK1)XftHP6iJUay6VmVq1e0VcIyZOVrsgeWhzHQXavvJsIZkekx5zp9vIWWEu0RpE7t3sxFmDyqkd0YgJpdgVPlwmD887)4DlUcB09ZcsaD4RuV)1EwDVY22bA9J3po4Tb59EX0zA9c)DRRU2czEdo(8ZPfTR6uKFZRT6AD11WWViizljNYvMJYtaihW1boddir03gl0su6H8os6a7dQooGMMo4iObeNr5xvIIHwAB3DP)dukJRnwmMpm62kea)E2Ein3cwu)dAmP)QWOq27nmbC2JpDDyq0ys8XZygCrEuNmX48GWnhiSg6NyQKDTTt7L(Za7BsYmAcljiKPj8n0tqA027kR2Gm5MJjbck6CzhwUwCjKyXoJW014QipDC4n)3j7cxhr8HaqNZK45D11DTKI0GyWl5j0jr5VyjjuZe)FDlk7wCzkxtinDiyELqJ0zBL5zw2DbrlQgtt2UdO5H7OHRjlOB3c(58hoAYIrZ1wAYBHkNTaVAJdtsOjlc3tsSAGyUgyV9ARQmyvIHzs)XfnV0DaFsTaqv1cMO(rMSjnWJBRTQSpVvvHNVbxMxjxlpWwDP)uTOhNNhhBlUBQ2AmDBn)hfYIc2biK83f(mR)GS1OoLPCpp3RCA7QRYzY1Rj(UTJfyf1bd5)cj(oA0gvT7g9sGEP5pBqWwdmZ5yOviopJhbuJFco(a2rEdUejHnxomN8VosszWI(qMp26SfXy4cgt)00W0ZXGhioNE2OX1HHW9jjOnzq4jT7DqfFoS2lv96kONG3RczT4bMBTfiVT6HUlipxL)1KdAbZ7JJpdEGLxxGG4(Ke4FAM07OPD7yw72wt7(MWTiQVzj0TisIYSmZojCS8YcWmbSabOKaC4M7Hxpnmjn7yT1v52rdOBE)Jhds2C2Sxqm6cDFyuGbYPsypmuo3gAC46eAfBvdRSoQPvCjMQo2TkclR5DTEo312TTfHLNDw4K4EdYZxR52Ab6v9HBeGXhixKPIx7RCCBR7R7K0Id4cgnOfDA2z0JR5DPfhe8nbP7wrlueobZgOTbtgT48coyb0JiI8NcyR3DbHvSSTHEYPQxHNSGgO6BRjxH9h8K1jcf74L1s7gui7HWCvWeFMUjTYefqGJ4xQADL5wtnUb)bIWgz6IN5S1jhlMWa4CdmEDEKrWd1ZGdkWM7mZXWd1WDZ4Gonbp3jxK4vVNcNwwxzJRejU1hibVsoDUfD54WeP5CMyXlGIVGZ9bT)XHB2erK)(uUOkZSp5eYTZSC4bBzK988tjn6Mb0a(9P3pC0W76VOzBrEUsDHH2)FbUXjsLubFtZ)0jKLoTagYDyvHo7EXJE2ot02(m9Tz3fY9TxlvGToL85yYHJcYVCZPtfqa94GPZO5a(uSI2iUOosrv5yingy02d(h4Zxu)QlQRsK3sTQGe27v7RXocqBDXekijLZU2Otjxescz1fwjblmb(kLeOPU5IkgSL(RPXqZbNCBjPyDywfSLx(K01jbhUFTO4mRPhJzvQiwdflZp9aK)mooW45NvuUo8F6kNgl5FTL)1b)7bU9kCftzwNEKfbEyH8EECXd3pze284xeLccTzXF9jzXtTGFdozItpWPy5yx0wT1C1bofCrDpNJq2iQw2wLrgR95XKaodAJqivuMohrXVYU5oAs4FGXgIYPFhTMI1hKsJyHhkQQCJf4YFhjiITtwHSSQQ2U5cllQLm38sF4t3hefTO8Scn(yCi7zutvVIXyFWhjQAoWXX)kRp8kSFhqJIAO82A8RCbRCKDf8LPaBpjCdChSWf5dT)3Mc9JW4L389SRT6WNtzefEPOHUdApOepRh361PTB7wD8SbNNU2UwlF(AehUSi0TBL3R(rh2Xlckg159M6oyO98XOOPfZwr9TRO6Toy)nqYEbauuzTFB9B9CuQRoqdXswDaJfSEhkrwqx6JfKwuZwGiZQGk6rrHFyjuBE6z5BJ4Z4q9HuG)Z(YN3e(8ZHRpgXENxU2V8zqGNWIqv)VOWhV21HxQCubPSenrrMviomu4vFqgSzonIGomslpmvQDpsgpDZ0pnbvfG1wUG3)2PZho6PPtWmmspMG9G7dQ0iMEC)EASPNSgt6zvqfs5WRh4pke4j88wcJ3GxrRs0sYqrKuN4G7kvL1iRxVTIm6AvL2wIxkaIfk9Jj0JhunKX6oviwSkEluDAju1FJu2WVyPOeaxzYBPU40uvuMkUBniJugDpQ8XfFdiXHVCmKhN7oUxNQAOY7RnB6QJc)vFynkiJzxdjLTg(RqbL)Ie(IgVXGFS)jSScF(97Y51pB0RDfjqBH)vCbmlHas6S3aMQHxg7fmBdZfVkmymBvD7zwMp4Ll0eXQYyuGxIvxiMeL)ulob4Ba4hZOHiTlPsDVHyAQg9bczSjwssfcODyKlqVUWZlOgDqvBtX1xMJNs(xy6I0AupZS6dRAeIUtWsCukkzHqsJKv1Cl5rVQ3t(0UwK6K(yMVmbcgxtIqlimDjfZZXHVAxPi8f31K0VkqctgHDufaok23LiEnswIa2KCw4R8VLRjCijeIMYF3krqojra74QzKKuACq0vX04SRx6Vp4B4lUGlir5MISQxdHk1J)zPe7eIu662XdsxVRfKoGNlg9tn2Lb5J9V1tj8zxi6zplaBQRNNLdOYbdaNHP9wJfScexvfHAAbYjghXscRp0UIxP4nJg84T36drmEIFHQ95Lhp1TENKxlEHUkQEHXPGuRyyv0brW4s(60yoOFT5xQ6zJqjkuiRXdCEngBKKkKjvbe8N0j7KPOh2cNDDZDYYng1wNNkurDlZlkqX1gXg)JseokeHOkfNKzNpmDnI)ApeV54(V89V2iem4XCYthvYfiRe6UgOYcMSb5KGepLCQEk8NQK6uKqE8CB7tephdQScYDBLp79i(WmFC)hWUSjmfBXy6XucAt(Xi6Bk7NfHrOXO)n6)xNVXRfyTyT(mVxL5zQmkmbiyUyb9J3KVfv45Gj(LaJwfyeqagCvq28PSGzWaTd8krJJpSgPsrdUnHUx4gAGwGswbgaD)EkX062QoSk1ffRx1OyfmMgJNjCIW3Jdx9PDqM68hVkIU(Lj0SGB6r90qXYeqsS5IXQjH6PNrtvntPYM2(EsrgXmKkdNaF6Xz65nKMVNUQKSGwIbBc2hSf0CwzCg5OjQnbPm0R1P)IOjQO)EQCnzgb4QIMWsdWJNbeN8aLhQGasxlblftnAjd0KQvW1uKtMmI)5drYS6lypcle5wgRgusjujAfEzqkwO5GLA721ZQRJBBhxlhplELc8mGUYeKjCB0KJz66o2T86aqVA50PNDNUUNjOPc2IetKg6PYEkS70YmJRSXwoJeRs7vyPGLfNu1yTSo7zbu7)hk1)7akLLRRgyQFfctBWhMBvC)1Qcug1FTbj)1goqVlanGJMFD3FKG(LDu)ZouFHF6kr9fPCBmXB1s7j2R3sDVp(W0pziHEp9UuidRtd1OYHwMa44CjLyWyeOAQfsUzGNE5ykchukhxBvAsZTnl)TVOZbReWTAKC9Aj(RuLgm7jOwl)tK(FZ27Q84l3I3GX5pdNavZjWynZyNvfyAoMDdXPvdNF5XSpvSqTiQ)BjCyLCUDQeq)KapAGk(PH9WyTb(viI95bzu5L7yWCPSMVRs1R1RuUE8TC)B3oV)4rMcTzklt(jjYCwMnu3xZf4xV06n8MnzNFkSfzSjEbp1LhzLuAFC2tYvzL3bNsOa9Q2BijWFGxKMwUXfVln9Klove74J75VSJuosHZjlzfO0xA(YnHVSK(2jYRULXxtKuxZPEDTZvD4xNkAysx5NBvoU0syCkPmxoScsaUeYOVPg4O0oyWTeGy(wDQKnP53MKAqwG73Nj8QHSu83)nfugz(AXDIk(SzLKnSIMyv(9CviEuF1zv4L5eBvQPef3rDNj0w1M)Ur9FyXDLCgMHxrx54uIcvP4zA85XhyKKcWr2mEDEOfrv6fI7a(U0xlsO8nBwXgBpLY2XppPdKAYID5cihNtc4Mvd5NyoDpmcuJzDrOZU6DoOeuwJDNVfUZ7BHAn)u6LDY7SKNqpRcv)NYoKFpTHeSPOhU9Az1RDRoDDDqHT4i(1YPNTLx7UTT746LnyLVltBPlbEnqrfEC)j9Ltu1JeOuREO25M046hbHoiGNyyZnuz10xaCLZ(bWi3aK8aj9NVe5YxHgT5TqG5ZIkEsHzzyspX5pe8NbAOc0RhdZpvjYTSkCB0IDaU96WcY9rA0gCgY2LX3aZuEdHN)FDmC9l)NGPIE0TIHvP9ATO8ELvoE)oKhny8YpNE4cziKAUItawTCguOW1HL(KG)4umNYnjxb3EfFFTMkIvWtxXNNfdEMv)4DfTvDRHj7dKQ)CmbFSNVgMgMDQc)8bc4qKXIiF57FftL5)47FfaW)wwhv2Rdm(6RnFDkEMqE1TYK0(YMJuShMn)5zLk3uEQtQTB9AB7LN1cL(OuS2mw7aj9yRYVh0a)w4YB8Xir4H)nX(5iJnn3Ql1k910YWWQvmfEL1aZgA7kJST5XrtuH4Zqs6JqOmLHlBP05mziSYXpXL6mcRgZL6wn4ryPbMrXcScN3TIoyBtC69z5SPQmPUAotQfNurkU48Q(vvq)lMWQJHI0h5oOu(6betHmwdLhy7Yalz5lDrQN3m62(p(a)(6FvdQRv5FbfQzAKafeNB8W014tdJYl1sflD8o54GzAogfVHl(kiZfjxqdUIe)f6H4c7SBi)Bx5F9K)Tt2ZZgHE8YWWDYGomKp1n7cE)4Ii(ZYDSSsQqiHTualHZNerIffAg(z(UFTdMUVYVykBhyEVnaHmdFctT(HzPVM9Lnap2iz3tiP4DOOKTLFOpEEr0ob3Cn6vghAzSA55JIVq5NJuLkaVq8BXMbT4K0u0aLJxJOvPVNYi7lAGV43RYuzqGK8d(NsUxqW3V)1FhSEy0e19l9TZVF0KBE4V)0Sh6)3buVl0YJOQQM5nCptl5Gk9IvaU10ZkGpIiAQPvmfiDn3SFKvF9gx8HmNlnz2W)hJf9JmKnXwpt215Y9pblA0KrJ))m8NSYW)NGt9N1EtTmC1UVbBjlnPSA21w5JFYgVnZEot((pctPzopZyYukrGk(KlTLs3SarmfMflNNWx3SpOo4xRaEkFoCGFyZ1ZH0UNSLT7K1sorfuQDy9J4Tl)l0d)f6WqOeIG4PzRN8(4uEOT57J2yYrM8Ztu2AuqZKisw1ZNyFkAzIZjObqJ5KlEMqcKNEX4PtMo8U5thpkprd85(fyw8xVtW5bOAMpauYhORjWZSD4f)Xcsowf5mVMEa)KlXEaMtE66ql858nAIUaRvgtjVIeDfLmdxjzr(5NKywiMNrW(dzFtU(R39H)64V)vZ2raIc6rMpHXqSU(BoW)4abgkSLl)WhqGbacWp8HhcxdyjoMet(lx)x6VDlG)ji5)(d