This is a modified version of 'Ozy's Balance Druid Single target Dps M+ & Raid' macro.
Removed auto targeting, Rebirth and modifier for CDs (I recommend making a separate macro for Celestial Alignment and trinkets, will share in post). Also added an AOE [@cursor] macro. Everything else is exactly the same, thank you to Ozy for providing me the frame work to make this macro!
Run @65ms or your latency + 5 to prevent any weird issues. Otherwise you can run it as fast as you want, although it's a static rotation so running it any faster than your latency may have either no results or poor results.
Sim is ~50,684 using Target Dummy option on Raidbots and Details! screenshot is after ~5min of running the macro using the in game Raider's Training Dummy, with similar gear you can expect spikes of ~70-80k DPS but average is ~50k+
I currently run N/H Ny'alotha as well as M+10-15s and pull my own weight.
These numbers are to prove the viability of the macros and nothing else, take it with a grain of salt as your results may be much better or much worse depending on gear and itemization.
Always sim new gear using Raidbots and SimC to make sure you get the most out of it.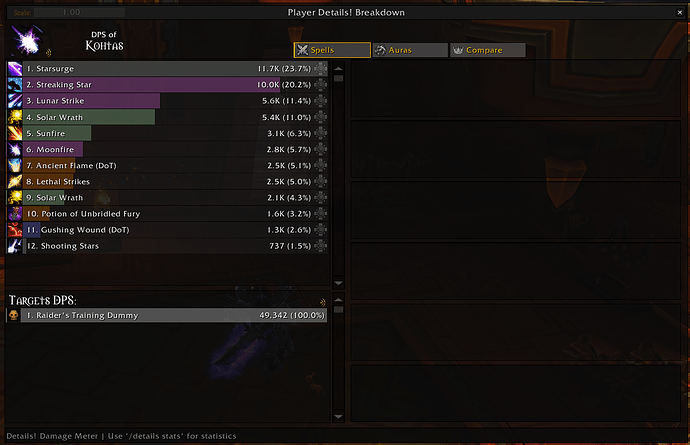 Macro for CDs (Uses trinkets and pops CA)
#showtooltip Celestial Alignment
/use 13
/use 14
/cast Celestial Alignment
SINGLE TARGET
dWeYeaqEL06Lqz)QgWqjoesvztkO6tibJsOuoLeiVscvZcQSlss)saddj1XGyzk0ZuKMguCnjvBdjQVjr14eQoNI6EijgOckhuI0cLO8qjHjssCrjrBuOu9rjeJePkNejPvQG8sjPMPeu3urStLYpLKmuKilvs5POAQqvBvcPVkusJfj0BLa6UsqSxQ(lsv1GbhwQfRepgstwP6Yu2ms5ZqPrtsDAsT4ji9Afy2K42cz3e(nkdxGoUeXYr8CIMUORlOTJu57cfJxcWzMa1oIJ33qCE1vrp8LYPFoEFB0X7C8TIjsPZrcmsrksXXreNpPrjSIAePMjKoEFdXX7BiopaAlZdLhNYLJX3gDEa0wMhI1Mq0mYbgTdvQekmFBQZdG2YuALeAcu7WbIjTKkztWAzauw0sNhoGmt9CCm4oGmt9CCm4oGmt9CCm4ompfd1J(ggNhaTLP0kj0eO2HdetAjvYMG1YaOSOLopCazgds9P4oGmJbP(uChqMXGuFkUdiZyqQpf3H4ZJioVWmwWcRJ0PZDoLyYCsJsyoEpDo9SE3xC(MHoWxCEzMs6loVMwGfXxCEfSOLo9YCopTGXEOan1mHZ5wjHMi1TIZR2wRzkwlnhVVH48aOTmpuECkxogpDoEIwmWYrFX5vBRuIysPJ33qCEa0wMhkqbJgJevihgXeVECFB05bqBzkTscnbQD4aXKwsLSjyT8WH4ZJi4ompfd1J4oicvu80510cSJ(IZPeXM0OeMJ3tNJNOfdSeXx80tNxZ69QekR(IZN0IWwHQI0i0zIuZeEzoVi8klQrKAMW5JQwxveeNtptjOZNW21002(b6mIuZehy0oqHQk2AHglfS8qzTslqTdQqc17h4Abwf7q2eSwEqLGYdtk(HHFOwR3PWHOgLWu9d9HQzrm6S9dDyYoKnbRLAbwChQzlAsQ(ql2peX2100g5ang5qfQipeBu9aXqzrMy)qupqlWEOpiTGnPt7quJsyhOXihQWumzQBLdLQOXkImrEOf7hsIwmWsjUdXOvuoiv3e7GwCiitMfKQhQKoJSMQ1cShmfPDqlpyfqJMkRhs12bzhz4oKQBXGdRSWdj7qvfB9ang5qqcJo9UwG9qKDivBhOr6i7qmmYGdj7qupWoKQ1YdrnkHrFFOpuTqXHHDGY1JKhyKdRSqYbLonb66HIFO(HKDiiXOZe5HwSEigtt2pOLYqtI7alvBKy0s7Wkl8aAloqcfh05HwEGwlZdT8Wkl8qmTiv15vkOXiOwfSOGD2lAfDU6loNh0qPQk(gc1JoV0WunJ48QzQZwEyyhM0kuOiTqlpSvQZvXO1HkPVH4PNUd
AOE
MAKE SURE TO HOLD YOUR CURSOR OVER THE PACK YOU WANT TO STARFALL WHEN USING THE AOE MACRO!
d4u)eaqEuY6LsY(vgqGQoKuQSjkI6tqPmkPe6usjYRKsXSGk3Isvzxic)IszysvDmqwgu8mrPPHGRbu2MuIACqjlEkb3JIWaLk5Gusleq5HuuMiIQlcuTrPu6JuQQgjLkNerYkruEjk0mPO6mvQs7ei)eLAOsLAPi0tj1uLIRkvyRaQ8vPu1yHs1zLsQ3Ii1DreTxH)srKbR6Wqwmr8yqnzu0LPAZePpdvnAkXPf5MaYRLQmBI62IQDtYVr1WffhxQOLJ0ZjmDjxNcBhf8DksJNsvCoaoGIMaeuOzKTDnw1MKv2GhGWenHUbj7QseAiByWo2XogmqH2oxotObIZmjn5m3zWPIexTZLUJn2TIvla82RyhyizKc23jNAKyURtk8Y(EHO49AN8mIDGAZUjVteLyIT9CemLtIr2idiRmc(UUdIGV3WE3o2Mt(ERz3bXDZ6GOMnXD2ah4e3BSd89UTAgJ7TMDh7T3kOM9g276gReBRvZnVDJSrgrpNZGZChzu89crX7vsHh3orxsIww2rkM75CMjPjNUlLt3nJCXElsQDQdZZDfZ9CuVKc)oAx4zquu575iykFxkNUBMl7IkHK3TkNWRYDvTJum3lAs1ZlbUDttYY7cliQVNu7z4IQLiXo4m4uwLLKc)Ull89Ky3TheCjZAVS47cuUJBVSGu92zXn2l(o7wXAxkNUNHYziXmPWVN77LfFxkfL77MYP92l(EoQNVxwsI9CemL3Ur2iJOHAVR9wgSCXoNUZIBq3LrLRGzT3MDW2l(EgQZGRQDKI1UPEIYCpjegUa3oVS4uttcFNf3yhgP2PgQ9uTJe7srIAhj2zXn2nfPkseAYDPid5kabfARgLfon0mYTuiXEx7aHKXM9JujXU9TdYAO1zCysrEacQpMqdecMYboNksCLiAcqqrtack02GrIAN0DbBqfCkj3Haa1plHaeMqBdgjQ92JO0eNUZLUdUSHYdqzdTnyKOeENgUc233PUWltuikEVSbZZLGQ9Dia9bGfbC7qa6dalc42Ha0haweWTdilH(ycqecTnyKOeENgUc233PUWltuikEVSbZZLGQ9DiaeGallUDiaeGallUDiaeGallUDiaeGallUDSaGbk0MZ5zmpLNQqh6U5IciemLhnrfA7CeZqsOb5W9cjHgyUCfscnXKcpuij0MXZLGQayHwxEM2AOGRexfAT3PHRQeso0m6Si6Yos4rtack02GrIAN0DbBqfCkj3Haa1plHOcDdnP65fMqsOz0z1n1fIOjabfABWirTtAfxkNMtYDmeWcmScqycTnyKOeENgUc233PUWltuikEV23XcagiC7aYsOpgC7kdz5OcnXKcpMqsO7M6aHGP8OjQq3qtQEEbfsIkQqdeszGKjLQCkdUQsCvaSOIkc