d0tolaGAffPxQkQ8wiSnvrUmLddMTu9yb3ui0VuvUnuoVIStP0ErSBr7N40kmmHQFtYavLgksvnyudxkoisL65K6yiLJROGwOqXsvuQwmsA5Q8qfLYtHQLHeRtrrnrvrzQcjtwjtNQlQOeFgsptO01fc2OIIyRivXMrQsBxrb(OQOQVkKQPje9nvHzj51ivmALA8QQoPIs6wkkuxtr19uui3fIgNqkNdPsMqJefPLgbNUN9iIpJPp9qFslfsue8OGULUMGtjwAuOqHcbNUJGVvhbpIkBMQS3NDGLQJG)84Zc9yNEOsslLNI9jcEeHmcqFwt3UzGL(qLKyi4pZOxicDN0sJGplj9QUGnBkSgWbQJ(WNiXqWXBSWS(ms7dAe8OBaDO7iCGMefXj4recNIEStpuPMefPLgjkslnc(xa0UWiEB6WKDoCOMxcB)dTRlHt1YGvjCqHrf8s4nCyLWPkSHmT(irrkCSrgjLOrAPqW)cG2fgXBthMSZHd18sy7FODDjCQwgSkHdkmQGxcVHdReovHnKP1hjAjmMAnZb)6ifMgDfpY5prAJLG)faTlmI3MomzNdhQ5LW2)q76s4uTmyvchuyubVeEdhwjCQcBitRpsuKct5P4pIhnsBKe8VaODTndJGLbtyeVnDyYohouZlHT)H21LWPAzWQeoOWOcEj8goSs4uf2qMwFKOLWPctTMz9EqVosHptB(mkOWOcUWct7Ph0IpVeMcLhrlYhLW0E6bT4ZjTZj4Fbq7cJ4TPdt25WHAEjS9p0UUeovldwLWbfgvWlH3WHvcNQWgY06JefPWpZGvFs4zd6yK2Ni4Fbq7cJ4TPdt25WHAEjS9p0UUeovldwLWbfgvWlH3WHvcNQWgY06JefPW0I)y(JijTpi4Fbq7cJ4TPdt25WHAEjS9p0UUeovldwLWbfgvWlH3WHvcNQWgY06JefPWpInArsAJgb)laAxyeVnDyYohouZlHT)H21LWPAzWQeoOWOcEj8goSs4uf2qMwFKOifMgfk0vKKw6IG)faTlmI3MomzNdhQ5LW2)q76s4uTmyvcVHdReovHnKP1hjksHP9uSuItJ0slob)laAxyeVnDyYohouZlHT)H21LWPAzWQeEdhwjCQcBitRpsuKcp)XJ5Zj40xP9icHtrII0sJG)faTlmI3MomzNdhQ5LW2)q76s4GcJk4LWPAzWQeEdhwjCQcBitRpsuKctj(8huiTui4Fbq7cJ4TPdt25WHAEjS9p0UUeoOWOcEjCQwgSkH3WHvcNQWgY06JefPWrhoHJbY0osBSe8VaODHr820Hj7C4qnVe2(hAxxchuyubVeovldwLWB4WkHtvydzA9rIIuy8nCnwkCmDyzK2ij4Fbq7cJ4TPdt25WHAEjS9p0UUeovldwLWB4WkHtvydzA9rIIuyAXJtANtW)0oCo4oeOJWiEB6WKDoCOMxcB)dTRlHdkmQGxcNQLbRs4nCyLWPkSHmT(irrsCcEu3iPJ50iuj4rDJKoMtHqLG)C20SBDd0gjkslnc(xa0UWiEB6WKDoCOMxcB)dTRlHdkmQGxcNQLbRs4nCyLWPkSHmT(irrkmL4ZFqH0sHG)faTlmI3MomzNdhQ5LW2)q76s4GcJk4LWPAzWQeEdhwjCQcBitRpsuKchD4eogit7iTXsW)cG2fgXBthMSZHd18sy7FODDjCqHrf8s4uTmyvcVHdReovHnKP1hjksHX3W1yPWX0HLrAJKG)faTlmI3MomzNdhQ5LW2)q76s4uTmyvcVHdReovHnKP1hjksHPfpoPDob)t7W5G7qGocJ4TPdt25WHAEjS9p0UUeoOWOcEjCQwgSkH3WHvcNQWgY06JefjXj44U1mtIqg8Hkj40)gQB4teC6FweHWPirrAPrW)cG2fgXBthMSZHd18sy7FODDjCqHrf8s4uTmyvcVHdReovHnKP1hjksHPeF(dkKwke8VaODHr820Hj7C4qnVe2(hAxxchuyubVeovldwLWB4WkHtvydzA9rIIu4OdNWXazAhPnwc(xa0UWiEB6WKDoCOMxcB)dTRlHdkmQGxcNQLbRs4nCyLWPkSHmT(irrkm(gUglfoMoSmsBKe8VaODHr820Hj7C4qnVe2(hAxxcNQLbRs4nCyLWPkSHmT(irrkmT4XjTZj4FAhohChc0ryeVnDyYohouZlHT)H21LWbfgvWlHt1YGvj8goSs4uf2qMwFKOijob)5Sj6FMwtII0sJG)faTlmI3MomzNdhQ5LW2)q76s4GcJk4LWPAzWQeEdhwjCQcBitRpsuKctj(8huiTui4Fbq7cJ4TPdt25WHAEjS9p0UUeoOWOcEjCQwgSkH3WHvcNQWgY06JefPWrhoHJbY0osBSe8VaODHr820Hj7C4qnVe2(hAxxchuyubVeovldwLWB4WkHtvydzA9rIIuy8nCnwkCmDyzK2ij4Fbq7cJ4TPdt25WHAEjS9p0UUeovldwLWB4WkHtvydzA9rIIuyAXJtANtW)0oCo4oeOJWiEB6WKDoCOMxcB)dTRlHdkmQGxcNQLbRs4nCyLWPkSHmT(irrsCItCItCcba

ARMS-PVP
Talents: 2312222
This macro contains 1 macro version. This Sequence was exported from GSE 2.6.36.
Macro Version 1
Step Function: Priority

Pre Macro: Charge, Blood Fury

KeyPress: Charge, Blood Fury

Main Sequence: Sweeping Strikes, Colossus Smash, Execute, Bladestorm, Heroic Throw, Victory Rush, Avatar, Mortal Strike, Overpower, Ignore Pain

KeyRelease: Charge, Blood Fury

Post Macro: Charge, Blood Fury
My talents: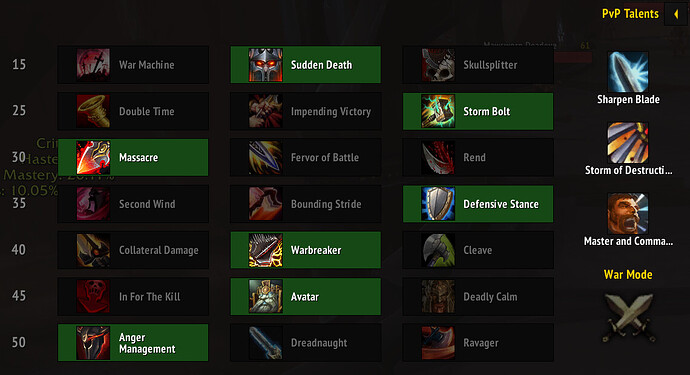 As you might be able to see slam is not in the macro and that is because it would take up most of the resources when it should really rarely be used. I personally just bound it to a random key and if I was raged capped and had ignore pain on and the enemy was under 80% and above 35% I would press it every now and again.
Also, you may want a cancel bladestorm macro if the enemies are just gone after you cast it.