c4vmErLxo5)acmvtpvKrvjvw(BGaY4pbc41uufgBL5gDZ5pfcitmYmJ)FiWm(tHaxvwyRfuDYfM)CiG)fiaD(tHajn2BU5pmc4KvF1ustn0xrvvr(xHaj9KtnfKul5pfc4FkcqhAVjN)uiqtVvMs(hLa(tHahnvrwvMCZLM)ZiG)riGn04Vec4FcceMB15)fcKK)AiG)AjGD(NHa05Fxc4pnciK)uiasLXgC(tHa(tHaevMzHvhB()Ia(FGa(tHam5plcqxvWrwy0vgz(3HaW4VhcaJ)FiaoXetn(hMa(JGaf5Mz(3KaJv2qV1gC(FOaHjwASLgD55L)WjWuwfMCP5FOc4pgc4Flc4L)ViWutbxzJLer(BGa34Vyc0uyJj3B(NLa(VLa(7Ma(hRa()Na(xGa()Nat9Yy(lOa(b2wabhBHLN)AjaD(ZQaNvgDS4VZcugEPnN)BiG)Clay(lJaTjM)hkG)JlGBVrM)Miaz(pUaO5pRc0M)PlWBJ5p8c4MB(pNaP52zD5VZcedo0mJn34Fec4pfc4)Yc4FZc4)Zc4F0c4)0c4F1ciN)xlGC(NTa(VTa(3Ta()Ta(hUaZ5)4c4F5c4)5c4VedaM)QlG)Slqy(7Ua(7Sa(dVaY5V8c4VZc4V6c4F9c4pzc4p(c4pPc4)(c4F)caM))lG)cmG)emG)giG)JiG)klG)mlG)HlG)olG)qlG)slG)ulG)wlG)ylG)AlG)JlG)ElG)GlG)IlG)olG)ymG)OlG)KmG)RlG)TlG)VlG)XlG)ZlG)MmG)3lG)5lG)QmG)(lG)bmG)dmG)fmGt04)bd4)mdqN)1mG)lmG)4mG)omG)6mG)AmG)9mG)vmG)xmG)DkG)zmG)ZlG)DmG)Fmay(hYa(pYa(VXa(tVa(BVa(JYa(RVa(ZVa(30a(7Ya(d1a14)ud4Fcd4Vnd4pdd4Fod4ped4)od4)ed4Vpd4Vfd4pqd4)xd4Vqd4)zd4Vyd4Vrd4Vid4psd4FAd4)sd4pBd4pld4Vtd4)ld4Kn(h3a(tZa(RWa(FZa(3Wa()Wa(hXa(ZZa(tXa()Za(tUa(Z3a(RXa(ZXa(x0a(dYa(F0a(p0a(N0a(R2a(Z0a(B4a(72a(VRa(V4a(x1a(34a(t3a(N1a(B3a(V1a(p5a(R3a(x5a(BUa(33a(J5a(7Xa(d4a(B2a(xYa(p4a(NYa(x4a(3Ya()0a(BGa44)Od4Vvd4VJd4FDd4FKd4pEd4Fxd4)Ed4FRd4)Ld4prd4pSd4VMd4FGd4pNd4pTd4)Ad4)8c0M)RlGoZHwAMrN)Rmqm2mJm(7Oa(BGa54)Ud4FPd4pwd4pKd4)DdaM)CnG)uoG)bnG)epG))nG)hpG)YoG)OnG)NmG)eoG)JlG)xlG)yiG)AiGo28Im(VYae5)kcCM)ZiG)olGuV5pRcSJ)8oG)MoG)GpG)PoG)5nG)EnG)dpG)HnG)zoG)KnG)BoG)NnG)DoG)SpG)olG)UpG)SjG)XpWlZ4)4c4FZdqM)ppG)rpG)tpG)Rman2KJm(l1a(FGaW4F3dSL)ZoG)RpG)1oG)uqG)opWy0jhB(x9a5adn14VId4)bc4pcc4pcd4pJd4)Cd4)3d4Vwd4VKd4pbe4VWd4pyd4)qd4)5d4Fce4pYd4)ce4VYd4)Nd4)Td4pId4)hc4Vie4)vd4)Jd4Foe4pWd4p5d4VLd4)be4VXd4pqe4F6d4pde4FTd4F1d4)Hd4pudeJ)XmG)1qG)KoG)3qG)krG)OoG)6qG)bpG)SoG)9qG)(nG)iqG)LnG)coG)LqG)RnG)vrG)HoG)hiG)snG)YmG)YnG)jrG)(oG)HpG)JpG)RoG)LpG)prG)JnG)LrG)jpG)NrG)erG)wrG)giG)skG)irG)9oG)NoG))oG)IpG)QoG)fqG)IrG)VoG)2rG)kqG)KqG)knG)urG)TnG)4oG)hiG)koG)TrG)2qG)VrG)asG)XrG)dsG)8qG)UoG)fpG)hsG)brG)jsG)EoG)2oG)7rG)hiG)fmG)qsG)BrG)ssG)cqG)FrG)nrG)gqG)(qG)KrG)isG)QpG)ksG)lpG)dnG)vqG)xqG)spG)upG)(lG)xpG)zpG)diG)hiG)6oG)HsG))pG)4qG)ErG)mrG)ZrG)orG)OsG)qrG)3rG)crG)5rWz(3(a(FHa(dbb(l)a(t)a(7Sa(B)aH5p(d4M)6pG)8pGC(7)a(79a(3fb(hib(lhb(tib(Fjb()db(lmb(Vjb(3abG5)de4p8d4V8d4)ee4VZc4)Re4p0d4FSe4Vge4phe4Vhe4pFe4p3d4FUe4p1e4pCe4)ae4pye4pDe4pWe4FMe4Vue4)qe4FXe4VRe4VZd4F5e4Fge4VZcmdn(hMa(R7ao5F2d4VFe4Fae4)se4VGe4)oe4Fye4F2e4FQe4VMe4)Qe4pNe4FAe4FJe4Vhc4)af4)Ue4V1e4FLe4pcf4V5d4Vcf4p9e4pXe4Vdf4pIdiJ)IjG)ArG)6sG)vtG)usG)huG)XtG)JrG)btG)QsG)trG)OrG)msG)BuG)zrG)unG)FuG)UtG)LsG)(sG)NsG)KuG)ZtG)MrG)SsG)6rG)QrG)PtG)StG)CrG)UuG)9sG)ytG)wuG)LuG)luG)NuG)2uG)puG)WnG)5uG)JsG)fuG)xtG)wsG)(uG)ZuG)4rG)1uG)DsG)3uG)psG)EuG)TtG)tsG)VtG)MsG)fsG)ysG)XoG)0uG)nuG)PuG)qnGm(dkb(hvb(Rtb(pvb()sb(3tb(xhb(Jvb(Zub(Zjb(Z8a(Jpb(Jbb(llb(ZYa(tlb(R9a(hqb(Jlb()vb(Bub(Zlb(Bqb(dpb()lb(ltb(xwb(pmb(3ub(Bmb()(a05Fee4VYeaM)mtG)otG)qtG)9pG)TuG)HvG)8uG)jvG)KvG)OpG)zvG)DtG)FtG)9vG)HtG)NqG)wqG)5tG)RvG)BqG)DqG)FqGm(Vob(hxb()hb(tkb(Fyb(xrb(Nyb(hfb(Vyb(Bcb(Fpb(hzb(Rwb(VYa(dIa44pKc4pmd4Fie4Frf4VMf4)rf4pff4)if4VHe4pEf4p3e4)Ie4pOd4FJe4Fic4Fef4pif4pvf4pmf4Vvf4V2e4Vjf4F9e4Vgf4pud4p2d4)Tf4)of4pDf4Fvf4Fcf4)pf4pgf4Ftf4)Vf4pmd4)kf4VBe4pRf4)Cf4psf4FNf4V8e4FSf4pdf4pHd4VYf4K)8tG)cxG)gwG)exG)6wG)gxG)lvG)5vG)AvG)0wG)ioWm(tub(Nzb(tqb()Cb(7Ab(Bxb(dBb(Ryb(Bwb(xDb(Vvb(dZa(dvb(Zsb(lvb(Vzb(VDb(pwb(lDb(VEb()Db(3Eb(hEb(dCb(7vb(hFb(dwb(pFb(dDb()Ab(Fvb(FFb(lBb(3kb(F2a(tob(tAb(plb(J9a(7wbZ4pCf4F)f4VCf4)ef4Vif4F6f4)ag4)Nf4p7f4FOf4V3e4)Xe4p4e4)8d4F9d4)9d4F(daM)7pG)ewG)YxG)TwG)syG)XuG)QxG)vyG)4xG)xyG)nwG)rqG)Itay(JGb(Bob(7Sa(tzb(Nob(FDb(Jzb()Gb(7Cb(hHb(xxb(xIb(tHb(Vnb(tDb(FHb(RUa(7Ib(RpbGHtnY4)Pf4VbcqJ)QwG)LxG)suG)HuG)4yG)7wG)xuG)GwG)OuG)6xG)gzG)0qG)1yG)MxG)3yG)fxG)kvG)txG)bvG)ovG)nsG)HjG)zxG))xG)OxG)5yG)8wG)avG)(wG)UxG)rnG)mxG)rsG)2yG)lzG)xzG)EwG)7yG)AzG)wxG)9tG)EzG)JyG)mzG)DxG)zzG)KzG)rzG)rnG)KxG)uzG)kzG)5wG)1xG)3vG)eyG)8yG)qzG)frG)qnG)BqG)XzG)NxG)KyG)nzG)hxG)pzG)cvG)ioan(ZFb(3Cb(xLb(RMb(ZDb(JLb()Nb(RLb(Jwb(pAb()Ib(Zwb(VGb(Blb04Vdg4)Jg4)Eg4Vyf4pIf4V9f4)jg4Fbg4)(c4)Ef4pYe4)gg4)Ye4Fhg4)Ze4)hg4F0e4)0e4V)f4VCg4)Ag4VOg4FBg4F9e4VPg4Vgg4plg4)pg4)Kf4p6e4)heqJ)0yG)EAG)4wG)GAG)rxG)(zG)JAG)aAG)LAG)IwG)WsG)azqn3Ctn(d3aovJ)izG)6zG))AG)CwG)cyG)IzG)ixG)GxG)cAG)giqn(pLb(7Rb(pCb(hGb(pHb(xTb(ROb(VLb(J4a(pKb(xOb(BLb(lPb(ZMb(3Bb(Nrb(xMb14)zg4VOe4FAg4pFg4FOg4VWg4)Sg4V6g4)Dg4)Kc4F5g4FKg4FFg4Vjg4)8g4FYf4)6g4FEg4p3g4V2f4V3g4Fyg4Vtg4Vfg4FGg4VNe4Fme4)9g4p8g4FWg4V(g4F6g4p)g4F9g4VJg4pAg4pKg4Vch4p1g4pbh4pkg4Vbh4VAeuJ)DAG)rCG)FAG)tBG)FBG)vCG)KAG)2tG)hyG)PvG)yAG)wpG)AAG)zBG)9AG)BCG)sBG)0xG)XBG)mCG)JzG)etG)1AG)owG)OAG)awG)QAG)dwG)stG)fwG)FzG)hAG)0zG)uAG)0AG)oqG)zyG)XCG)3AG)JCG)azG)XyG)FqGn(dTb(l3a(dYb(dzb64Fke4)ke4Fle4)le4pch4FId4)2g4Fkh4F3g4pyg4pIg4V3f4pih4V1fyJ)DuG)rBG)tDG)5CG)tAG)dBG)UzG)LzG)xpG)jCG)aBG)uCG)jAG)fCG)lAG)qnG)GjG)JDG)DCG)dCG)MDG)wCG)ODG)giGn(7Vb(l1b(hWb(t1b(RZb()1b(BNb(JTb(N4a(dFb()Vb(JZb(pNb(71b(VVb(FTb(7jb()Ya(VAb(lXb(t2b(7Xb(72b(J0b(BSb(lzb(x9a(3wb(Blb24Vgh4V7g4VHh4pBh4Fvh4FDg4)lh4Fph4pFf4VFf4phg4FZe4Vhg4pig4Vnh4Vig4VHg4)Fh4p6g4Vlh4VEf4pMh4)Pg4pqh4)Lg4Vqh4VUg4FCh4pkh4VKh4phh4)kh4)ch4Vog4Fdh4)zf4)Ih4FcgaM)8tG)(tG)7kG)gDG)0DG)(DG)XAG)YBG)ZEG)5xG)6DWn(h1b(76b(RYb(lWb(x5b(VZb(tVb(l8b(R1b(33b(dRb(FUb(lRb(d8b(pBb(l8b(3Ub(FZb(78b(NVb(l7b(t6b(l4b(Rgb34pBe4Fsg4VXh4VDh4pGh4F0h4)fh4FJe4)Yg4)Ah4pSh4Fzh4Vvh4pXg4V4g4pudCJ)8DG)8EG)wFG)SCG)yFG)wBG)bFG)EsG)kBG)MFG)hFG)3DG)bEG)DtG)(yG)bDG)RvG)LCG)1sG)7kG)rEG)vFG)HEG)(EG)TCG)ZFG)PyG)(CG)AEG)PAG)CEG)RAG)EEG)UAG)qyG)4BG)XFG)GBG)NDG)HCG)QyG)pwG)JtG)9FG)NtG)vwG)7kG)TEG)eGG)MBG)xFG)uGG)VDG)HCG)8FG)PEG)RvG)MwG)OwGt44)Uh4FXh4pxh4VOh4p0h4F2h4p9h4VAe4pQf4FHh4)Rh4p(h4F4h4Fmi4V0h4VNeGJ)mFG)VFG)fGG)pFG))EG)5GG)JFG)ioao(t9b(d6b(dcc(pbc()Xb(R(b(BDb(hWa(F)b(d(b(p6b(Jac(pec(d1a(lKb(7ec(31b(dfc(hUb(Zec(7(b(3cc(x3b(Bfc(ddc(hfc(d3b(Rcc(dXb(Vfc(37b(dec(Fac(hUb(BPb(FSb(7)b(74b(N7a(pac(Fec(lbc(h7b(lcc(R4b(JHb(N5b(Nmb(V5b(lyb(ZQb(hIb()Qb()dc(hcc(Rec(xPb(B6b(BRb(N0b(Z4b(dJb(V6b(Rcc(7bc(7gc(pXb(J4b(N(b(7hc(lYb(Bcc(VYa(lKb(tKb()pb(7cb(xfc()cc(hec()fc(V(b(V9a(t8b()bc()gc(J(b(B5b(7Wb(R3b(3bb(pjc(Bac(l)b(Jfc(xMb54Vri4VEi4psi4pCi4FFi4FEh4VNeKJ)DFG)BDG)CHG)uIG)MHG)vGG)wxqo(p3b(pgc(d)b(Rkc(N4b(Vec(xkc(Rfc(Rjc(Jic(32b(Ric(Zkc(Rgb54Vyi4)Vi4)Hh4FWi4FNi4pTh4pJi4FAi4FJh4Vjh4uo(3gc(Jkc(Vjc(Nic(Rmc(Zyb(Rac(xhc(Zac(Fhc()ac(Fmc(t5b(N)b(l(b(xSb(phc(F6b(hic(B7b(p0b(V9a(Bic(pnc(dmc(J8b(J3b(F5b(Zmc(licG5FYg4)Yg4FZgedm(Zcc(3nc(F(b(xnc(N8b(7jc(7jb(tpc(Njc(Fic(Jmc(Voc(R)b(Rdc(Rgb(tpc(3dc(Jlc(Vhc(Nec(Vlc(d2b(FNb(tpc(Fkc(hbc(Roc()nc(lec(dgc(tpc()kc(38b(Nqc(Rlc(lmc(R8b(ZpcW4)Ti4)9i4)ni4)vi4pTi4Fzg4p9i4VVi4))i4V3i4poi4VLi4V1f4p9i4VXi4Vjj4p(i4FYi4V(i4V2h4FJe4p9i4V0i4pej4Faj4Vej4VLi4pAi4)7i4))h4VBf4p9i4p6i4Fnj4)jj4Fij4)ii4pmh4)ci4)mh4Fdi4Fnh4pei4)7g4Vnj4pkj4)zi4)Fi4)ph4p5i4pMg4V5i4)me4V9i4Flj4pij4Vxi4ptj4V7i4VTh4V1d4)ki4pGc82BWXuAT5FPc4VDcmfuV5F4c4VVc4pWc8M)tiG)ZkWsLLhuYv2C(BSa(7pc(Noc(Ruc(huc(F1b(7Sa(N9a(NSb(lHa(hqb(hkc(V6a(BIb(Rxc(ZYa(xpc(dZa(dyc(Zhc(Vqc(ZZb(loc(RHb(t)a(Fxc(duc(Bvc(xbc(N0b(FHa(7)b(p8b(Z9a(h1a(FWa(hUa(ZQa(FTa05)1cm2A()rc()ec(dzc(pccD5VSc4pfcmL)ikaCgvNB(Ncb(7Ma(tHa(hxc(3La(3Qa(BQa()Ac(lxc(Nwc(hSa(pHa(NSa(79b(7cc(lkc(hhc(ZlcG5pFj4pVc4Vbd4Fni4)3h4)bf4VGj4VVj4p9i4Fie4)1f4)Hj4Vcj4Vgj4FPh4)Ij4Fmh4FJj4)pj4Vlj4Vaj4p4i4Fih4)Re4)Kj4F1d4FLj4Vrg4pMj4)dd4)Mj4FNj4)Nj4pvj4FOj4FLi4pwi4FPjmL)ULqEs5)Cc4Vjcmxz(JBc(Bxc(lDc(xvc(pEc(lsc()Bc(3rc(hCc()xc(pCc(VBc(hyc(tHb(pyc(JCc(Byc(JFc(hlc(ZBc(Vkc(3oc(Fbc(VHb(7yc(pDc(Ftc(Fvc(FDc(3Na(NDcX4VLj4F3h4FMj4Fwd4pNj4)Vc4p4j4)bk4F8j4)Si4)Oj4FPj4)lc4)gk4FPj4f

MOEFURY
Talents: 2123123
This macro contains 1 macro version. This Sequence was exported from GSE 2.6.42.
Macro Version 1
Step Function: Priority

Pre Macro: Charge, Recklessness, Blood Fury

KeyPress: Charge, Recklessness, Blood Fury

Main Sequence: Raging Blow, Bladestorm, Heroic Throw, Execute, Rampage, Bloodthirst, Victory Rush, Ignore Pain, Whirlwind

KeyRelease: Charge, Recklessness, Blood Fury
Let me know what you think!
Setup :
-Hold alt for recklessnes
-Hold shift for bladestorm
-Hold ctrl for ignore pain
-if not using signet you can remove the alt modifier for recklessness
-if using signet you want to make sure you are enraged before popping recklessness or bladestorm for more damage
-Remove blood fury if you are not an orc
-Remove Heroic throw if you don't want that
-Have a weak aura that tells you when to press whirlwind
-Bind whirlwind to a separate button
-Spam the macro (5ms is what I run it at)
-swap targets after each bloodthirst if using fresh meat (I use a WA for tracking this)
-Create a bladestorm cancel macro just in case.
-Here are my binds if you find that helpful.


-Most of my macros are just mouseover or use target if no mouseover exists like so:

-I also macrod piercing howl and hamstring together
Enjoy!
Whirlwind WA link here :
!WA:2!DvvZUTXnq4O6ee0TPa2obP5N2GfcObooUY)KICiOPbAvwx7wzj3vRJCbmGe1UC3LXRixqY1so3QouKRvh6dGoNl1hkqVvKhGccH(cuFQ9QFc6qkz5KYdIChodNVzMVzuHnxS7IHlg(6L49RhfjWYTE2Fp)L0l(Xtf8hO38NTbbNGObjm(Umcv2PIBnFxVXbmwAiRhTrpsgUD28b5cjRRpUVCVSqKe3j3S92Z1ZnmgN4qcy02dKCsCmMlU395tp(BoYJZWDM8iNmzRLrKqIK5cp8ryW3BHrPYepkQlwyDQiVJr8UCCePVxJDDRwDGidNMUDOWYjNsKDYsrhJ5Ebj4Gdvxv9X9lyfLtdKegDPhyzdRuwak1oGLtL2p1EnJSig3MaFT(k2F5A2HmJWluw)YWTf14aCGexSujYmDir27bkubrllLOGdxQ4equCfJHpyMIiAODtm6WY5CKOufne9q0y8sA1wXE91wXU4x90IxyGmbtN9HEDoQNS)q71NDlMgA9U7CSmNtNQ4x)u7nSGBMLbBKhbzWtAvPCd)wn8l75pkeQGrr(qjGVLB1D3CVQdbtNuTSUV6J(f118qaW3yO(xtf5odBMq4P9i0WXDrsiNlAKW6vNowy22HieeASAE1cQBQ(e1Du3vDD1n45cCnW(2Qpv9zQ7zLTacQphH9N4SDyH43CPZaQhMtrPVa4nqX77o7qmoRmuTdKEiOCMmerjD1NOp2dinC5MQR5qzu84qaGA5gcfxGboyO4TyKa3qYX0yzYvhO)shSQLD6IiuWw1YQhQwr9fxvvsTCNicLis()IHSKaONWZJt4hnbzZncYQE4y4O4oV(gzlkHEIwIee0fS)KgRcz32i08dW1ay3sm9GA5HZUR4NlYM)DmVclLX)2cfkm3PtKItJmnLoL3ZVE21ncr5qVdeVbnjHYeNYWNNnXrK(4qJWFC8Kg6FykCER5(xcDDKOJvxEeNbnDyDVStT61CvxJdHKwNrgfdmWyoynCAeqLzZVjN8k7VphfczdKTV)7f4N7PXgz9y8WMCu2GMtpmE27yiC13ZV621CNg7VZWNSf2UwnxVwo199RVJ32FZw(xyAdYRW3EAKT)7fzhreKoP4KojysCIe7KYqHroCwk2AaW(APPrT9csrcXn96MNkjwoAz3VJMWMIVIY3AKwXaw3oizBhb4RBccpjIdmxGgbX8CJ4MQUHg9HExKL2iNNMD3ePmt8KvxThkMvIWw9fVOjl4Lnr9wD9rAgjrtr1t1Gs3Hh)8PC2eoYmSs8y1d(PrXPSEtt)B9S)PVEr36z)7VRx)6CZXdzT0Q0(mJIgSzi9J30R8oUnCR6wXVU3aqnbmiim5uDmDXJ2EO5SXIo5sjJwhi1WWlpJ6zoBRBcJqb4dkhgcG6GzJVoyxwpm3CChCibDqdTfIdkZ5Wlk6XyIKsS44rxGSXZm(j1W9CGgmPLAnRSBrIPmoUEMjUD1ZNCHxHlA3bYtrKylNxXyDl0rG7cWZB9sRvATrswW0gWBvO1pxKeE6SHr2oWKmVEAMp2dLMLGM7Sj0Kn14qxV60OINRBTXqZdiEQRT2iNeEYJQM3)XBGpKTgWWPAFa)pMUjlj7gN)NB6wLNteiGKfMCsirON4VnG2B9bxzHbNRvYWznSQlVOW7rAGV4r)1()h
Check out my raider.io page if you don't believe it works well:
https://raider.io/characters/eu/draenor/Moejoe
m+ and cleave talents (you may want stormbolt instead)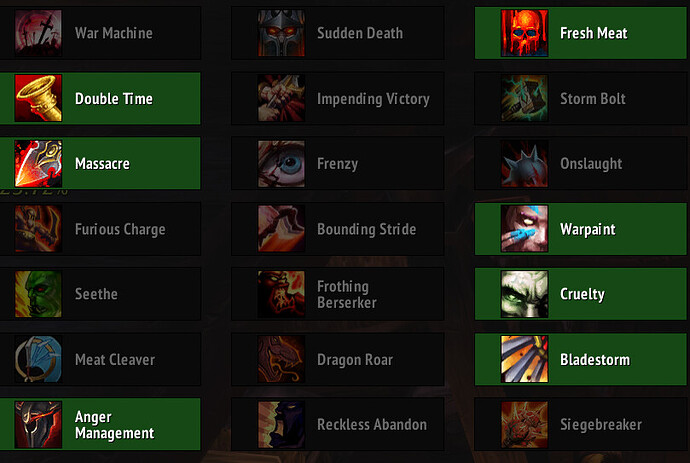 Raid/Single target talents: