Hi All
The Markman Hunter 10.0.5 update has removed the Double Tap spell as it is no longer available in the game. Additionally, some minor tweaks have been made to the talents to improve functionality. The update is not major compared to version 10.0. A requested AOE macro has also been included. Keep in mind that Volley is not part of the macro, but it can be added to the KeyPress section if desired.
A second Steady Shot has been added, which may result in a slight decrease in overall damage, but it is necessary if you have low haste, as it helps prevent running out of energy. If you have high haste, you may remove this shot.
To add Volley to the AOE macro, use the following syntax in the KeyPress section:
/cast [@cursor, mod:alt, nochanneling] Volley
For optimal performance, set the rate to 100 ms if you're using iCue, G-Hub, or any other hardware emulation software. For AutoHotKey, set the rate to 250 ms, but note that AutoHotKey is not supported. If you encounter any issues with importing, reach out to the Troubleshooting area either through a ticket or a forum post. The developers of the application are best equipped to assist with import-related problems.
Versions
v1 - Initial Conception (10.0)
v1.1 - Update (10.0.5)
Talents: B4PAAAAAAAAAAAAAAAAAAAAAA4ARoFASCCCAAAAQERkkkkgIRSLkGRQRKaCJJhESoBAAAAA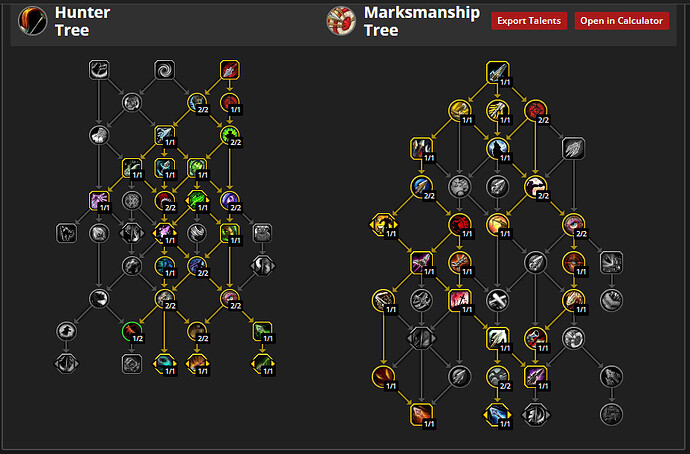 Single Target
dK02jaWjkLsJsukoLOuzwkj3sP0UKk5xKuggLQJrrltP6zKW0qbxtuSnsQ8nkLmoPcDoqI7jvv1)abhuuTqrjpeKAIsL6IOiBee6JKu1iLQkNeezLkPEjPYmjj6MOu7eOFIIAOsvokLs1sjv9ujtLcxvQGTcI6RsvvElkP7IcTxK)ssyWchMWIPu8yqnzs0LPAZOeFwPy0q60ISArP0RLkA2qCBss7gQFJQHRehxuQA5aEortxX1PKTds67svz8ukfNNuMVu2VQjtYGanPQBiQc2mZmOkyZwfLbbUtguziqC8iPccRGWkiSccRGWkiSccuLBnOCaQ6aUtmVp8JCRbLdqL6lMGSditCmbQW0EgQycZcha2HMR6Iye2KqsJgLfvqwaKe2G4sYGgQuPqoDyrPyCLuTBFxH9D7zmnZyl7qHkdMHMaHI9D72Ik2cyaUKmiqtYGkilascBqCjzqLoxtVJ4cPtgeOjvQblKZdwXCyubg7ij8ggFOlHG8Oq5dbUtLAWc58GvmhgvGXoscVHXhgawUeLp0qLoxRhGlLKbbAsLAJayJpo2vv7bRyoQaqvgzvPluYin0qvo8K4yjzqGMKbbAs1BVPZ16b4s5BVrG7uPgSqopyfZHrfySJKWBy8rgfkYysGkO6T305A6Dexi93EJkdTfNQC4jXX0qG7KbbAs1BVPZ16b4s5BVrG7uPgSqopyfZHrfySJKWBy8XU5odkmjqfu92B6Cn9oIlK(BVrLH2Itvo8K4yAiqfKbbAs1BVPZ16b4s5BVrG7uPgSqopyfZHrfySJKWBy8HcBLPJqXKavq1BVPZ107iUq6V9gvgAlov5WtIJPHazGmiqtQE7nDUwpaxkF7ncCNk1GfY5bRyomQaJDKeEdJpuaLD7QZobQGQ3EtNRP3rCH0F7nQm0wCQYHNehtdbMHmiqtYGanP6T305A9aCP8T3iWDQudwihPN9wog2FWkMdJkWyhjH3W4JhpaCPp9pmxvBeZJh7zSLDgyGavq1BVPZ107iUq6V9gvgAlov5WtIJPHa3jdc0KQ3EtNR1dWLY3EJa3PsnyHCEWkMdJkWyhjH3W4dtOWGcgiqfu92B6Cn9oIlK(BVrLH2Itvo8K4yAiqfKbbAs1BVPZ16b4s5BVrG7uPgSqosp7TCmS)GvmhgvGXoscVHXhMDmJImDC1JmQtDmyU6rg1Pogmjqfu92B6Cn9oIlK(BVrLH2Itvo8K4yAiqgidc0KQ3EtNR1dWLY3EJa3PsnyHCEWkMdJkWyhjH3W4dtOWGcgiqfu92B6Cn9oIlK(BVrLH2Itvo8K4yAOYqBXPsLC(cv69fxmeOjv14lq0cdpjoMQEajoqA0OHgQGe2gReYazbqsydIljdQGMRQnIHYIkdGeUtFmPSOYaiH70NDklAOHgQQfhgsDtGkOQ)CrN5wacjzqdvS9r0TyeKbvgcehpsQYIHE5qcbISZwhefZe3s9Sa5ocPSD3QYKRNdX8cAOHoppp327Kj9vvqdT(sLDQE92UEDcOxVgLPINvEEEEovS1g0embAsfBb2sGaj84aq1XtIJPSOQFoYcvS5CSTv(Gn7hLQC(G(G5fhqmCGhSfWa8UE81FTEl8dX8W0U9hSRhjwEOXTaEyjt4npsq3bMw9O0WIf)bh4H632plBw9Gd8aWc)qmp2Zy)rFPb9rE)011JVE72TFnBUYeloG8R)6cnXY8y7JCayb2FuO85X2hmJr0Eyj9hC8Jfao8JSPhGdNK(JcLpYSRRhDZFG5ZdlP)ihawG9hfkFEWhuhOVK0x9inYhIhiCP8bNLhSWHTKREiWkFmO(dLcvfB8hj5dmFEavhq7bAAd6dlmIlLpsJ8blaU31JV(RZvPXJTpyBHmPTfkFES9rwUCEm8hws)rFOo(XWFSaWHFKWpYzMPhYK1iMehlFKn9aC4K0FuO8rMDD9Osyy)Hg36bQaQ(JsGav(dbw5dMSnliCzcQ(JcLpREW2czsBlu(8qIYTqu(Wg)HL0v(y4pqDKLhYfaxO8HEXss5diMa8hcSYh5jvDLpku(01JV(RZzMPh65JysC8xV9rncG5XG6pyjTbDE0xAqFW2czsBlu(S6XGMKp6tO9qJB9awGFGkGQ)qVyjP8beta(QhcSYh5jvDLpku(8Ws6kFKWpYzMPUE81BFWmg2FmO(dwsaY5bBlKjTTq5ZJK8HL0v(GJFmO(JfleKhACRhCmI2dS7kFm8hws)bBlKjTTq5ZJ(qD8J08ybGdl76XxtLErsjbAsv)5IoZTaesYGgQ6NJSGKWDsfv5wdkhGk2CowYba49rL6lMGSditCmbQWChkuXeMfoaSdnx1fXiSjHKgnklQ6b5EeOjvqJiKsi1nbQGkqHQovDdrvWMzMbvbB2QOmOIT2GMG7HyjjqtQuPqoDyrPyCLuTBF30((EgtZm7kSfv1IddPUjW9mmqLbZqtGM2TB3EgQ62zryHmeOjn0qdr

AOE Button (Request)
dKu3jaWjsIQrrvPCkrvXSukULsv7sc5xKuggvvhJQSmj6zKW0qHUMOY2aO(gvLmorvPZrs4EKeL)Pe1bfLfkQYdrbtuc1fbKncaFKKkJuc0jbqRuP0ljvMjjvDtuQDc0pbudvjCurvLLsQ6PsnvQ0vLa2ka5RuvQElkP7IsSxK)II0GfomrlMQIhdQjtIUmLnJI6ZkvgnKoTiRwuv1RLGMne3MK0UH63OA4kPJtselhKNty6kUovSDueFxjY4jjsNNuMVK2VQjpYLa9OUyaWu2admitzZMPzadebwsUu7krm8iOE5nlVz5nlVz5nlVzzQZCguoe1faxiMVe(rMZGYHOwDnqaYGejoMav45ph1aHzMdbBmWvDvosFsiPrJYJAajHssFqmb5sd1QxkMcSQuoMsQl9xQWFP)CEE5YPaWu7cmdeOk8x63xuZwcdXfKlb6rUudijus6dIjixQ1zA6netkmYLa9OwnyPyEWkMdJkXydjH3XYdDjeKhnkFiWsQvdwkMhSI5WOsm2qs4DS8WfYXeO8HgQ1zAlGmHGCjqpQvBKq7SXWMQApyfZrLqQYcRknPswOHgQZGNehlixc0JCjqpQF9vDM2citiE9vcSKA1GLI5bRyomQeJnKeEhlpYPqropcub1V(QottVHysH96Ru7QTAuNbpjoMgcSKCjqpQF9vDM2citiE9vcSKA1GLI5bRyomQeJnKeEhlpk9kzuHhbQG6xFvNPP3qmPWE9vQD1wnQZGNehtdbQGCjqpQF9vDM2citiE9vcSKA1GLI5bRyomQeJnKeEhlpu4RC5Rk8iqfu)6R6mn9gIjf2RVsTR2QrDg8K4yAiqgjxc0J6xFvNPTaYeIxFLalPwnyPyEWkMdJkXydjH3XYdfQO0pG9tGkO(1x1zA6netkSxFLAxTvJ6m4jXX0qG5ixc0JCjqpQF9vDM2citiE9vcSKA1GLIryQehddBpyfZHrLySHKW7y5XJhqMWgvgmxvFKZJhL58LFgzKavq9RVQZ00BiMuyV(k1UARg1zWtIJPHaljxc0J6xFvNPTaYeIxFLalPwnyPyEWkMdJkXydjH3XYdpvWOcgjqfu)6R6mn9gIjf2RVsTR2QrDg8K4yAiqfKlb6r9RVQZ0wazcXRVsGLuRgSumctL4yyy7bRyomQeJnKeEhlpkZ5lax6FZJCagWm6T5roadyg9iqfu)6R6mn9gIjf2RVsTR2QrDg8K4yAiqgjxc0J6xFvNPTaYeIxFLalPwnyPyEWkMdJkXydjH3XYdpvWOcgjqfu)6R6mn9gIjf2RVsTR2QrDg8K4yAO2vB1Ow9C(k16TvtoeOh19yRaWbdpjoM6fqjouA0OHgQbi2hNeYaijus6dIjixQzGRQpYHYJAxOeUqB8O8O2fkHl0MskpAOHgQ7vdgGftGkO23nzHzoqsb5sd1STrwSCKKl1UsedpcQZJXfzaebaSZFdefde3rDmdO8fG5FPtNltphazndmWqwwww(viq67UzGb9T6luD6Zp96KmSDlkqnpVSSSSmQzRnOjyc0JA2sSJebG4XGyIHNeht5rDbnKvQzZ5yvU4bB2pAv58b9bWRgKC4qpylHH4f94B)w9o4hY5HNF)py3psm)qJ7a9WrKW7EKyOaaT5rRHLR2do0d1TVGo(S5bh6bKd(HCEuMZ)JLsd6JScQROhF7(97)w2CLjMniX3(TnAI55X(hzqWsS9Or5ZJ9pagJO9Wryp44hRqC4h(2cidojShnkFe5trpkM)aZNhoc7rgeSeBpAu(8GpOg0sjHT5rAepKpq4cXdoZpyMd7i28qIv(yqThkLQk3zpsIhy(8GjgK2d00o0hoyetiEKgXdMHmROhF73MPE3h7FW2bzs7Bu(8y)J8mX8y4pCe2JLqn8JH)yfId)iHFKbmqpejNrojow8W3wazWjH9Or5JiFk6rNWW2dnUZdujtShTeHj8hsSYhaPsxr4IetShnkF28GTdYK23O85HaL7GO8Hp2dhHP8XWFGAiRpeRqMu5d9Y1KYhaibzpKyLpYsQAkF0O8POhF73Mbmqp0Zh5K44VD)JEKqZJb1EWCAh68yP0G(GTdYK23O8zZJbnjESKu7Hg35bSe)avYe7HE5As5daKGSnpKyLpYsQAkF0O85HJWu(iHFKbmqf94B3)aymS9yqThmNGeZd2oitAFJYNhjXdhHP8bh)yqThRoiip04op4yeThyZu(y4pCe2d2oitAFJYNhlHA4hP5Xkehwu0JVLA9YKsc0JAF3KfM5ajfKlnuxqdzfjHlKAQZCguoe1S5CSGdbXxIA11abidsK4ycuHxPkOgimZCiyJbUQRYr6tcjnAuEuVaqliqpQzarkeaSycub1QxkMcSQuoMsQl9x65VSmNNxUsf(IA2AdAcEbIJGa9OUyJzPdYqGEu3RgmalMalZXi1UaZab653VF)5OguQQrDXaGPSbgyqMYMntZagiAOHgIa