This may be viable for pve content as well. I will post more details once I get more time. There are two macros - One being the main then the other is just for Thistle Tea - I found this is the best way to keep the tea up without overlapping.
I modified this from the macro I created on krusty's post.
I am only 365 ilvl but this macro bursts for around 25-30k dps on single target.
Talents
BMQAAWulQAmRd/c4Iy2r7VOUFEtkkkgkkUSAAAAAAAkAgkAAAAAAAQDJ0SikkkkSKJJAJRSCA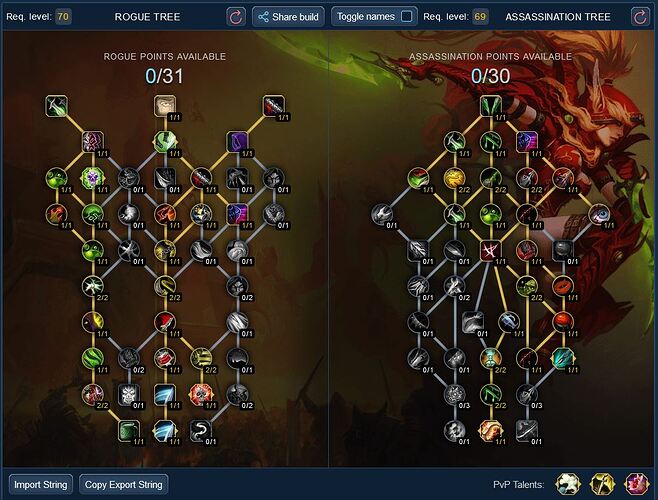 PVP-Assassin Spam
dqKqiaalbc3svc7crK(finme1XKYYeYZavttj11aL2gO4BiKXPeoNsY6qeX9qeLdcyHsQ8qvPmreQlkIyJIOYhfi1ifi5KisRer4LIWmvLKBkIYoj8tbIgkqDuvj1svLQNIAQI6QIiTve0xfO6TG4UazVu)vGsdwPomKflupMOjReDzv2SQe9zjvnAe40q51cy2sYTvf7wv9BjgUiDCbkwUGEostN01Lu2oIO67IOQZdvZxQ2VIDZzlAMbti4xaWmaZKkSiYzZVcr1KMUeP3sZrKJGtoQbNClcgYRmNmKmSqD2IMZMjefIHIRoQZMtC4Gdpk1zlAMHQOW6p9(3d(SH8leGcFabz5HwcYIiZqLiQoBipLLKeuLcA2CfM8Mn6VC2eJjplGBgQer1zd5xO6HQuccIFrwEIrkOzZ6HQucSA1mGuXkFQZw0C2IM5Pp9eho4WJsN(0TiYmujIQZgYVilpXifeeQEOkLaqZUr0I1MZ4PNzaPIv(wTiYzlAMHkruD2q(fz5jgPGGq1dvPeaA2ergU5mE6zgqQyLVvlG7SfnZqLiQoBiYYtmsbnByxbFH5mE6zgqQyLVvlw7SfnZqLvyYaZgmHGFrojaMZ4PNzaPIv(wTawNnNXtpZGr1ONzIXOO4QBPRZmHOqmuC1zoOFJyRwaJZw0mp9PN4WbhEu60NUfrMHkruD2qKLNyKcccvpuLsaOz3wahU5mE6zgqQyLVvliYzlAMHkruD2qKLNyKcA2WUc(cZz80ZmGuXkFRwSWzlAMN(0tC4GdpkD6t3IiZqLiQoBiYYtmsbnB4lGDD0AZz80ZmGuXkFRwSYzlAMN(0tC4GdpkD6t3IiZqLiQoBiYYtmsbn72Q1WnNXtpZasfR8TArJSZw0mp9PN4WbhEu60NUfrMHkruD2qKLNyKcA2n4ebtBL5mE6zgqQyLVvlAnNTOzE6tpXHdo8O0PpDlImdvIO6SHilpXif0SxtEH5mE6zgqQyLVvlAroBrZ80NEIdhC4rPtF6wezgQer1zdrwEIrkOztez4MZ4PNzaPIv(wTOb3zlAMN(0tC4GdpkD6t3IiZqLiQoBiYYtmsbn7grWgzoJNEMbKkw5B1I2ANTOzE6tpXHdo8O0PpDlImdvIO6SHilpXif0SHDf8fMZ4PNzaPIv(wTObRZw0mp9PN4WbhEu60NUfrMHkruD2qKLNyKcA2WHHCB1AZz80ZmGuXkFRw0GXzlAMN(0tC4GdpkD6t3IiZqLiQoBiYYtmsbn72kyw0wzoJNEMbKkw5B1IgroBrZmujIQZgIS8eJuqZg(cyHPbJ5mE6zgqQyLVvlAlC2IMZw0mp9PN4WbhEu60NUfrMHkruD2qO6HQucanBIid3Cgp9mdivSY3QfroBrZ80NEIdhC4rPtF6wezgQer1zdHQhQsja0SxadrWyoJNEMbKkw5B1c4oBrZ80NEIdhC4rPtF6wezgQerv6fm1UV8M9Sdp6PKmz5jgPZE2WBWUEfmbXS)1QQmNXtpZasfR8TA(9l9qQfnZz80Z8RkLuZSEPjxTVuXkFZ8fm1UVIHQSA1mP)4AyvkHOqmuC1rD287y)6JCS5G6qlDS53kpXi11zohI9dCAKJnlozahBohI9dCAZXMR7QuhB(DSF9nhB1QvZC6jjLylwBo4hkaqTqe1zRMt2PiIrkYzZzu19vQ56s2RbacETQxd88(sOY1KIhfseHbzstUKObceO(abskdaaaaaaeaO(aaaaaaaaVMysqMXceiqaobjibajENFdWCYq)AOks)6fsYVVIv(UoZKklFZaXyvykEW(EP(AxWs8HwwHxx4L8MbQPeucntybtv0dslFZVvHOusj2I1MtY)LLq59w5jfPOySkmf31zoO5Kq4fsXkFlG3Iwz(viQM00Li9wAoICuJm8OfKx1w3wyM47LOAvQfnZc0ZzgmHGFbaZamtQWCqDvPMZOQ7R0zxlDjsVLZ(LLWzdMqWZEirWlHbW(1p7YF2zcWOA1n78HMDn6rsnZPNKuITic2vMZb5Bw0itMmzynh8dfaOwiI6SvRwTAda

Thistle Tea Import Only
d8Z5baGAcuNgOxIQKhJkBJqCmaZevvUhbYSvXSqvv3uv1ViK(gQknncv7eI9sTBPSFs6NkWWiXVvPbIQIHQQmysz4c1bLCuLOdd6Ceulur1sjvzXeLLlvpub9uKLHINRktKuzQcMSsy6IUiKCvfLld11rPnsQQTkKnRi2oQs9rcWxjiFwr61k1ijughb0Orv4zkPtcPULc5AkuNNiTsIQBtehhvrBahmcGPVOVrbuLryCW0pKRFFoyeahmfb7Gqzh8ZbNMkUe82EoyeahmcGjr5GV8H5jlUXHv1u164hof0yvnvTvbcicZk)v1ASNJPG0ySPIlbVnNonHUjJf8KrWoiu2b)CWPtNM4h8LZIxat8ctmkmRkmaRkamIi(QjHWWDX2HphCA6hNqDWe6GPa8GB5Z08)Lvje7zzjrVfIYjoAPmD(gnyM(OY9EpDVNrvvvv1UMURQQQQL6KRqG79Et8sU8sUE0WYuXM842nnqs7(4Jysfm8ysaeQiC)bEBgzfGryt)Wgl8GUL4oVXTe828CtIHpXMi244BpbBtv1(HC9RQ2KBxv7l6BurureAetOAtUDo8WRKyycLbEatPEUjeOeSPVOVrbuLjkgZHwNryglSPWGHgbqrrrzSjD4jq2tAeaNoDAd