Hi , To start am a french baguette so dont be RUDE with my english and its first time posting here for me .
After testing litteraly all the Ret paly macro , nothing work good for me and nothing i change in work so i finally decided to make my own for the first time .
I actually play only in PVP but i guarentie thats rock un PVE to .
Give a look at screen , higher DPS on target dummy than the SIMC for the exact SAME amount of spell cast
Give me some feed back on this , i will not make a AOE version of this cause you only have to copie past and replace Final Verdict by Storm .
Feel Free to put spell out of macro
IM NECROLORD BABY
Macro Run at 50 MS
Sim at 7K3 Finish Dummy at 8K7
Final Verdict Legendary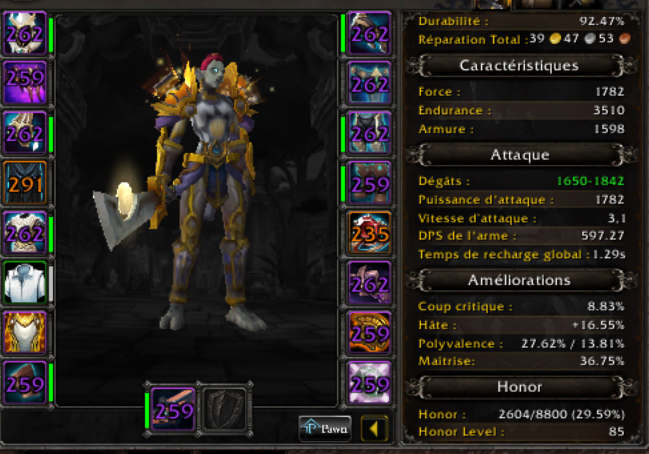 Ret_Pvp_From_France
deeEfaalIKFreddOoMcldQEMsPPbW1OQ2gq8nPKXjL6CIk9pa1avKOdkklujQhQKAIkrUOsXgfIpQeYifsYjvs8sLqntG0nfvStk(jLsdLi1svQEQQPc6QkbTvkv(QIK8wfP0DvKWEr)LsXGjQdtyXkIhlvtwi1LLSzHeFwjWObKtlYQvKIxRK0Svu3wu1UH8BQmCbhNsvlxkEouMoPRluBxrQ(UqsDEQY6vKu7NsMdcPzWVVbAJ02jTnr2TnhBISNzwVHgCc5HI5cPy8alfWsbSualfWsbSuaZNfRa5A4xiAvKlQrwYzXkqUg(f9n2vnyjhIMTGBbGFdkkUMET2LpiuXK0Cs94Y8GkW0fgIwOv084GXXb3cFagmaaaW5H2UMMCbJd2NphrVXHrindc5Tt0KetMlmc5xC5fAkmmcPzWlrfnlO0cv59SKNwKdirt(PGkv(SUMCimcPzqindEjDbMAjVfVnoya8qVqXN11KdrLgCcPzqindEjDbMAj32h3heEOxO4Z6AYHOYd9cfpOoxGFVcLqPba)1kejg11KdX)Y(4cPjXmvA2sindEjDbMAjJdgV1Gh6fk(SUMCiQ0aGqAgesZGxsxGPwYT9X9bHh6fk(SUMCiQ8qVqXdQZf43RqjuAaWFTcrIrDn5q8VSpUqAsmtLgFcPzWlPlWul5rBa(T85HEHIpRRjhIknGqindcPzWlPlWul52(4(GWd9cfFwxtoevEOxO4b15c87vOekna4VwHiXOUMCi(x2hxinjMPstlcPzWlPlWulzCF)C32Ih6fk(SUMCiQ00MqAgesZGxsxGPwYT9X9bHh6fk(SUMCiQ8qVqXdQZf43RqjuAaWFTcrIrDn5q8VSpUqAsmtLMCjKMbVKUatTK36VnxFEOxO4Z6AYHOsZamH0miKMbVKUatTKB7J7dcp0lu8zDn5qu5HEHIhuNlWVxHsO0aG)AfIeJ6AYH4FzFCH0KyMknJbH0m4L0fyQLmoa8w(8qVqXN11KdrLMboH0miKMbVKUatTKB7J7dcp0lu8zDn5qu5HEHIhuNlWVxHsO0aG)AfIeJ6AYH4FzFCH0KyMkv(vqtItZQDIMKyYCHri)Ax(jcLlZdBsOvlDWj8WMeA1sX5eQuPY)q1xzjAW5NQsSAwCJaJqQ85uQyjHkiKhkMlKIXpWhJX2bFwScKRHFpgOPEkZA6aLY7qrx8l6BSRAWsoenBb3caFocuSyEfKwntVqAYH4e(9seTTOzpUm)svueXZknd(nOO4A61Ax(GqftsZj1JlZhv1CGpzjpnXyQLCEbsSGYswbkHzjhX1yjNVSKtilzPNU0wYcu0wYjfZsE321l2sM)HQVYs00cmp0210KlyCW(8gr(IFFd0gPTtABISBBo2ezpZSEdvQujb```