v2.0 Latest Update: 12/5/2022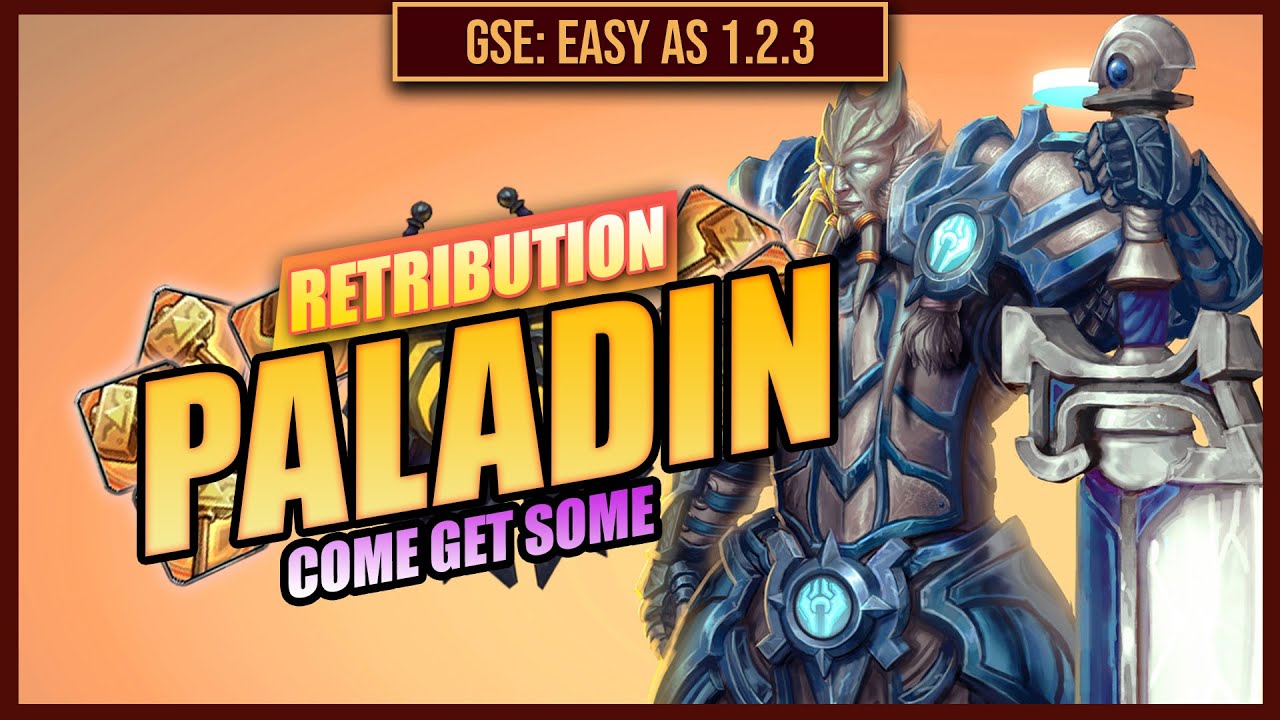 "The path of the righteous man is beset on all sides by the inequities of the selfish and the tyranny of evil men. Blessed is he who, in the name of charity and good will, shepherds the weak through the valley of the darkness. For he is truly his brother's keeper and the finder of lost children. And I will strike down upon thee with great vengeance and furious anger those who attempt to poison and destroy my brothers. And you will know I am the Lord when I lay my vengeance upon you."
Being one of the most versatile classes in game the Paladin (IMO) stands head and shoulders above the rest compared to all the other classes. The pure utility they bring is top-notch and the fun value is through the roof! Here is my talents and GSE sequence for my play-style.
Two different sequences one for Multi-Targeting (Mythic+) and the other Single-Target focused (leveling-questing with a reliance on big survivability. Hence the reason why on the single-target Templar's Verdict has been replaced by JUSTICAR'S VENGEANCE. You can (should change this if you are looking to increase your DPS for Single-Target Raid situations.
Open up the sequences and look the [mods] and change them to suit your talents / playstyle. Default mod abilities are as follows:
* Word of Glory
* Crusade
* Final Reckoning
MS~ 100 iCUE Corsair Mouse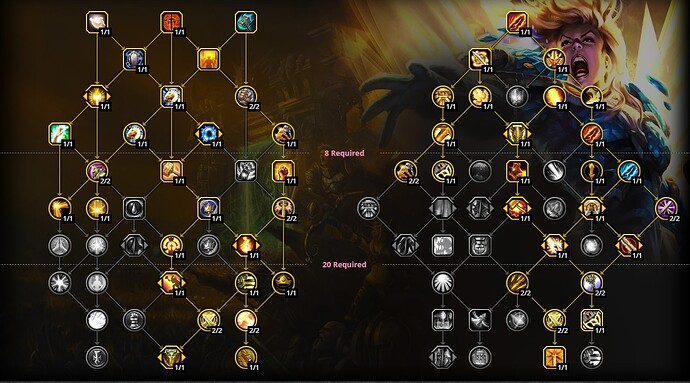 Talent Tree - Single Target Focused
BYEAAAAAAAAAAAAAAAAAAAAAAAAAAAAICikSSCpFJJJAgSSSaFAAAAAAASLRSSkEIRJFIJloEA
Talent Tree - Multi-Target Focused
BYEAAAAAAAAAAAAAAAAAAAAAAAAAAAAICBQSKpFJRSakgiSSSalAAAAAAAItEJJRSgElUgkUiSA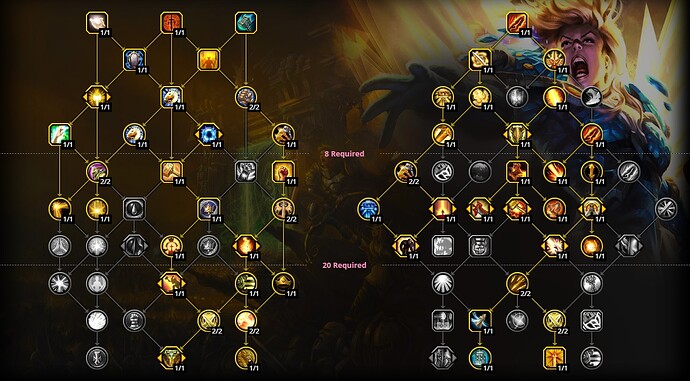 Single-Target-GSE-Import-String
dCuzmaWjuLKxHQKAwOkUfqr9lqnmrHJbyzk1ZeAAK01uITrL8nbnoI6CIISoQYaHIoiqwiqvpujrteOWfvsyJuPkFKkLAKqH0jbQSsQu5LafPzsLIUjQsTts9tuLOHkkQJcfILcu6PkMkkDvGIyRqbFfkuDwQuv9wbUlv1EL(luOmyvDyilgkXJrmzICzK2SsQpRK0OfLoniRMkvLxdL0SHQBtIDJIFlYWPIJdLA5OYZjmDkxhv12PsjFNkfoVOA9OkH9RYfOSvd0bSRGfJnSvVlBh3ejmWehjKrL6SZyVb2zSaSbYug7o8gr4sIYwnqz7Gbehecl4urzR1beXGsmIYwnqzRgOSvd0bMGe29bkjjprwO1M)9YlUcJvV7atqc7(aLKKhc345EmDWr5uo)7JQXWnq1XoWeKWeuS5tzi07dussEeJd3)(iGSSA1QDGjiHD)oJDiqh2ChAhqedkXuR6DzRgOdmbjS7dussEISqRn)7LxCfgRE3bMGe29bkjjpeUXZ9y6GJYPC(3hvJHBGQJDGjiHjOyZNYqO3hOKK8ighU)9razz1Qv7atqc7(T6oCPdBUdTdiIbLyQvDSSvd0bMGe29bkjjprwO1M)9YlUcJvV7atqc7(aLKKhc345EmDWr5uo)7JQXWnq1XoWeKWeuS5tzi07dussEeJd3)(iGSSA1QDGjiHD)gyXLlGoS5o0oGiguIPw1QLTAGoWeKWUpqjj5jYcT28VxEXvyS6Dhycsy3hOKK8q4gp3JPdokNY5FFungUbQo2bMGeMGInFkdHEFGssYJyC4(3hbKLvRwTdmbjS7bKvxcx6WM7q7aIyqjMAvVu2Qb6atqc7(aLKKNil0AZ)E5fxHXQ3DGjiHDFGssYdHB8CpMo4OCkN)9r1y4gO6yhycsyck28Pme69bkjjpIXH7FFeqwwTA1oWeKWUFVSKPyyh2ChAhqedkXuRAxLTAGoWeKWUpqjj5jYcT28VxEXvyS6Dhycsy3hOKK8q4gp3JPdokNY5FFungUbQo2bMGeMGInFkdHEFGssYJyC4(3hbKLvRwTdmbjS73alUCb0Hn3H2beXGsm1QoSSvd0bMGe29bkjjprwO1M)9YlUcJvV7atqc7(aLKKhc345EmDWr5uo)7JQXWnq1XoWeKWeuS5tzi07dussEeJd3)(iGSSA1QDGjiHDFCjMPLoS5o0oGiguIPw1YLTAGoWeKWUpqjj5jYcT28VxEXvyS6Dhycsy3hOKK8q4gp3JPdokNY5FFungUbQo2bMGeMGInFkdHEFGssYJyC4(3hbKLvRwTdmbjS73UwcJDyZDODarmOetToS5o0oUzk50bSuhkYQE3zmQJ7XNHyqjMozMdkXbz51Q1bCmyHpeUHbehecl4urz7WYbXGvQbuW3HLdIbRuBxWxRw17Y2bdioiewWPIYwRdiIbLyeLTAGYwnqzRgOdmbjS7dussEISqRn)7LxCfgRE3bMGe29bkjjpeUXZ9y6GJYPC(3hvJHBGQJDGjiHjOyZNYqO3hOKK8ighU)9razz1Qv7atqc7(Dg7qGoS5o0oGiguIPw17Ywnqhycsy3hOKK8ezHwB(3lV4kmw9UdmbjS7dussEiCJN7X0bhLt58VpQgd3avh7atqctqXMpLHqVpqjj5rmoC)7JaYYQvR2bMGe29B1D4sh2ChAhqedkXuR6yzRgOdmbjS7dussEISqRn)7LxCfgRE3bMGe29bkjjpeUXZ9y6GJYPC(3hvJHBGQJDGjiHjOyZNYqO3hOKK8ighU)9razz1Qv7atqc7E5L9IRoS5o0oGiguIPw1QLTAGoWeKWUpqjj5jYcT28VxEXvyS6Dhycsy3hOKK8q4gp3JPdokNY5FFungUbQo2bMGeMGInFkdHEFGssYJyC4(3hbKLvRwTdmbjS7bKvxcx6WM7q7aIyqjMAvVu2Qb6atqc7(aLKKNil0AZ)E5fxHXQ3DGjiHDFGssYdHB8CpMo4OCkN)9r1y4gO6yhycsyck28Pme69bkjjpIXH7FFeqwwTA1oWeKWUFVSKPyyh2ChAhqedkXuRAxLTAGoWeKWUpqjj5jYcT28VxEXvyS6Dhycsy3hOKK8q4gp3JPdokNY5FFungUbQo2bMGeMGInFkdHEFGssYJyC4(3hbKLvRwTdmbjS7Lx2lU6WM7q7aIyqjMAvhw2Qb6atqc7(aLKKNil0AZ)E5fxHXQ3DGjiHDFGssYdHB8CpMo4OCkN)9r1y4gO6yhycsyck28Pme69bkjjpIXH7FFeqwwTA1oWeKWUpUeZ0sh2ChAhqedkXuRA5Ywnqhycsy3hOKK8ezHwB(3lV4kmw9UdmbjS7dussEiCJN7X0bhLt58VpQgd3avh7atqctqXMpLHqVpqjj5rmoC)7JaYYQvR2bMGe29BxlHXoS5o0oGiguIPwh2ChAh3mLC6awQdfzvV7mg1X94ZqmOetNmZbL4GS8A16aogSWhc3WaIdcHfCQOSDy5GyWk1ak47WYbXGvQTl4RvRwNXHsahyu9UdgNIWki(CirzR1H3udbgidv2oSiCkJj6aE3)ka5gM72GPoGvgJJf3MxKLxa7(Y3GYSmiqGabce4WiGZbSR0X9ChwXQBVk0aLaabceiqGabonyNbCGFg3HdkJvc(oyukxcIu9UdVrm8r4GJXOCUfLXGsmf8Dad(mRstmvV7KzeNLx9UdgLI70XTaUhJWNkmiMvVh((jHNUFL8sgJYy3dMV3D8fgebXjUhduMvPigc9EigHrrs3NwFplvXbhXXRe3JbkNeeXo35w77blcs6E475DULfIWRVhmFplvXbhXXRe3JbkNeeXUhIryuK09P137o(cdIG4e3JbkZQuedH2bSiiPQ3DyHuOUbchRqmRw9Udi(w2exhEJKeUbA1vPCycA1v5qkiUoU9Scmq5eqjMQJaBGoRGzDIJqxzsXbziSaHdz5f8D0ifAhWUcwm2W2bmORr8XTQb6W7CllejZ48fvV7mouc4aJQdZOdlVCLvdKrgzKXUdVZTSqKQ31QvRf

Multi-Target-GSE-Import-String
dq0HhaaluQFHQggkPJb0YqXZi10OORbyBqPVPQghjoNKQSorAGOehuelKsQhsj0ePK4IqH2irv1hLu0ijQiNKs0kLu4LevuZKsGBkP0oPQFsuHgkLGoQKQYsLu5Psnvu5QevsBLssFLOQCwIkXBfv3vu2RYFjQsdg0HrSyOGhJ0KPuxwLnRk8zOiJwv0PjPvtubVgkQztKBtL2nu9BjgovCCIYYPWZjmDHRljBxsv13jQuNxvA9evX(H8ah38GRRdJCYBTCZZmU1wareYvhBsC2RzyLHbKHvaqgMVPEDTeQrrmU5bh3ARsmujyq6eJBX6eAOwWfJBEWXnp44MhCnpLicem3TyNkEQ(iYqqfaSF98mR5Periozvho9qWC3IDkrkyJGS4irEpJmeuBQ)mGSrq9ha4JDE9AEkreItw1Htpem3TyNsddPmeudQOyoV5AEkreiiGwRaSM715wNqd1c(I5zg38GR5PerGG5Uf7uXt1hrgcQaG9RNNznpLicXjR6WPhcM7wStjsbBeKfhjY7zKHGAt9NbKncQ)aaFSZRxZtjIqCYQoC6HG5Uf7uAyiLHGAqffZ5nxZtjIabzyL5dUM715wNqd1c(I51JBEW18uIiqWC3IDQ4P6JidbvaW(1ZZSMNseH4KvD40dbZDl2PePGncYIJe59mYqqTP(ZaYgb1FaGp251R5Periozvho9qWC3IDknmKYqqnOII58MR5PerGGmMmFG1CVo36eAOwWxmV54MhCnpLicem3TyNkEQ(iYqqfaSF98mR5Periozvho9qWC3IDkrkyJGS4irEpJmeuBQ)mGSrq9ha4JDE9AEkreItw1Htpem3TyNsddPmeudQOyoV5AEkreiiGwRaSM715wNqd1c(I5bg38GR5PerGG5Uf7uXt1hrgcQaG9RNNznpLicXjR6WPhcM7wStjsbBeKfhjY7zKHGAt9NbKncQ)aaFSZRxZtjIqCYQoC6HG5Uf7uAyiLHGAqffZ5nxZtjIabbvmb(aR5EDU1j0qTGVyESJBEW18uIiqWC3IDQ4P6JidbvaW(1ZZSMNseH4KvD40dbZDl2PePGncYIJe59mYqqTP(ZaYgb1FaGp251R5Periozvho9qWC3IDknmKYqqnOII58MR5PerGGmaa1t)xZ96CRtOHAbFX8)Xnp4AEkreiyUBXov8u9rKHGkay)65zwZtjIqCYQoC6HG5Uf7uIuWgbzXrI8EgziO2u)zazJG6paWh78618uIieNSQdNEiyUBXoLggsziOgurXCEZ18uIiqqaTwbyn3RZToHgQf8fZRmU5bxZtjIabZDl2PINQpImeuba7xppZAEkreItw1Htpem3TyNsKc2iilosK3Zidb1M6pdiBeu)ba(yNxVMNseH4KvD40dbZDl2P0Wqkdb1GkkMZBUMNsebcQb01dyn3RZToHgQf8fZxVXnp4AEkreiyUBXov8u9rKHGkay)65zwZtjIqCYQoC6HG5Uf7uIuWgbzXrI8EgziO2u)zazJG6paWh78618uIieNSQdNEiyUBXoLggsziOgurXCEZ18uIiqqgSaF9AUxNBDcnul4lwx35CKyEM1CVo3AlOuCw3X5i)v40qTGV2cnulgQX7IfRTehdvQsHvjgQemiDIXTMZqfhZxaoRxZzOIJ5lyM1lwSyD7CulTY8mRLVJG5KkdIyClwx7feRqcY4wZrKo8qS2A5cgtK7OgmYzN6uKpmut55P8WlhEzsSqLKKKKKelRplDQZIoYFnWmMRjMuB1cyssssssIL(662sR7UgsjSArRxNufplgRRLylKBcMW0zWscMWKbXLySUMngT6ziul4ZRbzaxxlbVIizjECg1)HhQf8z9ApX9wxhg5K3A5wlNojN1RTY9GujfZdUUDoQLwz(pRR5KJwCEqwzLvwzwJr8hfd6zXIRdjiyqvsnEN1lwSyd

If this macro doesn't work for you:
Create a new macro of your own with a unique name and literally copy what I have word for word and see if that works. For some reason that works. Dunno
F.A.Q
Whats your UI - ELVUI/BENIKUI -
ELVUI - Has to be downloaded via their site - won't auto update via CurseForge
BENIKUI - (EVLUI Dependent) can be downloaded/updated via CurseForge
Can you post your ELVUI/BENIKUI profile
!E1!TVvw3josw6Fn9B46ifAbHNNaBW2ZXSmaUYU76u4uica1wirlfyNUEi)Tp3BeAjcTbuzntvp0VKPrkwURF3VBiPv6RwUAXgxM7A34e8Vz7JPUm8V2t93TNTAcXC1Ip83W2VAIzxYk2Qf0VDKg7td9O8zq)gBuu8bywlU7L5Zgo)UIjBTAreouMlZpkC1IhNo)P)50jl7)8QfBJcHPm8BhJPjjF4(P4kl8)n6Qj6AfBQwpCt3hfgfllx6we5z0R0o9ZdNV8P7W9jDDCWvjME8u6iwwA2fRRwJlfn0DDaD1a1f193aZbJBmAyEnVrYRtcmXtjGNy1IbN8hfawu4Q7OH0y3aUPoIrpWDt7IJ(GT)E)yQxvdBcFNWvp5ORNF4U01xY8QVAbiXhEM(oLVY5)yufNYg)KJbUFE3E3yxpgn(PWTrRwJR3AxV32ehD0lkq4AwVAI2pPraN(U8)ko7VGjWCdEdeNhPUBgf7EGUWZnaLgWUT(FHAY7u(1Fm1c1f1Hd(H(hCpIRVqX42TGipUvEje9bA)t3pe3GnupySbptd3HwvsDbzRJySOdZCdbnFDHsS1fMCMI4IcDxRmnYYmtJW)ko7VGf(D3Gtuf9pDKcnxNBMIcpLmntbNfL4lCz9Fz5uyRoXIwcw23MxeAcXxUbSzrFqJh4YxzrOXa5qJsUZkkkp4bCCrNylOmgggSyZXK7CtaN4QfErHVtJzZC3rtWnCT7oEKvIxS7XN8esHx0Pqw1qIwIwGyfFo8bSElYI(6Y)Pz62ON()K0)3a)FmedeRbOqNVRtpXc8dPRwm9LLp)0KH4WdFtOZgeXV(skkHo8BwSBieYhdPGPRDXyvK5QlCsum7jUfHUrewStALrHAVaweGkRFfsVHQ54igMD3vhwLUwfExVOJygi7zyp5UlyelObqivu8DkPFoKSiq9S1KJFYLKhLHEy(qgiZ9WXm07)2J3(3g)9VwBSeG9efW8pwG43AWhaYbrW7tJEZq8SBh0NlNjq(BWYk7aSEBOXkxdg8PqF2weXqfnhNaElrfniib))uSBoYvSR)gdUKba2)gmp3G8GvlPHUiEdD9PTBtYw)sb78DJOjxy4ZPWWPGYYDKvWPN)0dpU81xMblDuaLNNvaSbl0XC4b(iLx5nUhGK1yuS(w2MCdrAh1ejpq0Wuiqo2FdeEoA687g(60j5vA66a5caeUaauUEQt5eiy1ctTTUmMR3E0TSmA1INYNplZtJd6BfcsHqPlgJypmaJlMJ57PyW5GzEN4wzjdEHBWn0d8uZI8rpWGPlxoDSW8Gb2qMl4p5jNEUhU3hWkbQj51wyYlKhG(TweuwCXClaKf6dEerqeXo3MPBOjUJi6r5Q1AkRGfXLtaoxEuwkwgTcJDUT7ghbkUBscOv1fet(pbX)fkiEDus5y4cLuxyHY1koX6dUF7(tXIQ(qmGYEkk7ueWIbG95QGOef(7zLT0PgiIPTya)9SLJ0Cmy2C0lhpx42KtrQyFZv2QAtjnURKbr3o3JaEJhh2)5Lpwkt)UHtwoCE5GJZ5oLDBfBNPCy5ZdhTu2LAXx4Juw9iqdkJZebQeqyrCJZGUuGOG0qYnKAk4i17Bus3RpEVo)bWyhN2s34Du2dbrFidYHrD1PFSCoyQMGcx0GxgnArzxQHCUlPz7uUJy0nw9mn7AbuqC0j9qcpBVXYOoSBYp1RyXh5yBA3txN4yAzPByRHtRBd5UMTeDGSxEDBkLhzWwrpka)JywFikUi16(HCvhaGEn1giNvgMagII1FDUwpnK3mJYMN7fCks7SCKlUCx0H1USmmv5aaxqOQeDL3HNHsmKQ2Z7Kq284uYm8l8jEl0wVhef9RkUuO3diL2TF4M8Uf5uUe)kZNNzRYsz3qfavPKO1nbxYEWqffgE0JxiGpGrXrhewjzqgorqGpa0NgQc84Wb0q)3o5pJhJ(yUlxvrtVUeWLQAkcvU17umMTCtQ(EBca5W4TYjR63ulX2)fiw(B)8XCe3TYDdmzk2kGeOVrrxROsPOftQfilnOPjvar)uKYABY9kLs8OusfZUcSa0snlMUX3l7WsKyJTg6wA9c2Nb81A(4(plb7mo6ucftb4ipdkfNxhigPo6sEbaRN0W9AIvYJ7j1eRPjflboGT(bbIzafoLq9XXvdo3O59hpSmohsSqfNR(YqIunUje5NXpFT65NjJXkx0B50zP(SssGTsSz3wRjDPu(kX2i80HhIJoDmbpXOQ8(Ez2RPIgSuyoKxoqLuzcv651WusH1yXeLGjRqGuHRyAKAfwJNRc6peRsP8XRLF5fscre22kpuTAGA5XAmETEX)wQaUSfqC6UPzUp880VCEJwrAFt53zQFvCQBpaaiNo8R46CnnkvlbIg6TlheXsKX5xjUIBNlSNezDsjak3owYcwo9uSGv5bjYx(75bThJ9HmFgKWniW17Taq67mJgNef6g0jeiVN(3LioR9NoJkLtXwOT)q0s(dGtLmXPw4xvpNQ2Os0AryPsK4zk1EL4F3fIlGwKQbFDeEuzC8dq65poLqMVJOvK6n1sEVI4NMXs((x)Ln(B367DkG9jhr)x)fE8vaYhfVnxX40h8HHXJIvP150RDLueX3gJjNCTuVIwEoxvtk5v5Moh30RqfiKv)1GX3(gmC1YlOeOU5z7RlRkvX5p0qxsnUo9u4y8NEhwsDlD2oRQPBmwt8GVGID6ovl2veS0AzpbC2aC368L9(mk)2RdI8EBsuwnq1IJkfdXcoqiJlkQ1t8GN5lageJhIXaHzzT8WTvk0N)GNsFmcMvoalLZvvMsrbr6wiMlbsMMIyRLF)(bh3ZFar2gY8s(jSsEPhSvXtqgIuofemTnwsg)KJ05GnYQlu1xRRfXqZWKyQJf97DrSyZLjNAlfkqQ(1wrNRN(BfkV3qiL6WTusznKGvA5PWhv3JYQX(aQ0WdkJVE)0VmrWTCEAFlv4vxPDi5BMC6WHOW6UJCpUYx)47hvRF5hUb)ROkJ8hPtklNABLQRwbr4eE3GYi36fpvKUAkfKmvGhZgVTSii3AOsdonutSmr4g4XH53))svxTRNCu(JhwwDtT62NPWlVQyMX2QPsPA1ukfFzgQeRupeF9N1GtdOB3q0KRCOB2RMo8n5hLErSJewxgitvyaz7JCWMmLhMAlEskh3qwZbDCikITN)UnninVxybGcndC5LHWFYFW56Pp38ShBUEreNiij7nfraZMWMtD5EmXZFFqAWppXnF3sN5N8qPvPpIG7WHKplXqEnB1FDd1DtUqPPz0JOBz7yt6AALjIvUQqGn7PP3dW2DmnkLnoU)K(zRzLxqfwQuP8AeuR1OaQU5XaubVh0GbsgRsAio)4CbjvOykrX9f9uMKgnxBcv9VTu47YgldGOTx2aSFo(7eHak5K)CmMdFhlUFzwsgg6paFVyG2yx8qua)0dFMUvmmyNYhiC))Nt(EV9FdjvQzDflR04vgbS3J93SjGkTXW6n2n097FDoDhnubrOjdcCDr8yAbf4)4VIdRpXyrHYjNzoczwqIrbAQUw(pakyZbc98l9UFI)A)aoTUFbYUxdWSbuODlK65)13)kay(bhKXn2wAxfMANklP9fUIfYLDdz4CQoPVNjYBkXS5qNd(EXrk1D3iI0GRruVyDMpftvZ2YR28TqcHrim6n4apJZQgHsSEwYk3APfIuzBiTQCcBm24ak5pavnKwUmrP7fQ3SkeCbrDgLvwypJ0qmA1yuiGsMsHzXSsWJDDM9dz95keXQsZfQTmrDWJaKfvcNcWb((x)zyjaEEYVatJM)0Wj3)8)41zp3)FaCDxQ0Zs1uI6FP9ykNWwD0IdLEpQkFVcKFeCTHrjxXP9H97r6dY7nU2Lm3knz2D)FMj63Zs2Mz9cnxxQ1)mMOHtgo(VE2N6uUm6))qbzTz4Vil1pA(M8Ha04jxPL2gy6PvlDebQpCRZy5VER4FaXL)EmkTB5z1YRtI5EX3NWUOOnlXYg(zTnXjLAyNYkTRDkTuh(5)HdxLIRr6aT7Moqc)Cqw7wAC5Vp75Vo7DtFV8It7aijtEkMtVYlo)bHespXsFx(ZKrHoZFvEfQXeY50LjgNrhGiMZk8SsKJgpDY07EC(0XdZPjH3p)ZXGj6AkPu6GOvwXBWu(fR5G2mugkoyrZ78Lt67pr9Blz9jFXHolEstfFNfHrqp3(uXCkFghS8I3IdS((HJ6)YZlfEm5V)JMgv(3AsdBtApRC94GFIhEx)MdS5xjPWqYqvoz)6i34nIG6O3OYhQ0sXVfNfuC0wyD8vo1PzsxuCgtFMWOhkgWcXVfTglL(KG6A(jn2nRb3haSGX0Wt5b(XRgz5yByPRr6PzAB21UhEqH8xy9rogg4jiQ7OtS1C00tVZ6vJ62vtJ0L0t3XHa)lr8Girx3APnLj1PsHuXDii)7uHo)D7wy8ZF30YqvZEx2n7wCnHRKZEU4j5w(MlGRlog6zz3b9nRRDPZ8YiTpUGmm49xg96i81v(obK8yoLq5d3QdoONMXPZ2r(63agToeKO6GxEAS7hdYN9YPZuMf(BTo3OJN7d)0Ylgx1Ti)I3a(Ko3alV4rrL9fKuJewV4z60Rdbp2Bu2WDDani6JXIVahjjn9kPtgfueEzqusYaEkv2EvEBab0wVJjIR9CueJ)8jkwwmTQSEXVgXcnfAGC9pJcP9ZOylwZkZs6YwwKog2q7NlI88DdWq8ly7mr7y3mx9Cx)nax(wMN0gA2Xgvo1WlfZFnZe8y2wD0XZ9hFcic1RoBtTsQjjtsHwMQlKSUDuRdbFJf(z6EFpaTakPEb2fDlRo3Gh(p3r7ggspx0lgviKnraP4FLMKYmiAC3SdgCGhqwilokqvvkRh69S6yINVWYO4D7XtXAFKVhaGUBhIPxzlGnaTxJ9JJJIx6FGgR3IkCdKm1Zwoqq)c8ieU8u6tD7c8i64XD2pOCwBd2wBf5ICo5Qlb0CeLU4ZmREGHgHUm1T6GpxMPkFQExgSerNJLzRy5jkakfoKclcWnEXE)TS(dAgqHyzcqwLIZU00aIHEhDSacVc8JrbBKdPBfGabX53BG7UlgF1W0aq)CKovWRXdq42)50)9jAcunl6ygyBtPF4x5LWS0N)fKCzQMrpcMpD8o460ymn01)SP6gqO1so38RnSQJzo(fh18s9D3K78YorwLP0gkTWq(W4lWEOB5akhhss8O4A3m0vjc3O(iCIse(9(7WporGs3oKWyzZx9yfgyeFXlWe)OKoZmS6PqE5A8rCwlyDTHVd3BzKRCOuJrEJtpL12rW1q)FbT8Rjh0apJYSsT1W0P(OgGHeVuRWwmiAZNpCciIFXbpqal(YSpmVrfvO6YMc8Oe7dxW9r(xW4vz2T7yyARISDnZhzZP3fuv(dCQS1PvEt66q1yo1t)7ZAv5YCk8AXqVhxZ2zsGQ4qg5xCz4lUYfxwrNav1i9i5iXHVvDpZqh4pBf5Df4ajmU9h8QE7L0nZghPL4ycEC4YeMVqOt9Ee5s5gvvH6SzoD7qCWnCYWLTe(zaAgWlSOcABLN0HAP69apOu)LxMNWcPmNBLmA3AIWPIbA1CDDdnieer3t5O(m19DQCbpfnLaJgA1uQZNlK6DbZBXdFR8dJRftBP6wxE0EwAjppH)T)FnZUhGLdwLPpD3W7ES)Y2ti5DoHFs4l(3aihnnWuygvWToJZ1qd2ZhXJf5INfVYzEcM9fIzrCGsn90sFJ6Gn7ctI6kXamhf4C1pWVqrSxMgHMBax1Od)Din17xlOCtANLW13xCuwxfizk)70DfFPxoxLvBEdf04YnAxlkeIEDV4G9UqhmEwd64lKDLdiOTPzIrf4HQS62BXd3YpGE7T3t36EkG9)c```