d8tDhaqyQEgLYlbk9wGSns1xrQyMuQ05rrZMG5tk6Mes9la9nLQ(hLQ2Pk2R0UPy)Q6NafggHACusdeOidfPQbJy4iLdsjonkDmICCsHwOsXsfclgulxLEOsLNkAzG8CsMiq1urYKfsth6IKcUQsexwX1rHhlyRkrTzLiTDGI6JuQywe1NvcFhPsnscjDxagTq9AsPtkennLsxJqCpcjohsLCBL0Vr1vQu9i1mPd49avQMuUWyqvt7LTx2Ez7LTx2Ez7BAHbgZVnxIrRHt3MNyHbgZVnTtQHLNRILB6XMKy9MAWSu(nm74R0C0HzfyrMDtt76kCj0I64eTjKyiijXq2K2kjIKinPaJD9yt8wXIBkApC5Qs1JuPAUSFzDyHrvQMGDys)DuQs1JutGk0VOJOh0(eqb(kSJa6bQjq0VlgCmZkZNaYWJ97kaqrhpkGES1eyWv4taz4kCCbmw(jgEGVc7iGNK44cyCpBBcm4k8jGu44cyS8tm8aFf2rapHE2G2NqppODWEePjWGRWNasHJlGXYpXWd8vyhLFIHV4YzqdWt2fpoTNKXCSh9MadUcFcifoUagl)edpWxHDu(jlUCg0a8e743lhNIfBAjGSCJQu9ivQEKA(A(Ac2Hj93rPEnFn7bQjWGRWNaYWv44cymGNaPBvhQj4SkhwyIw4MumPnnTeqwUPypqLQhPMadUcvJgzmMW8eqgUchxaJb8KN8K7Oguuq)UyqGb(kSJp5j673Vv(jq6w1HKFcKUvDi5NaPBvxe5NaPBvhQjftAttlbKLBk2JTs1JutGbxHQrJmgtyEcidxHJlGXYpjWxHDeWtKSTxeXYprYM197LFIis60L4MumPnnTeqwUPyXMrAGzWkGl7xwhwyuLQj1L1ODqPUPPOoE0c3mcwZcOc3K6YA0oiu308mbTfU5o(kSJDtZnJaw4MrWAwiv4If7bQunx2VSoSWOkvtWomP)okvP6rQjqf6x0r0dAFcOaFf2ra9a1ei63fdoMzL5taz4X(DfaOOJhfqp2Acm4k8jGmCfoUagl)edpWxHDeWtsCCbmUNTnbgCf(eqkCCbmw(jgEGVc7iGNqpBq7tONh0oypI0eyWv4taPWXfWy5Ny4b(kSJYpXWxC5mOb4j7IhN2tYyo2JEtGbxHpbKchxaJLFIHh4RWok)KfxodAaEID87LJtXInTeqwUrvQEKkvpsnFnFnb7WK(7OuVMVM9a1eyWv4taz4kCCbmgWtG0TQd1eCwLdlmrlCtkM0MMwcil3uShOs1JutGbxHQrJmgtyEcidxHJlGXaEYtEYDudkkOFxmiWaFf2XN8eiDR6qYprF)(TYpbs3QoK8tG0TQdj)eiDR6qYpbs3Q((MumPnnTeqwUPyp2kvpsnbgCf(eqgUchxaJLFsGVc7iGNizBViIBsXK200saz5MI9STu9i1eyWvOA0iJXeMNaYWv44cyS8tc8vyhb8ejBw3Vx(jIiPtxIBsXK200saz5MIfBgPbMbRaUSFzDyHrvQMrWAwav4MuxwJ2bH6MMuxwJ2bL6MMI64rlCZZe0w4M74RWo2nn3mcyHBgbRzHuHlwSyZK2eIe8E22KoJR1cJRRkvXMIEqhCh9s1mIXJcggbMDttkxymOQjDUog)KD21sMrURj4ZsDgcypsnPZ4ATW46QsvSzsBcrcEpBBAHbgZVnbRJUX1YxHDemjA2RVyEseEyOBNzt7KAy55Qy5MESjjwVPODddxisdoxW8yqwUPBAcodZIHB6bQj9(fz2duZJVont6aEtnywk)gMD8vAo6WScSiZUPPDDfUeArDCI2esmKKyDjBswTzDR4Mr4Sr7bQjfySRhBI3kwCZDcUsfj49STyXIT
from what lvl does it work?
i have lvl 45
and only 1 spell is used
I can't find any macro that works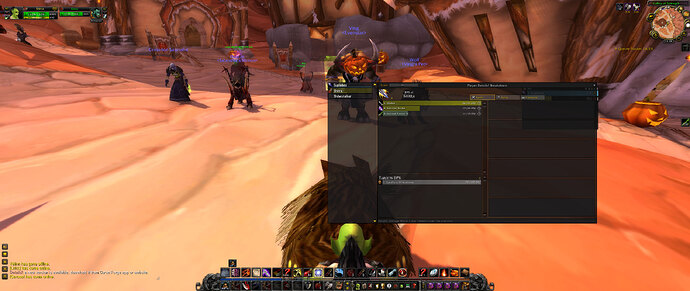 Hi,
My rogue is at 72, that macro is what i used in TBC with some changes.
I suggest you just delete any skill that is not available yet, when you choose "save" those skills will appear red.
At 45 just build combo points and discharge with [Eviscerate] or equivalent.
This is a good guide to follow up to 80:
Cheers
Hi, just ding 80, now macro not working anymore, it just does sinister strikes. ty
Hello, its working good for me at 80, try to delete and import again.