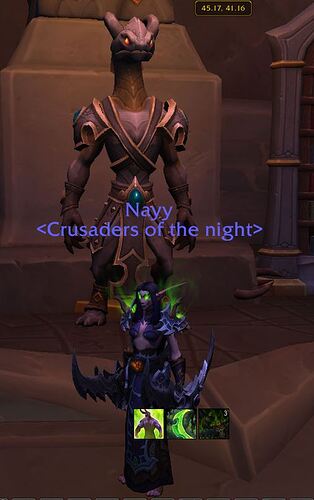 Quick, one button macro test for general PVE built to give decent overall damage without needing massive amounts of movement. May be OK for content where you don't have the space to play the Vengeful Retreat + Fel Rush game… Felblade is also not included so you don't find yourself erroneously disengaging to dash over to a random mob that you mis-targeted.
Feel free to suggest edits, improvements, or just trash on it. All good.
Still a work in progress.
I keep Vengeful Retreat, Fel Rush, and my interrupt mapped to mouse keys and use them as needed, and make sure I move around enough to get my 'Fodder to the Flame' and soul procs.
The final Chaos Strike in Block 4 may or may not proc in your Essence Break window depending on the amount of Haste you have. Edit as needed.
Running somewhere between 150 and 250 ms.
Talents:
BEkACnvaHJn8GSPD6tpaeczPTRSCSiUCSLJRSiABAAAAAAAJBpkSkkUEikGKSQSSSA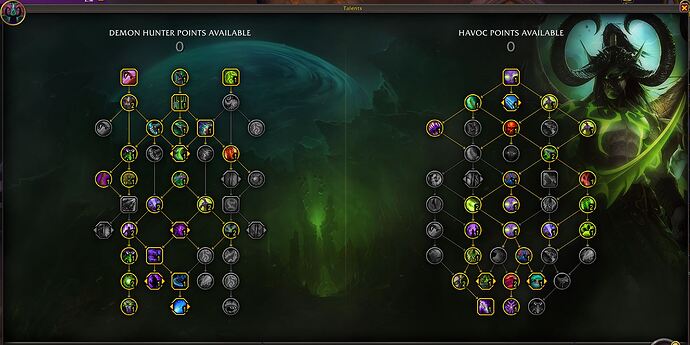 GSE MACRO
deeHlaWiizwOk)cIggu5yuAzaEgu10uLUgf12qfFdinoOCofmqujoifwiQk9qujnrvrUOQGpcQqJeubNKI0kvfYlvffntvrPBIQc7eLFIQIgkOkokQQQwQQq9uLMQuUkOkTvqv9vuvL3cH7cP2R4VOQQmyjomrlMI4Xinzqf5Ye2SQOQpduJgKtJ41GknBP62QIk7MQFRYWvvhhvvwoq8CfnDsxhvQTdQO(oOCEfA9QIc7xshBAHzZYFM(0dl884hmEI)90dB7XWlxBMYNSWasllFiPGCZ0cZMww4lbHinPlMPfnRbvjNptlmBAHzZIAcDW076k5hgqwKu5uRfe(rHKUl6ehmVAHl)UCuac6Aba3R5bozBJFrwdQsopAyaPfMnlQj0btVRRKFyazrsLtTwq4hfs6UOtCWORf8VaywqZ2g)ISguLCE0WWNwy2SOMqhm9UUs(HbKfjvo1AbHFuiP7IoXbJUwWdkUboMZ2g)ISguLCE0WEtlmBwutOdMExxj)WaYIKkN6uWpUfovuli8JcjDx0joy01IDadNfpVAbWmgghC8Qflg27WaVAb)7lghGSTXViRbvjNhnmZPfMnlQj0btVRRKFyazrsLtTwq4hfs6UOtCW8QfU87YrbiORf7G9fa0STXViRbvjNhnmoPfMnlQj0btVRRKFyazrsLtDk4h3cNkQfe(rHKUl6ehm6AXoGHZINxTaygdJdoE1Ifd7DyGxTG)9fJdq224xK1GQKZJggOPfMnlQj0btVRRKFyazrsLtTwq4hfs6UOtCWORflMzla(STXViRbvjNhnmS0cZMf1e6GP31vYpmGSiPYPwli8JcjDx0joy01IDaZm2q224xK1GQKZJg2qAHzZIAcDW076k5hgqwKu5uRfe(rHKUl6ehm6AXoWbulw224xK1GQKZJgMfxAHzZIAcDW076k5hgqwKu5uRfe(rHKUl6ehm6Ab)7lghGSTXViRbvjNhnAwtDt4M0v4lbHinPlMPfnAyaPLf(sqist6IzArZAqvY5Z0cZMwy2SOMqhm9UUs(HbKfjvo1AbHFuiP7IoXbZRw4YVlhfGGUwaW9AEGt224xK1GQKZJggqAHzZIAcDW076k5hgqwKu5uRfe(rHKUl6ehm6Ab)laMf0STXViRbvjNhnm8PfMnlQj0btVRRKFyazrsLtTwq4hfs6UOtCWORf8GIBGJ5STXViRbvjNhnS30cZMf1e6GP31vYpmGSiPYPof8JBHtf1cc)Oqs3fDIdgDTyhWWzXZRwamJHXbhVAXIH9omWRwW)(IXbiBB8lYAqvY5rdZCAHzZIAcDW076k5hgqwKu5uRfe(rHKUl6ehmVAHl)UCuac6AXoyFbanBB8lYAqvY5rdJtAHzZIAcDW076k5hgqwKu5uNc(XTWPIAbHFuiP7IoXbJUwSdy4S45vlaMXW4GJxTyXWEhg4vl4FFX4aKTn(fznOk58OHbAAHzZIAcDW076k5hgqwKu5uRfe(rHKUl6ehm6AXIz2cGpBB8lYAqvY5rddlTWSzrnHoy6DDL8ddilsQCQ1cc)Oqs3fDIdgDTyhWmJnKTn(fznOk58OHnKwy2SOMqhm9UUs(HbKfjvo1AbHFuiP7IoXbJUwSdCa1ILTn(fznOk58OHzXLwy2SOMqhm9UUs(HbKfjvo1AbHFuiP7IoXbJUwW)(IXbiBB8lYAqvY5rJM1u3eUjDf(sqist6IzArJgg(0YcFjiePjDXmTOznOk58zAHztlmBwutOdMExxj)WaYIKkNATGWpkK0DrN4G5vlC53LJcqqxla4EnpWjBB8lYAqvY5rddiTWSzrnHoy6DDL8ddilsQCQ1cc)Oqs3fDIdgDTG)faZcA224xK1GQKZJgg(0cZMf1e6GP31vYpmGSiPYPwli8JcjDx0joy01cEqXnWXC224xK1GQKZJg2BAHzZIAcDW076k5hgqwKu5uNc(XTWPIAbHFuiP7IoXbJUwSdy4S45vlaMXW4GJxTyXWEhg4vl4FFX4aKTn(fznOk58OHzoTWSzrnHoy6DDL8ddilsQCQ1cc)Oqs3fDIdMxTWLFxokabDTyhSVaGMTn(fznOk58OHXjTWSzrnHoy6DDL8ddilsQCQtb)4w4urTGWpkK0DrN4Grxl2bmCw88QfaZyyCWXRwSyyVdd8Qf8VVyCaY2g)ISguLCE0WanTWSzrnHoy6DDL8ddilsQCQ1cc)Oqs3fDIdgDTyXmBbWNTn(fznOk58OHHLwy2SOMqhm9UUs(HbKfjvo1AbHFuiP7IoXbJUwSdyMXgY2g)ISguLCE0WgslmBwutOdMExxj)WaYIKkNATGWpkK0DrN4Grxl2boGAXY2g)ISguLCE0WS4slmBwutOdMExxj)WaYIKkNATGWpkK0DrN4Grxl4FFX4aKTn(fznOk58OrZAQBc3KUcFjiePjDXmTOrJML)es4AWniYzArZ(SYPcVF4KufWPSa4aaSawCwlWaoSS8HqLpjvzAzBYUW1zw((aCn4QdNLWHh5yWXfEEIJ(Lc6ZaEAqWfUWfUM2bJB3hEexFeFnmmmmm4)p7J47JFMW9bUUR8r8foykFxJSgCRqhizzYXrUSWDeMS3Zch3hGVaKj58WWBbaYYhsNBz3uxfGaNfUsopMKLjForw(Z0NEyHNh)GXt1YtpSThdVCTzkFYY(K45LC31WSz3VGA6tHzguqZ24tUgMfhoC4aY(G)8hiubxVN7lvPjKorhdFJgnAc