dSK1laakOi6usvvELef1SuPBHG0UKQk8lezyqHJrLwgfEgcnne4Aqr12KOQVruLXjrPZruvRdPk3dbX)qqnqjkYbHsluIcpuQsteQsxeQkBekk9rOOyKqv0jLQyLivvVerntKQYnLQYoL0pHQWqLilLk8uLMksUkuKARsf9vPQQoluK8wIYDju7f8xOQAWs5WQAXqLhJQjJu5YK2mrLptiJwcNMQETuHzRIBtKDR43OmCKYXHIWYj45qMUW1PI2UuvrFxIkJxQ05PO1lvvA(uA)IgCbkO6clwh9T4hlEGp83hMIcp7Px8Vu43b2EWlunakyP(JobcwcFj8LWxcFj8LWxcdlwNrbtawm90XWk3KnSoJcMaSyMfFDQcipBGkrmiGiS4BKJjW1Ezs0(4X5p(WekdyPVhfyAA09HshSgyy4IrzXaZXq(gYddmhwk8OxOkFmCXady775cmeqbvxGc2oFb)J7OiGcwYQPd9OpsbkO6clj(JISjBy8IFg94hrxotc3hxTRhfiXzdFDvUZqHQbSK4pkYMSHXl(z0JFeD5mjCFC1UEuGeNTo98GjyMnhorfqalz1SKGIqafuDHLu8cI0qhvYmBYgwXlijgQgWscfVq8r88oYMSHXzs4(qmujclj(JISjBy8IFg94hrxotc3hxjgD0dv4LleNT98sqLayjXpEEhzt2W4f)m6XpIUCMeUpUsm6OhpeoIZg2H71jYgw5cvavW4Davmhws8hfzt2W4f)m6XpIUCMeUpUAxpkqxjgD07pH4SvYPKKEGacyXYdpBqafuDbkO6cuq1f20MwYQzjbfHsBAHQbSK4pkYMSHXl(z0JFeD5mjCFC1UEuGeNnxdd5taujcBAtlz10HE0hPPnTWszstHflp8SbcOAauq1f20MwYQzjbfHsBAHQbSK4pkYMSHXl(z0JFeD5mjCFC1UEuGeNn5rSSeavIWM20swnDOh9rAAtlSuM0uyXYdpBGaQebkO6cBAtlz1SKGIqPnTq1aws8hfzt2W4f)m6XpIUCMeUpUAxpkqIZM8iwwcGkrytBAjRMo0J(inTPfwktAkSy5HNnqavcakO6cBAtlz1SKGIqPnTq1aws8hfzt2W4f)m6XpIUCMeUpUAxpkqIZMRHH8jaQeHnTPLSA6qp6J00MwyPmPPWILhE2abSouA6hq1awktAkS0hJrd2nuAywNdp8Sb2vXeo1j8)bcOAauq1f20MwYQzjbfHsBAHQbSK4pkYMSHXl(z0JFeD5mjCFC1UEuGeNn3Yt0adxOse20MwYQPd9OpstBAHLYKMclwE4zdeqLiqbvxytBAjRMLeuekTPfQgWsI)OiBYggV4Nrp(r0LZKW9Xv76rbsC2CjO8eavIWM20swnDOh9rAAtlSuM0uyXYdpBGacy7zW50FIoFb)J7OiGcciGQbqbBNVG)XDueqblz10HE0hPafuDHLe)rr2KnmEXpJE8JOlNjH7JR21JcK4SHVUk3zOq1aws8hfzt2W4f)m6XpIUCMeUpUAxpkqIZwNEEWemZMdNOciGLSAwsqriGcQUWskEbrAOJkzMnzdR4fKedvdyjHIxi(iEEhzt2W4mjCFigQeHLe)rr2KnmEXpJE8JOlNjH7JReJo6Hk8YfIZ2EEjOsaSK4hpVJSjBy8IFg94hrxotc3hxjgD0JhchXzd7W96ezdRCHkGky8oGkMdlj(JISjBy8IFg94hrxotc3hxTRhfOReJo69NqC2k5usspqabSy5HNniGcQUafuDbkO6cBAtlz1SKGIqPnTq1aws8hfzt2W4f)m6XpIUCMeUpUAxpkqIZMr5XqEyuwOse20MwYQPd9OpstBAHLYKMclwE4zdeq1aOGQlSPnTKvZsckcL20cvdyjXFuKnzdJx8ZOh)i6Yzs4(4QD9OajoBYJyzjaQeHnTPLSA6qp6J00MwyPmPPWILhE2abujcuq1f20MwYQzjbfHsBAHQbSK4pkYMSHXl(z0JFeD5mjCFC1UEuGeNnxdd5taujcBAtlz10HE0hPPnTWszstHflp8SbcyDO00pGQbSuM0uyPpgJgSBO0WSohE4zdSRIjCQt4)deq1aOGQlSPnTKvZsckcL20cvdyjXFuKnzdJx8ZOh)i6Yzs4(4QD9OajoBUeuEcGkrytBAjRMo0J(inTPfwktAkSy5HNnqavIafuDHnTPLSAwsqrO0MwOAalj(JISjBy8IFg94hrxotc3hxTRhfiXzZT8enWWfQeHnTPLSA6qp6J00MwyPmPPWILhE2abujaOGQlSPnTKvZsckcL20cvdyjXFuKnzdJx8ZOh)i6Yzs4(4QD9OajoBUgenicvIWM20swnDOh9rAAtlSuM0uyXYdpBGacy7zW50FIoFb)J7OiGcciGa2LMY7bVq1f2(x)oW6u4rafeW2NgpE)4bkyXt9q74NoGTicAi6rIu5yL789RP0ZfyO(bNjrcwQ)OtGG1W111WWawSoJcMaSyhEbtavMW2VOIx4HfZS4Rtva5zdujIbbeHTVFC(NEMqf6N6eE2aLbS1xsHfRJ(w8JfpWh(7dtrHN90l(xk87aBp4fw8QY9opbunGfp1dnyP(JobIqmUUx3R714ACnYgMSpZOWZlZ9x2k1zPSr9hDceH0)Vaob)isfUzBlE6yLlBm5YwuOzRx2HHqor3STbtqkBm5YgEvui4KhE2K0p1F0jqeIX19s86EnUgxJSHjD8E68JO(lBL6Su2O(JobIq67rHkKTFOlB9YKK(Hov4MTT4PJvUSXKlBrHMTEzhgc5eDZ2gmbPSXKlB4vrHGtE4zts)BHxUGq3ZlDZgpeoek2H71jYgw5cvavW4DCZg2tqOLCkjPNK(H1X7PdQUWU0uEp4fQYZfwk8OxOkFmCXadyX3ihtGR9YKO9XJZF8Hjugqabeaa

Usage Information
Talents=2,1,1,1,2,2,2 (Mythic+) PVP Talents=Warbringer, Shadow of the Colossus, Storm of Destruction
Talents=2,1,3,1,2,2,2 (Raiding) PVP Talents=Master and Commander, Shadow of the Colossus, Storm of Destruction
Shift-Slam, ctrl-Ancient Aftershock, Alt-Pummel
This macro contains 2 macro templates. This Sequence was exported from GSE 3.0.43.
Raids use template 1
The Default macro template is 2
For single-target, I open with a Charge/Rend/Potion macro, followed by a trinket/Avatar/Warbreaker macro, Ancient Aftershock (or covenant ability), and then use the Macro.
For Mythic+, I open with a Charge/Trinket/Rend macro, Avatar/Warbreaker, Ancient Aftershock (or cov ability), Bladestorm, and then use the Macro.
Don't forget to keep Rend up when raiding and dump rage with Slam if Overpower/Mortal Strike/Execute isn't available or the macro seems unresponsive. Alternatively, you can hit Ignore Pain also to dump rage. This is also a good time to pop other defensive spells if needed.
This macro came about after I went full DPS and switched from Kyrian (as Protection) to Night Fae. I've tried to incorporate Rend into the macro but it just casts too often so Rend is not included and should be used manually until I can find a better way to make it work.
I also use this "Execute Phase" macro for Mythic+/AOE when a target is below 35% (due to Massacre)
dOuDhaakscDkuvLxHQkAwk5wkfzxOQs(fHAyivhJOwgrEgQ00OI6AkfyBkL8nqfJJKuNJKK1rsP7rsv)JkYbvLwijvEOsvteP4IQcBuPG(ijrnssICsKsRuPqVuuzMkf1nrvzNQQFssXqfvTuuXtvmvcUQsL2kvOVcQ0yrvvDwscEReCxQu7f6VkLAWICyvwmO8ysnzj0Lf2SQOptLmAr50u1RPcMTKUnj2nWVrz4OklhKNJy6uUoHSDuvP(UsfJhu15LO1JQkmFKSFPgLrb8lJZd()X(DfES9lh(MTH7lho0QgoBZ5LwAeZNkGFjuahHRgaJGJtlNwoTCA50YPLt48kYYyq4SlWbaBhqNEfzzmiCu55HJbeXZa4NlDN5IZdWtgKo2Zu4D2bZx9wjQoCC8G8hSAqqb0WzZhX2LxXZII4irxsMUQPVb0vfD4i7mocQzp(vfDz60XHVtdXiOa(LrbCC8G8hSAqqbCYfLCIACKafWVmoI1hX6ubatNDaqu9axlntb2zRaEpXiU70d4dTilWVeoI1hX6ubatNDaqu9axlntb2zRaEpXiU7KJETXGk7ehrKm0WjxuMhkieua)Y4i2oixHfGqPStfaSSdsXn(LWrmXoi7m70o0PcaMMPa7m34NloI1hX6ubatNDaqu9axlntb2zlfwr1sY8pn3DAQNc(DghX6Qx7qNkay6SdaIQh4APzkWoBPWkQwTbvD3PxG2haRtVpTaIKX0oG)nahX6JyDQaGPZoaiQEGRLMPa7SvaVNyKLcROAVQ5Ut5fPOev8VfoI1hX6ubatNDaqu9axlntb2zRaEpXiU7en(OtWk7KLfDA2Hbven0W5vBEgGGc4xgfWVmonvtLlkZdfest1u4xchX6JyDQaGPZoaiQEGRLMPa7SvaVNye3DsElUs0LXpxCAQMkxuYjQXrIMQPWrOKxGZR28maA4xcfWVmkGFzCAQMkxuMhkiKMQPWVeoI1hX6ubatNDaqu9axlntb2zRaEpXiU7K0w0HdDvJFU40unvUOKtuJJenvtHJqjVaNxT5za0WVekGFzCAQMkxuMhkiKMQPWVeoI1hX6ubatNDaqu9axlntb2zRaEpXiU7eC4QANXpxCAQMkxuYjQXrIMQPWrOKxGZR28maA4iuYlWzZmgpC4e8IZWVmoJf82qraT5zaCYd5zqERen8ZffWVmonvtLlkZdfest1u4xchX6JyDQaGPZoaiQEGRLMPa7SvaVNye3DsElUs0LXpxCAQMkxuYjQXrIMQPWrOKxGZR28maA43zua)Y40unvUOmpuqinvtHFjCeRpI1PcaMo7aGO6bUwAMcSZwb8EIrC3jzjjv5m(5Itt1u5Isornos0unfocL8cCE1MNbqdnCOfatKVAoEq(dwniOao7zkWodvhAOHgodVqtln4xgh4gNdVIGockGgo8f2rZzhkGJkfvEvpWbCYmJhrTIfVdBN6XpkvoneJWV0mfCeUAamcoCL5kljjHdnXZtu1WVmoVISmgeo58aigahvEE4yar8ma(5s3zU4W3beDvAbwaXVdG5zauD4iOM94xv0LPthN)Pe48G)FSFxHhB)YHVzB4(YHdTQHZ2CEPLgX8Pc4OsrLhocxnagr9sl5f3L8sAjTK6KkYxPL518t(Rt5DmFNeUAamI6H7bbdYdCfqRonzxr2oDI9Stww0P9SkJqerwDAmgKsNyp7enbXGePnpd0Bu4QbWiQxAjV4UKxslPLuNuroNVOh4I)6uEhZ3jHRgaJOE(oIfqD6af70EMIYbkgqRonzxr2oDI9Stww0P9SkJqerwDAmgKsNyp7enbXGePnpd0BCY8pTnn1tz1jTbv30lq7dG1P3NwarYyAhwD6TABkVifLO2BeN91JqOLg8lJZMpITlVINffXrIUKm9TKGJexjvlTfodVqtln4hoY4a34C4ve0rqb0W5b4jdsh7zk8o7G5RERevhAOHgIa

My latest tests are shown below with my ilvl at 233. I spec my Raid Soulbind/Conduit path with Dreamweaver, but normally I'd spec Korayn for Mythic+. I also use two legendaries, Signet of Tormented Kings (ring) for Mythic+ and Enduring Blow (belt) for raiding (mostly single-target). I run this macro with an MS Click Rate of 250.
Other useful macros, tools, weak auras:
ST Raid Opener hit the button 2x
#showtooltip Charge
/cast [exists, nodead, harm] Charge
/use Potion of Spectral Strength
/cast Rend
AOE Opener
#showtooltip Charge
/cancelaura Bladestorm
/cast [exists, nodead, harm] Charge
/use 13
Warbreaker + Avatar + Trinket
#showtooltip Avatar
/use 13
/cast Avatar
/cast Warbreaker
Weak Aura for Arms Warriors
I use this to keep track of Overpower, Deep Wounds, Rend, and other key spells. It shows cooldown times and gives Rend & Deep Wounds a "bounce" effect when they aren't currently up.
TrufiGCD Addon
This one is really important to me as a GSE user. Basically, it shows a scrolling bar (left to right) displaying which spell I just cast. I find it's a great visual reminder of how well the macro is working.
ElvUI
I've screenshots of mine, it also shows a recent test with template #1 (raiding/single-target), my action bar setup, and a test of template #2. It's primarily the basic ElvUI but with a few tweaks. I have two main bars, one is for raiding/single-target and the other mythic/aoe — both highlight my opening spell order, and then my GSE macro is the bright yellow horn icon. I'm happy to share more info if anyone is interested, or has more questions about configurations.
Template #1 Test - (row with 2X AOE Charge )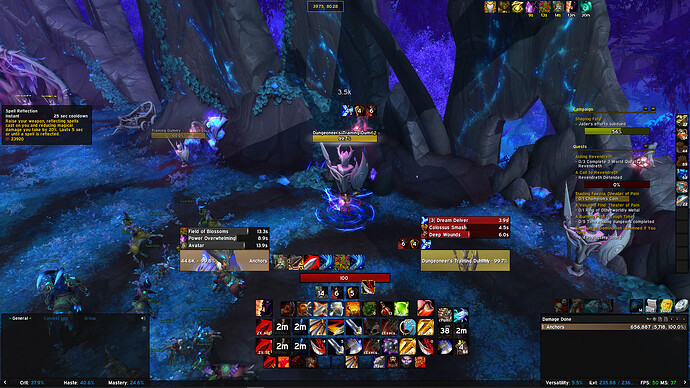 Action Bars - I like to keep Rend/Warbreaker/Pummel/Mortal Strike/Trinkets near my GSE button)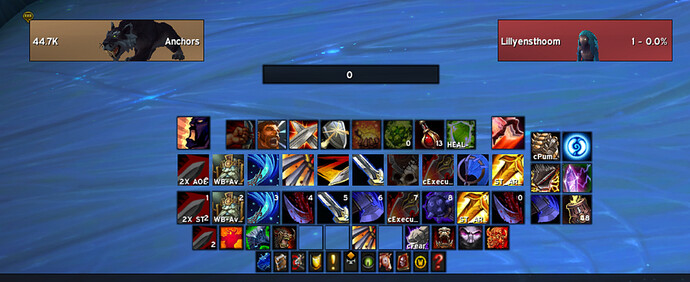 Template #2 Test - (row with 2X ST Charge)