IM BACK!!!
Had Some time away from the game but now im back. This V3 of the macro as been sitting in elfys discord for a long time. So enjoy the V3. (i will leave V1 and V2 in the OP, for the guys that get better resualts with them because at the end of the day a macro will not be the same for everyone)
DELETE OLD MACROS BEFORE IMPORTING!
YOU MUST HAVE! Dance of Death Trait in all 3 pieces of gear.
I run both ST and AOE at 70ms.
Essence: These are the one i been using but that doesnt mean you have to use the same!!
PLEASE USE THE ESSENCE WHAT WORKS BEST FOR YOU!!!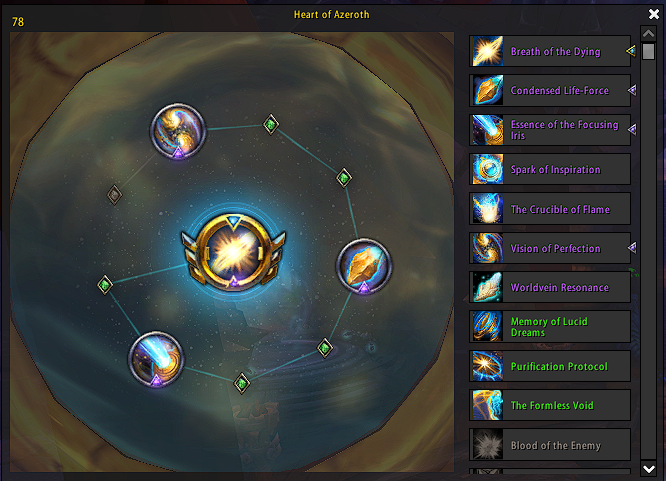 Dont know if this will make a differance or not!!!
I always set this setting to the same speed as my mouse.

Talents : 2 - 2 - 1 - 2 - 2 - 1 - 1
V3:
ST:
d8ZRhaWyOoSuVuPk7csQEns5As0mvaphXSHuBtv1nvr9lv52q4YI2jj7LA3sA)c(jKugMe8BvAGkv1qvidMudxrDqqfUosCmLCCveleuwkKyXkLLd0dfs5PeldK1PuPMOsfMQImziA6OUiOsJdj9mH6Dkv0gvGARkq2SqQSDqf1hfsvZcPAAQW3bvKrkK8nj0OHK8zqvNuPsULksNgW5fI3QGURc15uv2lpz1YcSZcQnaQzfKNSm1OZktSaDk0PRtHof601PllcoRniW1kilrLGxaSvqwo3vkn6Dv5eeoNvg4wnml7Gsf(8wTcYYOgKJyfKLOs0ZwSGsdG0kiltais4uJMgqfERGSahuyuDbTahKT7gLAnILOxG7GsqcWTAbc1lrDQwGBn6UG4mAxeZn3BaOb4igMLZng8oOeKaCRepz1YtwTS8WnHd61xzXdRGS8WnHd61xCzCbRIT8OqYGoQSb5GgUeswXPvhwE4MWbn0QiuHcwvA5HBch0XhfG(T63Yd3eMKNqjR4mOxFXhLL0d61x8rzPLbU35baqaWwSm6s4Zng86jZwIkBKEZIkX08MfyjA2BwqbOc)YBwMabQ0sEzywqbOcpK3SSxgbLeD2K0tMTiCopykvmdCRwK8ekzLbA0w2lJmcmjepz1YYJBq4toRjIib9W6fvnic6iZg5yRGS8iCdYnZnMMvXwEZj3m3yAb9q8fXwZJT6WYd3eoO)x)upSQ0Yd3eoOx)uHkA1VLhUjCqddGtRkA5HBch0cIgtZkQwE4MWb9W6Doz61lYSrooOPsnENb9W9NtMoYSrooO)Ocz1NLhUjCqpeFrS1m95K3TmdacWbnSSjm99Nr3rsWXb9xH4)LzltGavAjdzywgbMNBm41twTS8WnHd61xzXdZwI2fXwZgMzRG8KvllpCt4GE9vw8WkilpCt4GE9fxgxWQylpkKmOJkBqoOHlHKvCA1HLhUjCqdTkcvOGvLwE4MWbD8rbOFR(T8WnHj5juYkod61x8rzj9GE9fFuwAzG7DEaaeaSfltGavAjVmmlrLnsVzrLyAEZcSen7nlOauHF5nlr7IyRzdZYeiqLwYqgML9YiOKOZMKEYSfHZ5btPIzGB1IKNqjRmqJ2ckav4H8MLrxcFUXGxpz2YiW8CJbVEYQLLhUjCqV(klEy2YEzKrGjH4jRwwE4MWb9)6N6HvqwE4MWb96NkurRIT8WnHdAyaCA1HLhUjCqliAmnRkT8WnHd6H17CY0RxKzJCCqtLA8od6H7pNmDKzJCCq)rfYQFlpCt4GEi(IyRz6ZjVBzgaeGdAyzty67pJUJKGJd6VcX)lZMTk2twTS8WnHd6Y163kilpCt4GE9vw8WQylpCt4GE9fxgxWQdlpkKmOJkBqoOHlHKvCAvPLhUjCqdTkcvOGv)wE4MWbD8rbOFRkA5HBctYtOKvCg0RV4JYs6b96l(OS0Ya378aaiaylwgDj85gdE9KzlrLnsVzrLyAEZcSen7nlOauHF5nlr7IyRzdZYEzeus0ztspz2ckav4H8MfHZ5btPIzGB1IKNqjRmqJ2YeiqLwYqgML9YiJatcXtwTS84ge(KZAIisqpSErvdIGoYSro2kilpc3GCZCJPzvSL3CYnZnMwqpeFrS18yRoS8WnHd6)1p1dRkT8WnHd61pvOIw9B5HBch0Wa40QIwE4MWbTGOX0SIQLhUjCqpSENtME9ImBKJdAQuJ3zqpC)5KPJmBKJd6pQqw9z5HBch0dXxeBntFo5DlZaGaCqdlBctF)z0DKeCCq)vi(Fz2YiW8CJbVEYQLLhUjCqV(klEy2YeiqLwYldZSzlJg0iRITSJm6AkOzRwwK5eVRDyfuzSLZryubGTcYcCaM12QylNJWOcapcnfIvqw2f(wTy2Sn
AOE:
d0JAhaWsLuERK0RrkpgYmvqDyPMncUgICtvk)sf3guDxfyNe2l1Uv0(j6NivWWeQ(TQAGkPAOsIbly4kXbrQ0LfDmv54kjwiOSuG0IvOLdYdLq6PKwMsTofetucLPkPMmqnDuxucX1rONjK3PsfBubPTIurBwLkz7QuP2Menle1NbIVJuHgjsvFtOmAvQAAQKtkHQBPK0PbCEj45qDoK04qI9Z1w8Sc7gDPdfXITRTw3eYjJTUxDV6B19Q7vFR(SsFc9bqwSTERNeBcfFYj0DNtg4pnmRfJ4eK8pTyBTsdXfSyBL(KWIvRG2aGTyBTgaEshBc0aMGyX2kDjY3)HSsx84FK4CwWAXr)PvR3Ae0NotimWFIDTfpxBXZ6b1ywgEujf7YIT1dQXSm8OgrkkUfrwpeXPmqF2qSmuemoNO0IlRhuJzzy)ITJh3cswpOgZYq0v8DPfLwpOgZ4CfI5eLYWU8kISmSlVISo8)VmmaCa2Q1I(Hp2SHzL(Sb7rRIerZJwHLeypAfuGjippATgcysl5NHzfuGjiBpADTSaOjHSXPRnBDTSqfOeJDTfpRhUHaj5CMWlidvN)7Bi4KbNn4bwSTEWCdXnZnIMfrwplj3m3iAYqv0h(yZdS4Y6b1ywgkFLuUSGK1dQXSm8kPSJzrP1dQXSmadGtlIz9GAmldk8grZckwpOgZYq15FjzYZp4SbpqgOqj6oYq11xsMm4SbpqgOszBbvRhuJzzOk6dFSzYljpeDbacGLbyzJzYRVqOlKqdKbQXJkFMTwdbmPL82WSQCUmuIted8Nw1CfI5KbAcwRaL3Ae031w8SEqnMLHhvsXUmBTYhZ3Ae031MnBX21w8SEqnMLHhvsXUSyB9GAmldpQrKIIBrK1drCkd0NneldfbJZjkT4Y6b1ywg2Vy74XTGK1dQXSmeDfFxArP1dQXmoxHyorPmSlVIild7YRiRd))lddahGTATgcysl5NHzL(Sb7rRIerZJwHLeypAfuGjippATOF4JnBywxllaAsiBC6AZwbfycY2JwxllubkXyxBXZ6b1ywgkFLuUSyB9GAmldVsk7ywez9GAmldWa40IlRhuJzzqH3iAwqY6b1ywgQo)ljtE(bNn4bYafkr3rgQU(sYKbNn4bYavkBlkTEqnMLHQOp8XMjVK8q0faiawgGLnMjV(cHUqcnqgOgpQ8z2QY5YqjormWFAvZviMtgOjyTgcysl5THzTcuERrqFxBXZ6b1ywgEujf7YS1kFmFRrqFxB2SfrU2IN1dQXSmq69kTyB9GAmldpQKIDzrK1dQXSm8OgrkkUfxwpeXPmqF2qSmuemoNO0cswpOgZYW(fBhpUfLwpOgZYq0v8DPfXSEqnMX5keZjkLHD5vezzyxEfzD4)Fzya4aSvRv(y(wJG(U2Sv6ZgShTksenpAfwsG9OvqbMG88O1AiGjTKFgM11YcGMeYgNU2SvqbMGS9O11YcvGsm21w8SE4gcKKZzcVGmuD(VVHGtgC2GhyX26bZne3m3iAwez9SKCZCJOjdvrF4JnpWIlRhuJzzO8vs5YcswpOgZYWRKYoMfLwpOgZYamaoTiM1dQXSmOWBenlOy9GAmldvN)LKjp)GZg8azGcLO7idvxFjzYGZg8azGkLTfuTEqnMLHQOp8XMjVK8q0faiawgGLnMjV(cHUqcnqgOgpQ8z2QY5YqjormWFAvZviMtgOjyTgcysl5THzTcuERrqFxBXZ6b1ywgEujf7YS1I(Hp2SHz2S1IL3vtKaBXZkDHYzBrK1Bf47bqwSTQljQ4fZInPiR3kW3dGQqGi2IT1k0zflImB2g
V2:
ST:
d8dHiaWyihwQxcKAxuvkVMk6AOQzQcSnvQztKEoIBcI(LsUniDCGKDsyVIDRu7hPFseLHbuJJkzGGqdvfAWOmCv0bHQW1PchtIZjjleQSuOQwSKA5q5HuvYtPSmvzDarnrGqtvLmzuX0jDrOk9mv1Lv8ovq2OkO2kqWMjIQTdvr9rOkYSqLMgr9DQkvJKQIVrv1OjI8zIWjbIClqWPb15Ps9wQI7sv63aoLCfrjgoinj7ajlIxUID1sNTsI9GWdcfi8GWdcfiuIzOz3yWar8I5ZGbaJI4fdYE7OLcsBDWWZZwHb2bxmq0XwIbyhXl2XgtDhXlMpJ0ZyXWVH5eXl2fm0X3BPoH3seXlgKUvjbJok1bjIxm8KHxqyWiWa7ypFJ33(XW7wYbWqJVaGE2AxdlfwDhCXWdhQKaWIHhKAGAh7T7yhbHJr8JbIJK3oKQruIzNdcKaXiE8)yq6wLemkIxm8aB2De)yq2imaqyWiWaBsUIOKRikXwOMOuwPI3VCeVylutukRu95)GJ4hBHAIszVI)hyWrihBHAIszFzWV7i4JTqnrjdOCmB0qzLQVmppxkRu9L555szLQVmpFSdaaopagkSgl2fg825OLGlMptZj1XedYzQJHBKQPog(WBjkPo2raIczJWaYv0y4dVL4L6yGECJ)iDAYKRikXwOMOu2xg87oAmtNZd7yJuyGDmBaLJzRWT0yGECFeBiKCfrj2sBmjgD2du3uMNnGKAmOC5mnhVr8ITiAJPTQnYze)yRZrBvBKtkZdcaADREJqo2c1eLYUl3UKJGp2c1eLYk3UE(J4o2c1eLYWbRte(JTqnrPmdAJCgHRylutukZZg4CuUBaotZXlL5Y1)quMhiEokxotZXlLv56frvSfQjkL5bbaTUvUNJcY2jmgSsz4MMOCH4P029G5LYQa)VlrJDHbVDo6l4IDeBGSrya5kIsSfQjkLvQ49lhXl2c1eLYkvF(p4i(XwoidL5bbaTUvVuMptJPugEjKzJMiKJTqnrPSVm43D0y(caADRbx0iE5kIsSfQjkLvQ49lhXl2c1eLYkvF(p4i(XwOMOu2R4)bgCeYXwOMOu2xg87oc(ylutuYakhZgnuwP6lZZZLYkvFzEEUuwP6lZZh7aaGZdGHcRXIDHbVDoAj4I5Z0CsDmXGCM6y4gPAQJHp8wIsQJ5laO1TgCXUWG3oh9fCXa94g)r60KjxruITqnrPSVm43D0yMoNh2XgPWa7y2akhZwHBPXWhElXl1XocquiBegqUIg7i2azJWaYveLylutukRuX7xoIxSfQjkLvQ(8FWr8JTCqgkZdcaADREPmFMgtPm8siZgnrihBHAIszFzWV7OXa94(i2qi5kIsSfQjkLDxUDjhXl2c1eLYk3UE(J4hBHAIsz4G1jc5ylutukZG2iNrWhBHAIszE2aNJYDdWzAoEPmxU(hIY8aXZr5YzAoEPSkxViUJTqnrPmpiaO1TY9Cuq2oHXGvkd30eLlepL2UhmVuwf4)DjA0i(5kIsSfQjkLXxk3r8ITqnrPSsfVF5i(XwOMOuwP6Z)bhHCSfQjkL9k(FGbhbFSfQjkL9Lb)UJ4o2c1eLmGYXSrdLvQ(Y88CPSs1xMNNlLvQ(Y88Xoaa48ayOWASy(caADRbxmFMMtQJjgKZuhd3ivtDm8H3susDSJaefYgHbKROXa94g)r60KjxruITqnrPSVm43D0y4dVL4L6yMoNh2XgPWa7y2akhZwHBPXUWG3oh9fCXa94(i2qi5kIsSL2ysm6ShOUPmpBaj1yq5YzAoEJ4fBr0gtBvBKZi(XwNJ2Q2iNuMhea06w9gHCSfQjkLDxUDjhbFSfQjkLvUD98hXDSfQjkLHdwNi8hBHAIszg0g5mcxXwOMOuMNnW5OC3aCMMJxkZLR)HOmpq8CuUCMMJxkRY1lIQylutukZdcaADRCphfKTtymyLYWnnr5cXtPT7bZlLvb(FxIg7i2azJWaYveLylutukRuX7xoIxSfQjkLvQ(8FWr8JTCqgkZdcaADREPmFMgtPm8siZgnrihBHAIszFzWV7OXUWG3ohTeCrJgdKqa7yrJMa
AOE:
d0toiaWsvf9wQITrQEmOzQc1HLmBuLRbLUjq5xs13ucJJkSts2Ry3Q0(r8tGkzyQQ(nGbQQudvfmyKgUk6Guj6YkoMsDoOyHqLLcjTyQQLJkpujkpLYYKY6uH0evI0uvstgsnDIlQeX1rv9mv5DQqSrLOARuj0MbQuBNkbEnv0SGQ(mK47ujOrsL00iLrdu1XvvYjbQ4wQkCAiopvPNJYDPsDBGC2znQDmCG5sW1sIQL1yRfV5kSyTpAFS)O9r7J9h7yUoCaiWOAXaRU8lEGZvgoxWCfeGBWfBP8VOma3OAXouCI3OAXCD4DglgQfc6OAXahiWnwmWkihGloCmeGllRrTZAu7yDyXecDJb7cTOAX6WIje6gZd77pQxSoSycH22lA))rPfRdlMqOpT)MEuyJ1HftyZx8NlCi0MU2dpH201E4j0MU2l2XaaNhJacrIfBLd56CKDWfZ1Pqh)yQb6m(XWn8K4hdvKlk74hBzaG8lj4IHkYfLw8J954f1H3uSjRrTJ1Hfti0N2FtpsSphVh4gglRrTJ1LIdLrM7aYlH65ca(IdeE0tH2DuTyDMuCsjsbDg1lw)CKsKc6Kq9aba5xI7O0I1Hftiu9TUdTOWgRdlMqOBDhTfrPhRdlMqO4qKjQfX6WIjeQbQGoJYrSoSycH65cCoc(la6Pq7MqD44Dec1Z3NJGh9uODtOyC0IctSoSycH6bcaYVe8NJCu7eHdriuCtXe8FFYR8oCUjum)p9DKyRCixNJ0cUyMmNlN)fkia3y28f)5kifVyh4gWkihqwJAhRdlMqOBmyxOfvlwhwmHq3yEyF)r9I15Zgc1deaKFjUjuxNIti0LWyZforPfRdlMqOpT)MEKyhaycyfKdiRrIevlRrTJ1Hfti0ngSl0IQfRdlMqOBmpSV)OEX6WIjeABVO9)hLwSoSycH(0(B6rHnwhwmHnFXFUWHqB6Ap8eAtx7HNqB6AVyhdaCEmciejwSLbaYVKGlMRtHo(Xud0z8JHB4jXpgQixu2Xp2khY15i7Gl2NJxuhEtXMSg1owhwmHqFA)n9iXqf5Isl(X(C8EGBySSg1owhwmHq136o0IQfRdlMqOBDhTfr9I1HftiuCiYeLwSoSycHAGkOZOWgRdlMqOEUaNJG)cGEk0UjuhoEhHq9895i4rpfA3ekghTO0J1Hftiupqaq(LG)CKJANiCicHIBkMG)7tEL3HZnHI5)PVJeZK5C58Vqbb4gZMV4pxbP4fBLd56CKwWf7a3awb5aYAu7yDyXecDJb7cTOAX6WIje6gZd77pQxSoF2qOEGaG8lXnH66uCcHUegBUWjkTyDyXec9P930Je7aataRGCaznsKOEznQDSoSycHIDV1JQfRdlMqOBmyxOf1lwhwmHq3yEyF)rPfRdlMqOT9I2)FuyJ1Hfti0N2Ftpk9yDyXe28f)5chcTPR9WtOnDThEcTPR9IDmaW5XiGqKyXw5qUohzhCXCDk0XpMAGoJFmCdpj(Xqf5IYo(XoaWeWkihqwJe7ZXlQdVPytwJAhRdlMqOpT)MEKyOICrPf)yFoEpWnmwwJAhRlfhkJm3bKxc1Zfa8fhi8ONcT7OAX6mP4KsKc6mQxS(5iLif0jH6bcaYVe3rPfRdlMqO6BDhArHnwhwmHq36oAlIspwhwmHqXHitulI1HftiudubDgLJyDyXec1Zf4Ce8xa0tH2nH6WX7ieQNVphbp6Pq7MqX4OffMyDyXec1deaKFj4ph5O2jchIqO4MIj4)(Kx5D4CtOy(F67iXmzoxo)luqaUXS5l(ZvqkEXw5qUohPfCXoWnGvqoGSg1owhwmHq3yWUqlQwSoSycHUX8W((J6fRZNneQhiai)sCtOUofNqOlHXMlCIslwhwmHqFA)n9iXwgai)scUirITIaACHfpNixuIQf7GlEiQxSLoG7IppjQDmxYn3kQxmW8kGhbgvlMDoqWzPr1W(I5s(c4b4I5sMpGp)71BmW8kGhbEGhFwuTirsa
V1:
ST:
diuVuaalvvUfQuAxQII(fadtvuQJPkSmvfptvvMgQK6AOQ2MQOY3qrvgNkNtvuyDOsuVdfv1arvKdIQWcbKhketevsUiQIAJOsWhrrfnsvvLtIIk9suPAMQQQUPQi7Ku9tuuHHkKAPKs6PKmvuKRIkr2kQe6ROk9wuuUlGQ9k1GjCyrlMQhtzYqxwWMv(mPeJgvCAH61KsnBu42QkTBvPFJsdNuCCuPy5sEoqth01fs2UQOKVRkQ68akZhz)eD)OzQ1F0kGEsXC8FMJw)tZuRykzeEHGT6d3(HBFWTF42pC7dU9rREcyqoXwR)PvpLVrLmyUVWq9ScVWy23gOwXvr9QLa7BR)Pv)lWqtRALwZyS1)0kMRX(2QwXJOGCyRwXdqN1J69fyTI5uXZCXqbgZ(2Qppt(pZhTINFhBzHiSF1KW0JzedbwduRIMlgDR)xRyk(B45tgAh)QLw)tR4QWYOyaB9hT6FHIn2A9pT6jGb5eBrZikWw)tR4rfEZw)VwP0emMlx16F4)xREkTILlgkWy2xWMPw)rZuR)OvKTHyMBaSeesLuq22DUJizB35oIafaHXjdPG3kHCOIQw)tRiBdXm3ayjiKkPGST7ChrY2UZDe5bOMGbLc2jfqobPG3ygivu16)1kY2qmZnawccPskiB7o3rKST7ChrGYYdOuO4WcPIQwNRBfzBiM5galbHujfKTDN7is22DUJi3JzWqkIW(9B(IurvRZVvKTHyMBaSeecg4MOcVwGkPGST7ChrY2UZDeJW6vkfkoSqQO6Nuq22DUJizB35oIry9kLcfhwivu9tkiB7o3rKST7ChXiSELsHIdlKkQ(jfKTDN7is22DUJyewVsPqXHfsfv)KcY2UZDejB7o3rmcRxPuO4WcPIQFsbzB35oIKTDN7igH1RukuCyHur1pPGST7ChrY2UZDeJW6vkfkoSqQOQv)NLvZ)J)gdB1JwfH9RNWgOw9VqIT3k9GPD7TcOady7TsRXVA5r7TkAwq4tPvSntT(Jwr2gIzUbWsqivsbzB35oIKTDN7icuaegNmKcEReYHkQA9pTISneZCdGLGqQKcY2UZDejB7o3rKhGAcgukyNua5eKcEJzGurvR)xRiBdXm3ayjiKkPGST7ChrY2UZDe5Emdgsre2VFZxKkQAyR4EayAnWiKGHMPg2kTg)QLpT3kfmOHle1RbJzFBLkWnrfEHXjJwXuf)QDa(PbQvCpaSORaiyZuR)OvKTHyMBKTHyMBaGzPLam8g(cmQOsky2llNS((ddjc8w)tRiBdXm3aacZcMqyAAtvR)xRiBdXm3iBdXm3aOjatimnTPIkPGzg7xpHaV156wr2gIzUbWsqivsbzB35oIKTDN7iYvjihQOQ153kY2qmZnawccPsk4n1oifCjnT(Z1kY2qmZnawccPskiB7o3rKST7ChXimYNNkQADMxRiBdXm3ayjiKkPaOyyO1Vwr2gIzUbWsqivsH6BAA36pJwr2gIzUbWsqivsbzB35oIKTDN7is2gF(MXNpZEz1eG)EzXqIaNkPGST7ChXijdgsr0bOu8GkQy(sbzB35oIKTXNVz85ZmEsta(ddjcCQKcY2UZDeFk8Isr0bivurvR)4z3kY2qmZnawccPskiB7o3rKSn(8nJpFMzSF9e(ttaYLvAIRyOuauibH)4jnmsGfkGtLuq22DUJOstCfdLINcVivu1WwfDfEkTITzQ1F0kY2qmZnawccPskiB7o3rKST7ChrGcGW4KHuWBLqourvR)PvKTHyMBaSeesLuq22DUJizB35oI8autWGsb7KciNGuWBmdKkQA9)AfzBiM5gGOadujfKTDN7i(VqwqPGNbbdVwGQg2kMQ4xTdWhT3Ww)tZuR)OvKTHyMBaSeesLuq22DUJizB35oIafaHXjdPG3kHCOIQw)tRiBdXm3ayjiKkPGST7ChrY2UZDe5bOMGbLc2jfqobPG3ygivu16)1kY2qmZnawccPskiB7o3rKST7ChrGYYdOuO4WcPIQwNRBfzBiM5galbHujfKTDN7is22DUJi3JzWqkIW(9B(IurvRZVvKTHyMBaSeecg4MOcVwGkPGST7ChrY2UZDeJW6vkfkoSqQO6Nuq22DUJizB35oIry9kLcfhwivu9tkiB7o3rKST7ChXiSELsHIdlKkQ(jfKTDN7is22DUJyewVsPqXHfsfv)KcY2UZDejB7o3rmcRxPuO4WcPIQFsbzB35oIKTDN7igH1RukuCyHur1pPGST7ChrY2UZDeJW6vkfkoSqQOQv)NLvZ)J)gdB1JwXuf)QDa(O9w9VqIT3k9GPD7TcOady7TsRXVA5r7Tkc7xpHnqTI7bGP1aJqcgAMAyR0A8Rw(0ERuWGgUquVgmM9TvQa3ev4fgNmAftv8R2b4NgOwX9aWIUcGGntT(Jwr2gIzUbWsqivsbzB35oIKTDN7iYvjihQOQ1)0kY2qmZnawccPsk4n1oifCjnT(FTISneZCdGLGqQKcY2UZDejB7o3rmcJ85PIQwNRBfzBiM5galbHujfafddTo)wr2gIzUbWsqivsH6BAA36pxRiBdXm3ayjiKkPGST7ChrY2UZDejBJpFZ4ZNzVSAcWFVSyirGtLuq22DUJyKKbdPi6aukEqfvmFPGST7ChrY24Z3m(8zgpPja)HHebovsbzB35oIpfErPi6aKkQOQ1zETISneZCdGLGqQKcY2UZDejBJpFZ4ZNzg7xpH)0eGCzLM4kgkfafsq4pEsdJeyHc4ujfKTDN7iQ0exXqP4PWlsfvnSvrxHNsRyBMA9hTISneZCdGLGqQKcY2UZDejB7o3reOaimozif8wjKdvu16FAfzBiM5galbHujfKTDN7is22DUJipa1emOuWoPaYjif8gZaPIQw)Vwr2gIzUbikWavsbzB35oI)lKfuk4zqWWRfOQHTkAwq4tPvSntT(Jwr2gIzUbWsqivsbzB35oIKTDN7icuaegNmKcEReYHkQA9pTISneZCdGLGqQKcY2UZDejB7o3rKhGAcgukyNua5eKcEJzGurvR)xRiBdXm3ayjiKkPGST7ChrY2UZDe5Emdgsre2VFZxKkQAydB9)AMA9hTISneZCdGLGqQKcY2UZDejB7o3reOaimozif8wjKdvu16FAfzBiM5galbHujfKTDN7is22DUJipa1emOuWoPaYjif8gZaPIQw)Vwr2gIzUbWsqivsbzB35oIKTDN7igH91Icem(zfKcfhwivu16CDRiBdXm3ayjiKkPGST7ChrY2UZDebklpGsHIdlKkQAD(TISneZCdGLGqQKcY2UZDejB7o3rK7Xmyifry)(nFrQOQ1FUwr2gIzUbWsqiyGBIk8AbQKcY2UZDejB7o3rmcRxPuO4WcPIQFsbzB35oIKTDN7igH1RukuCyHur1pPGST7ChrY2UZDeJW6vkfkoSqQO6Nuq22DUJizB35oIry9kLcfhwivu9tkiB7o3rKST7ChXiSELsHIdlKkQ(jfKTDN7is22DUJyewVsPqXHfsfv)KcY2UZDejB7o3rmcRxPuO4WcPIQw9Fwwn)p(BmSvpAftv8R2b4J2B1)cj2ER0dM2T3kGcmGT3kTg)QLhT3QOzbHpLwX2m16pAfzBiM5galbHujfKTDN7is22DUJiqbqyCYqk4TsihQOQ1)0kY2qmZnawccPskiB7o3rKST7ChrEaQjyqPGDsbKtqk4nMbsfvT(FTISneZCdGLGqQKcY2UZDejB7o3rK7Xmyifry)(nFrQOQHTsRXVA5t7TI7bGP1aJqcgAMAyRuWGgUquVgmM9TvQa3ev4fgNmAf3dal6kac2m16pAfzBiM5gzBiM5gaywAjadVHVaJkQKcM9YYjRV)WqIaV1)0kY2qmZnaGWSGjeMM2u16)1kY2qmZnY2qmZnaAcWecttBQOskyMX(1tiWBDUUvKTHyMBaSeesLuq22DUJizB35oICvcYHkQAD(TISneZCdGLGqQKcEtTdsbxstR)CTISneZCdGLGqQKcY2UZDejB7o3rmcJ85PIQwN51kY2qmZnawccPskakggA9RvKTHyMBaSeesLuO(MM2T(ZOvKTHyMBaSeesLuq22DUJizB35oIKTXNVz85ZSxwnb4VxwmKiWPskiB7o3rmsYGHueDakfpOIkMVuq22DUJizB85BgF(mJN0eG)WqIaNkPGST7ChXNcVOueDasfvu16pE2TISneZCdGLGqQKcY2UZDejBJpFZ4ZNzg7xpH)0eGCzLM4kgkfafsq4pEsdJeyHc4ujfKTDN7iQ0exXqP4PWlsfvnSvmvXVAhGFAGAv0v4P0k2MPw)rRiBdXm3ayjiKkPGST7ChrY2UZDebkacJtgsbVvc5qfvT(Nwr2gIzUbWsqivsbzB35oIKTDN7iYdqnbdkfStkGCcsbVXmqQOQ1)RvKTHyMBaIcmqLuq22DUJ4)czbLcEgem8AbQAyRIW(1tydudBydBy3
AOE:
d8J1iaWyehwXlHi9wi41eX1uHzcr55inBQW1jQUjK0VKQBtu2gQANe2Ry3QQ9d8tIuPHbPghvYarbgkKyWGgUk6GOGMLKCmjooevlKk1sjswSkz5O0dLu0tPSmQADQczIqinvvPjJIMoPlQkWvHqCzLENQqTrvbTvjfAZsky7ePINjLVcHQPbLVtKQgPKsFJkA0eP8zuOtcHYTGionQCEjv3vv05uP(nuDk5nIsm3OYqP7dIWN3ymuUknC2ymKEHFj))Rh7DCSFLgZJepskiXJepskiPe7Lt2k9JdjCFgJWhZoxcIHOr4pAXqTUknose(yOwxLghbfhYPr4Jv7YIZrIWhd15lFCGyFDzLo7x5W)XDmev(NXf)hHpgIU1Wi3HgrjwTRJZyXqPgrjIwmPgoMr4JXq29pr0IHye8FSyOoew8ACzPC4FAEJOK3ikX6KHQay5(Wjwe(yDYqva0xC6rJoIwSozOka2Wq75JalwNmuLUix((jla65XAvay5UHDCubGEESwfawUByhhvaONhRvbGL7g2XrmKHJFImozCASsSxwUVKvl5kwT7WmxXelrsUI5EDO5kMuCFgl5kwnXLDnAChdPBDPwh7q38gnMuCFg95kgs36OWUuAEJOeRRdlJRU)vwDaeHpU0gwzvm3H5Zi8X6uDy1r1HijIwS(5QJQdrcaIabx21OpJalwNmufa5l8UWI4iwNmufar8rYcGiYze8X6KHQayH3L3zeoJ1jdvbq3C6gHRyDYqva0KnejrChRtgQcGi8XpxT6JZChMpbqxUApgarGbNRwXChMpbWBx(ikOJ1jdvbqei4YUgT6C1hzNCSCka6EhQwXGtht9L9jaEJUXxIgZ098HY)eLd)hZwKlF)k34i2ll3xYQ(4ogkSlQdHfpVruI1jdvbWY9HtSi8X6KHQay5UD0qhrlwxoDbWA3HvbWhqP7NSrJHcovrDiS45nIsSozOkawUpCIfHpwNmufal3TJg6iAX6KHQayddTNpA0i85nIsSozOkawUpCIfHpwNmufal3TJg6iAX6KHQaOV40JgDeyX6KHQayddTNpIJyDYqv6IC57NSaONhRvbGEESwfa65XAvaONhRvbGEESwfa65XAvaONhRfdz44NiJtgNgReRM4YUgnUJv7omZvmXsKKRyUxhAUIjf3NXsUI9YY9LSAjxXKI7ZOpxXq6wxQ1Xo0nVrJH0TokSlLM3ikX6KHQaiFH3fwe(yDYqvaeXhjlaIiNr0I1jdvbWcVlVZiWI1jdvbq3C6gXrSozOkaAYgIKi4J1jdvbqe(4NRw9XzUdZNaOlxThdGiWGZvRyUdZNa4TlFeoJ1jdvbqei4YUgT6C1hzNCSCka6EhQwXGtht9L9jaEJUXxIg7LL7lzvFChZ098HY)eLd)hZwKlF)k34igkSlQdHfpVruI1jdvbWY9HtSi8X6KHQay5UD0qhrlwxoDbWA3HvbWhqP7NSrGfRtgQcGEESw0yOGtvuhclEEJOeRtgQcGL7dNyr4J1jdvbWYD7OHoA0iA5nIsSozOkawUpCIfHpwNmufaziaIQCwMllaIxdaynzXLEAeTyDYqva8Ou4JalwNmufa9fNE0OJ4iwNmufaByO98rWhRtgQsxKlF)Kfa98yTka0ZJ1QaqppwRca98yTka0ZJ1QaqppwRca98yTyidh)ezCY40yLyVSCFjRwYvSA3HzUIjwIKCfZ96qZvmP4(mwYvSAIl7A04oMuCFg95kgs36sTo2HU5nAmKU1rHDP08grjwxhwgxD)RS6aicFCPnSYQyUdZNr4J1P6WQJQdrseTy9ZvhvhIeaebcUSRrFgbwSozOkaYx4DHfXrSozOkaI4JKfarKZi4J1jdvbWcVlVZiCgRtgQcGU50ncxX6KHQaOjBisI4owNmufar4JFUA1hN5omFcGUC1EmaIadoxTI5omFcG3U8ruqhRtgQcGiqWLDnA15QpYo5y5ua09ouTIbNoM6l7ta8gDJVen2ll3xYQ(4oMP75dL)jkh(pMTix((vUXrmuyxuhclEEJOeRtgQcGL7dNyr4J1jdvbWYD7OHoIwSUC6cG1UdRcGpGs3pzJgdfCQI6qyXZBeLyDYqvaSCF4elcFSozOkawUBhn0r0I1jdvbWggApF0OrJgnb
Talents : 2 - 2 - 1 - 2 - 2 - 1 - 1