v1.5 Latest Update 11/30/2022 now with lvl 70 talents and builds
Be like water making its way through cracks. Do not be assertive, but adjust to the object, and you shall find a way around or through it. If nothing within you stays rigid, outward things will disclose themselves. Empty your mind, be formless, shapeless, like water. If you put water into a cup, it becomes the cup. You put water into a bottle and it becomes the bottle. You put it in a teapot it becomes the teapot. Now, water can flow or it can crash. Be water, my friend.
This is my Solo / Questing / AOE+ / Mythic+ build sequence that is tons of fun and great solo content survivability.
Took me a while to come out with this due to most builds/sequences I found were great for Raids/Mythic+ but horrible survivability for solo/pvp content. I tend to like builds that are for general use and good at everything. To be fair if you create builds that are specific for Mythic+ or Raiding then realistically your only going to get +/- ~ 5% better DPS than general builds anyhow.
This sequence builds on the Mastery: Combo Strikes passive ability in which we get +10% more damage when not using the same ability back to back. The sequence is not perfect in that regard but simple monitoring gives it near 99% uptime so we gucci.
The following cool-downs are on a [mod] key so open it up and take a look:
* Invoke Xuen, the White Tiger
* Storm, Earth, and Fire
For self healing it will auto cast Expel Harm and it also uses the talent: Vivacious Vivification which will make the heal spell Vivify instant every 10 seconds so that is also on a [mod] key for quick heals.
MS~ Fire this as fast as you are comfortable with.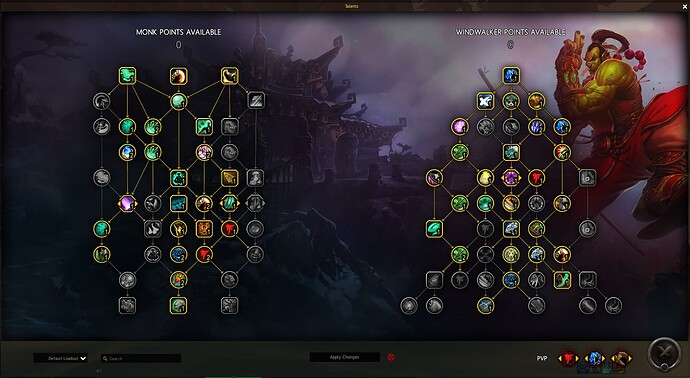 Solo / Questing / AOE+ / Mythic+ Talents
B0QAAAAAAAAAAAAAAAAAAAAAAAAAAAAAAkIRSSUSikkAAAAAJJkgAOAJBkWISSCJJJJ5AplAAAA

GSE Import String

duKljaWkQkYSif9lO0WOkhdXYG4zIktdiUMkLTrf(gGACavNdPsRdivdKQc6GizHafpeqmrKkUivvTrQkPpsvbgjqsNKuYkrQYlHIzsvPUjG0or5Najgks5OuvulLkYtvAQQQRkQQ2QOQ8vsbJLQcDwGsVfQCxOQ9k9xQQ0GvLdtYIrQQhJQjtf1LvSzQQ4ZIYOvjNwKxtk1SPs3wuLDl8BvmCaooPqlNu9CIMoORRs12bs57uvIZdP5ty)uUK(lJ0fmoLFG4VF9T)obkG1VafSFqvlG4tLH0FxFRKW8dWzfCCUlIhccHGaINhHaIJUavX1pY(lJ0F38P0tk67oY(7IzqPPpsz)Lr6ILRKq7Hlo8lveJBkY00E5DCg05qDx82tRa0oAp2ZhVpHM2dEn2tdxj4yVFkB0ldPlwUscThU4WVurmUPitt7L3XzqxEL8deV9w4rppnTN)kD4LM2tfoBpFnPpLLRlwUscThU4WVurmUPitt7L3Xzqx5cXBV8LaTKFqlSWUuCy6eY(lJ0FzK(lJ01eMaZGstFKstyIYq6ILRKq7Hlo8lveJBkYWBpYnecW36(rbmDP4W0jkSmK(lJ01eMaZGstFKstyIYq6ILRKq7Hlo8lveJBkYWBVCiieps3pkGPlfhMorHLLR)YiDnHjWmO00hP0eMOmKUy5kj0E4Id)sfX4MIm82JqY54MJUFuatxkomDIcldK(lJ01eMaZGstFKstyIYq6ILRKq7Hlo8lveJBkYWBpYnecW36(rbmDP4W0jkSSB9xgPRjmbMbLM(iLMWeLH0flxjH2dxC4xQig3uKH3EeIdWbb4UFuatxkomDIclZr)Lr6ActGzqPPpsPjmrziDXYvsO9Wfh(LkIXnfz4ThXdyqqaV7hfW0LIdtNOWYaU)YiDnHjWmO00hP0eMOmKUy5kj0E4Id)sfX4MIm82lhccXJ09Jcy6sXHPtuyzG3FzKUMWeyguA6JuActugsxSCLekhnEFc(ypCXHFPIyCtrgE7r88agCq00EeppGb3R7hfW0LIdtNOWYOB)Lr6ActGzqPPpsPjmrziDXYvsOC049j4J9Wfh(LkIXnfz4ThXJCdehAApcjNJBo6(rbmDP4W0jkSmIx)Lr6ActGzqPPpsPjmrziDXYvsO9Wfh(LkIXnfz4ThXdyqqaV7hfW0LIdtNOWYiK(lJ01eMaZGstFKstyIYq6ILRKq7Hlo8lveJBkYWBVCiiep629Jcy6sXHPtuyzeK(lJ01eMaZGstFKstyIYq6ILRKq7Hlo8lveJBkYWBpcjNJBo6(rbmDP4W0jkSmsU(lJ01eMaZGstFKstyIYq6ILRKq7Hlo8lveJBkYWBpYnecW36(rbmDP4W0jkSmci9xgPRjmbMbLM(iLMWeLH0flxjH2dxC4xQig3uKH3EepGbbb8UFuatxkomDIclJCR)YiDnHjWmO00hP0eMOmKUy5kjuoA8(e8XE4Id)sfX4MIm82J4rUbIdnThHKZXnhD)OaMUuCy6efwgXr)Lr6ActGzqPPpsPjmrziDXYvsO9Wfh(LkIXnfz4ThbjhDb3r3pkGPlfhMorHLraU)YiDnHjWmO00hP0eMOmKUy5kj0E4Id)sfX4MIm82lhccXJ09Jcy6sXHPtuyzeW7Vmsxtycmdkn9rknHjkdPlwUscLJgVpbFShU4WVurmUPidV9iEEadoiAApINhWG719Jcy6sXHPtuyze62FzKUMWeyguA6JuActugsxSCLeApCXHFPIyCtrgE7r88agCVUFuatxkomDIcldXR)YiDnHjWmO00hP0eMOmKUy5kj0E4Id)sfX4MIm82JqY54MJUFuatxkomDIc760ayuWYq6(rbmD995aO7cha(69GdtNO7oA8(eWKYTWc7Qvq)7jxy(u6jf9Dhz)fwyHDxadxl6ugXRRggL2u31vY(lSlqhOIokOQ)UaffEL40CVllJ09RCNak7cgpFMY5b1zW6ihybXhXOO)bdj3DNCYNPOOOOOOO02F6rpNw6rpWaekkkkTOO0otBT1G2AqRevMw0dG2uuuuD)P8gFr5QDkYkJ01jvY5YiDbkk8kXlJ0L6o86O3vdQi7sfzUhFXhsLLPRYtP31hS(NVrxMorz5iiEDbQkURC1kGJoOnbmDIcMU05EKnNOmsxAkDiAzKUmvEtxW4u(bI)(13(7eOaw)cuW(bvTaIp1fuh9tIxgPR)HFo68biN8aOGk6NCtq0cMUlGHRfDkdXbD7(bfGugXZZZdPlDg)OU7clJuyHf2c


If this macro doesn't work for you:
Create a new macro of your own with a unique name and literally copy what I have word for word and see if that works. For some reason that works. Dunno
F.A.Q
Whats your UI - ELVUI/BENIKUI -
ELVUI - Has to be downloaded via their site - won't auto update via CurseForge
BENIKUI - (EVLUI Dependent) can be downloaded/updated via CurseForge
Can you post your ELVUI/BENIKUI profile New Version as of 11/22/2022
!E1!TZ1wZTTos6)kZlZB2Ns8MUK9jjz5yVL1Lvu(KzMurousWsCmfHgsi74Zd53(2naijajiLuozRj1U7djMIe367FDtaU0A5IL(BcybRcssXRz7sibm8QDKWT7ylNy7U0)TWnSDlN42XEjBPp5BhijHK41eEpiFJDlnzp0l)HpoF2O5dl6S3sFk2uwalKgV0)UPZV)FmDYI(pS0)zAm0LrF7qcjn9TG3f3Xp8pilNy1QysB1dN0D0yAcoFAJ3VpA(I7hMnAI(2Ry6T8SZhNU4OKqoCu23fL6tnJBXqbljsCWQiYYb6dAWFaSdg5YxCT0hNuOJhtbjXs)bhdVnc4OWD3sIjjbrCwnLr2ZftBtOVX2DtyczDvgBkFMWrp9qW6W4TYXxH9AT0hwX7FG8kHpYBctpef8(WDbjbRzKK7JFMUCLsJUTSWc(1QG1VSjHEynnsiAswoP1V1Yge6BZVAv2vqhybrValN7ibBUnjypXFDqeUAa(2Q)jsjVs43)ojhQdsd7dJd3hCahFbHX5Br01CU8cq7dO(7VzeobBiRH2g9ajElYvTnPKTIYy09ZcIbkFvbr8Ca05mcjax0D8YOip3mkcVAv2vWa)Aq0rIk9BjBPKY5SjA8X0Pze4mAAOqK1)XftHP6iJUay6VmVq1e0VcIyZOVrsgeWhzHQXavvJsIZkekx5zp9vIWWEu0RpE7t3sxFmDyqkd0YgJpdgVPlwmD887)4DlUcB09ZcsaD4RuV)1EwDVY22bA9J3po4Tb59EX0zA9c)DRRU2czEdo(8ZPfTR6uKFZRT6AD11WWViizljNYvMJYtaihW1boddir03gl0su6H8os6a7dQooGMMo4iObeNr5xvIIHwAB3DP)dukJRnwmMpm62kea)E2Ein3cwu)dAmP)QWOq27nmbC2JpDDyq0ys8XZygCrEuNmX48GWnhiSg6NyQKDTTt7L(Za7BsYmAcljiKPj8n0tqA027kR2Gm5MJjbck6CzhwUwCjKyXoJW014QipDC4n)3j7cxhr8HaqNZK45D11DTKI0GyWl5j0jr5VyjjuZe)FDlk7wCzkxtinDiyELqJ0zBL5zw2DbrlQgtt2UdO5H7OHRjlOB3c(58hoAYIrZ1wAYBHkNTaVAJdtsOjlc3tsSAGyUgyV9ARQmyvIHzs)XfnV0DaFsTaqv1cMO(rMSjnWJBRTQSpVvvHNVbxMxjxlpWwDP)uTOhNNhhBlUBQ2AmDBn)hfYIc2biK83f(mR)GS1OoLPCpp3RCA7QRYzY1Rj(UTJfyf1bd5)cj(oA0gvT7g9sGEP5pBqWwdmZ5yOviopJhbuJFco(a2rEdUejHnxomN8VosszWI(qMp26SfXy4cgt)00W0ZXGhioNE2OX1HHW9jjOnzq4jT7DqfFoS2lv96kONG3RczT4bMBTfiVT6HUlipxL)1KdAbZ7JJpdEGLxxGG4(Ke4FAM07OPD7yw72wt7(MWTiQVzj0TisIYSmZojCS8YcWmbSabOKaC4M7Hxpnmjn7yT1v52rdOBE)Jhds2C2Sxqm6cDFyuGbYPsypmuo3gAC46eAfBvdRSoQPvCjMQo2TkclR5DTEo312TTfHLNDw4K4EdYZxR52Ab6v9HBeGXhixKPIx7RCCBR7R7K0Id4cgnOfDA2z0JR5DPfhe8nbP7wrlueobZgOTbtgT48coyb0JiI8NcyR3DbHvSSTHEYPQxHNSGgO6BRjxH9h8K1jcf74L1s7gui7HWCvWeFMUjTYefqGJ4xQADL5wtnUb)bIWgz6IN5S1jhlMWa4CdmEDEKrWd1ZGdkWM7mZXWd1WDZ4Gonbp3jxK4vVNcNwwxzJRejU1hibVsoDUfD54WeP5CMyXlGIVGZ9bT)XHB2erK)(uUOkZSp5eYTZSC4bBzK988tjn6Mb0a(9P3pC0W76VOzBrEUsDHH2)FbUXjsLubFtZ)0jKLoTagYDyvHo7EXJE2ot02(m9Tz3fY9TxlvGToL85yYHJcYVCZPtfqa94GPZO5a(uSI2iUOosrv5yingy02d(h4Zxu)QlQRsK3sTQGe27v7RXocqBDXekijLZU2Otjxescz1fwjblmb(kLeOPU5IkgSL(RPXqZbNCBjPyDywfSLx(K01jbhUFTO4mRPhJzvQiwdflZp9aK)mooW45NvuUo8F6kNgl5FTL)1b)7bU9kCftzwNEKfbEyH8EECXd3pze284xeLccTzXF9jzXtTGFdozItpWPy5yx0wT1C1bofCrDpNJq2iQw2wLrgR95XKaodAJqivuMohrXVYU5oAs4FGXgIYPFhTMI1hKsJyHhkQQCJf4YFhjiITtwHSSQQ2U5cllQLm38sF4t3hefTO8Scn(yCi7zutvVIXyFWhjQAoWXX)kRp8kSFhqJIAO82A8RCbRCKDf8LPaBpjCdChSWf5dT)3Mc9JW4L389SRT6WNtzefEPOHUdApOepRh361PTB7wD8SbNNU2UwlF(AehUSi0TBL3R(rh2Xlckg159M6oyO98XOOPfZwr9TRO6Toy)nqYEbauuzTFB9B9CuQRoqdXswDaJfSEhkrwqx6JfKwuZwGiZQGk6rrHFyjuBE6z5BJ4Z4q9HuG)Z(YN3e(8ZHRpgXENxU2V8zqGNWIqv)VOWhV21HxQCubPSenrrMviomu4vFqgSzonIGomslpmvQDpsgpDZ0pnbvfG1wUG3)2PZho6PPtWmmspMG9G7dQ0iMEC)EASPNSgt6zvqfs5WRh4pke4j88wcJ3GxrRs0sYqrKuN4G7kvL1iRxVTIm6AvL2wIxkaIfk9Jj0JhunKX6oviwSkEluDAju1FJu2WVyPOeaxzYBPU40uvuMkUBniJugDpQ8XfFdiXHVCmKhN7oUxNQAOY7RnB6QJc)vFynkiJzxdjLTg(RqbL)Ie(IgVXGFS)jSScF(97Y51pB0RDfjqBH)vCbmlHas6S3aMQHxg7fmBdZfVkmymBvD7zwMp4Ll0eXQYyuGxIvxiMeL)ulob4Ba4hZOHiTlPsDVHyAQg9bczSjwssfcODyKlqVUWZlOgDqvBtX1xMJNs(xy6I0AupZS6dRAeIUtWsCukkzHqsJKv1Cl5rVQ3t(0UwK6K(yMVmbcgxtIqlimDjfZZXHVAxPi8f31K0VkqctgHDufaok23LiEnswIa2KCw4R8VLRjCijeIMYF3krqojra74QzKKuACq0vX04SRx6Vp4B4lUGlir5MISQxdHk1J)zPe7eIu662XdsxVRfKoGNlg9tn2Lb5J9V1tj8zxi6zplaBQRNNLdOYbdaNHP9wJfScexvfHAAbYjghXscRp0UIxP4nJg84T36drmEIFHQ95Lhp1TENKxlEHUkQEHXPGuRyyv0brW4s(60yoOFT5xQ6zJqjkuiRXdCEngBKKkKjvbe8N0j7KPOh2cNDDZDYYng1wNNkurDlZlkqX1gXg)JseokeHOkfNKzNpmDnI)ApeV54(V89V2iem4XCYthvYfiRe6UgOYcMSb5KGepLCQEk8NQK6uKqE8CB7tephdQScYDBLp79i(WmFC)hWUSjmfBXy6XucAt(Xi6Bk7NfHrOXO)n6)xNVXRfyTyT(mVxL5zQmkmbiyUyb9J3KVfv45Gj(LaJwfyeqagCvq28PSGzWaTd8krJJpSgPsrdUnHUx4gAGwGswbgaD)EkX062QoSk1ffRx1OyfmMgJNjCIW3Jdx9PDqM68hVkIU(Lj0SGB6r90qXYeqsS5IXQjH6PNrtvntPYM2(EsrgXmKkdNaF6Xz65nKMVNUQKSGwIbBc2hSf0CwzCg5OjQnbPm0R1P)IOjQO)EQCnzgb4QIMWsdWJNbeN8aLhQGasxlblftnAjd0KQvW1uKtMmI)5drYS6lypcle5wgRgusjujAfEzqkwO5GLA721ZQRJBBhxlhplELc8mGUYeKjCB0KJz66o2T86aqVA50PNDNUUNjOPc2IetKg6PYEkS70YmJRSXwoJeRs7vyPGLfNu1yTSo7zbu7)hk1)7akLLRRgyQFfctBWhMBvC)1Qcug1FTbj)1goqVlanGJMFD3FKG(LDu)ZouFHF6kr9fPCBmXB1s7j2R3sDVp(W0pziHEp9UuidRtd1OYHwMa44CjLyWyeOAQfsUzGNE5ykchukhxBvAsZTnl)TVOZbReWTAKC9Aj(RuLgm7jOwl)tK(FZ27Q84l3I3GX5pdNavZjWynZyNvfyAoMDdXPvdNF5XSpvSqTiQ)BjCyLCUDQeq)KapAGk(PH9WyTb(viI95bzu5L7yWCPSMVRs1R1RuUE8TC)B3oV)4rMcTzklt(jjYCwMnu3xZf4xV06n8MnzNFkSfzSjEbp1LhzLuAFC2tYvzL3bNsOa9Q2BijWFGxKMwUXfVln9Klove74J75VSJuosHZjlzfO0xA(YnHVSK(2jYRULXxtKuxZPEDTZvD4xNkAysx5NBvoU0syCkPmxoScsaUeYOVPg4O0oyWTeGy(wDQKnP53MKAqwG73Nj8QHSu83)nfugz(AXDIk(SzLKnSIMyv(9CviEuF1zv4L5eBvQPef3rDNj0w1M)Ur9FyXDLCgMHxrx54uIcvP4zA85XhyKKcWr2mEDEOfrv6fI7a(U0xlsO8nBwXgBpLY2XppPdKAYID5cihNtc4Mvd5NyoDpmcuJzDrOZU6DoOeuwJDNVfUZ7BHAn)u6LDY7SKNqpRcv)NYoKFpTHeSPOhU9Az1RDRoDDDqHT4i(1YPNTLx7UTT746LnyLVltBPlbEnqrfEC)j9Ltu1JeOuREO25M046hbHoiGNyyZnuz10xaCLZ(bWi3aK8aj9NVe5YxHgT5TqG5ZIkEsHzzyspX5pe8NbAOc0RhdZpvjYTSkCB0IDaU96WcY9rA0gCgY2LX3aZuEdHN)FDmC9l)NGPIE0TIHvP9ATO8ELvoE)oKhny8YpNE4cziKAUItawTCguOW1HL(KG)4umNYnjxb3EfFFTMkIvWtxXNNfdEMv)4DfTvDRHj7dKQ)CmbFSNVgMgMDQc)8bc4qKXIiF57FftL5)47FfaW)wwhv2Rdm(6RnFDkEMqE1TYK0(YMJuShMn)5zLk3uEQtQTB9AB7LN1cL(OuS2mw7aj9yRYVh0a)w4YB8Xir4H)nX(5iJnn3Ql1k910YWWQvmfEL1aZgA7kJST5XrtuH4Zqs6JqOmLHlBP05mziSYXpXL6mcRgZL6wn4ryPbMrXcScN3TIoyBtC69z5SPQmPUAotQfNurkU48Q(vvq)lMWQJHI0h5oOu(6betHmwdLhy7Yalz5lDrQN3m62(p(a)(6FvdQRv5FbfQzAKafeNB8W014tdJYl1sflD8o54GzAogfVHl(kiZfjxqdUIe)f6H4c7SBi)Bx5F9K)Tt2ZZgHE8YWWDYGomKp1n7cE)4Ii(ZYDSSsQqiHTualHZNerIffAg(z(UFTdMUVYVykBhyEVnaHmdFctT(HzPVM9Lnap2iz3tiP4DOOKTLFOpEEr0ob3Cn6vghAzSA55JIVq5NJuLkaVq8BXMbT4K0u0aLJxJOvPVNYi7lAGV43RYuzqGK8d(NsUxqW3V)1FhSEy0e19l9TZVF0KBE4V)0Sh6)3buVl0YJOQQM5nCptl5Gk9IvaU10ZkGpIiAQPvmfiDn3SFKvF9gx8HmNlnz2W)hJf9JmKnXwpt215Y9pblA0KrJ))m8NSYW)NGt9N1EtTmC1UVbBjlnPSA21w5JFYgVnZEot((pctPzopZyYukrGk(KlTLs3SarmfMflNNWx3SpOo4xRaEkFoCGFyZ1ZH0UNSLT7K1sorfuQDy9J4Tl)l0d)f6WqOeIG4PzRN8(4uEOT57J2yYrM8Ztu2AuqZKisw1ZNyFkAzIZjObqJ5KlEMqcKNEX4PtMo8U5thpkprd85(fyw8xVtW5bOAMpauYhORjWZSD4f)Xcsowf5mVMEa)KlXEaMtE66ql858nAIUaRvgtjVIeDfLmdxjzr(5NKywiMNrW(dzFtU(R39H)64V)vZ2raIc6rMpHXqSU(BoW)4abgkSLl)WhqGbacWp8HhcxdyjoMet(lx)x6VDlG)ji5)(d

What nameplates do I use ? – ThreatPlates

T3122PTss7NO4LuRZxc2qSxBBGXG35o8wcegTIqYJKijoxSFv(FrM7MxS)QQ(GAjKWyIt2ZPK1kbu3Q7U(QdDvvFGLMlxSC(SI8njPX4hZc3f)CAyf9LQ8NEI)4ldlRsYEAuw8UxEilPAq6ZBdxgTC(0vRs3VoEn(Ws8bIA2OstI3xveMUC4Y5lclEkUAo(07cl(C8A6JJstGEekEyEzj()3LVVmo)lXfnBN8ID8MrRxMVkegJuP6nEs2(Y6oCa(SfHp)C8ATxxroQ2GpMgO3CIVKP14QVrL1ySkBPQLZdPH9I2y0eJ62E5eZA0b)mV)PpYXe8teOqpchVtMDj9fTwqdn4Tcr8tmUWhQwEv8o6PZWAtpBCrsC26uvtPOhSCpfqHf9X9HfRtcZeVzBGJQJS5MLg(sCb9ObrL5P7RIfWeHeTzR1Ku9lcWwjHGl0bjdnqIggky6clfqrfWHk6J1GfhhueOvBadFshqgafo9IA0t0WTpqTRe4OsFDOdFL2Ghv3MWxT0zl4JOEDaeF5keeVpUmFFXQ4pLSghEaAoopRAEY3rjkd(3UmpnValIZYEI(3ibxyyyX1XjpTf7g2Y5Z3M)v9EkcH6I1XflI)w1(IyG03wehwndnDuYls7TqilI)Dj9k)o0rOKb(XPzPVmiTAw(xJl4gdWMz6MnLc5C(dEOmEy4Qp)ur((S1CIisRVKMq4vwrKHuluqctpr)Be(VCsvrfds3Vljlz)o8Xn7dEBqS5UBfz1HX348I4wJVxazetFoYJcdrjz8bn231J3ra)sWMwo)BupOO6oA1PtiwrybWOR2UCIpnwMagXjobbixMMS6Za7jF)tBBZfgMM89VdIPtKM9jB4Rar1Oqo2nFBsC66AemA5yBhMjZ1W3Gz5fa)D5Mp4yJ4rFLuSCSNblW02Z1XYniW3IHLyHJ1nIrYLPHLuNVpl5VVpEECfQTucDmcxBJx9zG8VjBv(UNdRsIsJhSEDEg9gkYDSQTAsXeHm8L7JdxvLKNHeZ15G2yAmxCE2xMnnBEC6g8dB20HobbRxLuUkpllEvf3wUUyvBsxqGDakYsoeiRbLgJoSBEVrDDBz8M3XX0G576cVHHHLVzDZdVTTRLTh8Fwbo2gIXp08og(U2M(2gmxppMJdwId28pKjzRJRHCLgihynUWLdTxWWxHB68ay1ZZZiW0ZWW2ia6g)6HvpLe1xjvTT1sCDbV2OnVULz5fTv6hdiLdZlWgqfpxpMTcAV5PmqpfA85vHv7l18)rsC4BddoVGahdltxdxoYjqBBKlauGLLVfGQ1OnquOqILJLNLNHPxBPLAE57POcQ9LVlkFwEswvj5lixBA(ZXRWVE1OblU(3MCZhVEb81jMn0EmuZOmH1xbw9vGDFf40xbU9uaqeFAW93o9YFtBio2HXaC2dadphtxlhDv2aZadhhdMTPBGNBTkBFmbj59(2Ow)mAu7FgnQZpHgf4AZgC7GRUzYHcw1QQTeS0kWQVcS7RaNEkagj3n4JJ0fE8Sn9CdSan4adBWaPshJ7bhqw(2EEwU2GMUTlZ004arLFGMW6hVjS)HBcCkX7F4MR05og9P2tfaIhGTfhgie4577BgOecAAkOT54MCS(gYDZfnAWfNo53oy4ogmJ75W89CGjZSym)wJk2BPYwVLkB)wQSZBPYUVHkJXlm9Jpm6Fx4JDAMNM1EqwYUWvBXOMAs)(gUmlONSnn89Dn0S90jYuXrLV942Vqnb6Y8nzxhhUonjl(3tI)k5infxgokUoVi57GJ9HPZFoCf43k9wGl7Wu(BYl2X9xhZgrryw5ZHfXzREHEtkSarpaUEE5mYHbCU1KqW38qY5jHAMiEG5vVaD78PfrLaJBFw8L55PRZ)k5ld2oyhrHzaFFXlphVjCvSwihHR5vztAi4F98PpS42BMmckrgDyLobPf(1VhxuLSQ(run5rG8cHuFGrpQIcfSo0tGgzUYrVioXyi4uO558PBYktwhpiB1wEun4Gggpxo42rx94Sr3F5OjlqZViIYFFfGI07G0Vg(sPm0MBY(i44)ZQV)PKQTyq8rDrvFWTgQAJhhWRQF9bPjpLTlgJK7EYXNdXzjyPvvKmgDVolGd5bCrxI6NF7OXiBmgI0yn35Zsm(gS2hI)ZVCFzv(UJfjVIffk6aXOqXNW3dW1RJ3xKa(rU6MmGDub1Mhl46NjN(uzL5UrxDZd3Htoead2PFAjFAIRbyG3H159swvtrfn1RgFCbuvybne4dYQTXaToFnGL7tPkTJNQh1qiI)grY(Hs12(YyvscH4ctQs(s9ducnlcHWgXUeQUkNkWNjXTH6P7SorJawVim7ZnYnPm1InsRPm1IQuzQqrmTg8Hzf2s6G50XJxmaMrIJHsqQbeZrmEID0sPy9lIjP6W303P(v9C44nqQxptP5iXjTmwE5VhwuIjYy)ZlP4UdVEMmpayV(EhMyfM6dODRk2NTkKdB7c)gzCAFkbS3MVcTdYJmC(lqGiPKuz8MKvjCXGD57ZOmOGzndmkck9fvXzApzaVkqLFMB3rRmnlregK)mAY9(804RIRIPGxhSh0XalXR4cFXzH122kfZba2rUgSHrQQyeF73fXtogwPoTM2NzNARdDAVrAe5nzWHBzNPBNrwwdBVDAKPIplf3cUf8FRq5HsL3cTJRVLN5TkUT)5TYlxBFf6S4A3H6mREcZlOXFoFGmZ0IUPjClIiDCY0t2EUD0EjmZwod1FXwhVy7JxSZrlUsAijEDJzy5ShxNArY(n8ROZ5uw3IPpE9duX0Si88t47YCnSSTvzdGZ5b1vqQDtyWAMNPWpoWFWGaldlhxtMPwOD(gy(r8nTb37SnCT5MlQOWXV)MPQUdEzFJaFhOEMSo7UvobHUR4oFA7zh4arI4y57BR3DqONgGbgMbZWN5B6Q6U5xp4Ubt49gkLO3YggUBwVs4Nmm89bVbzUWNmmuoKY9Ge(JTJp8pU1P7rexisf(bgWRZ89HGL8DmzC7Cn6lR4vUXH8(ct4c4YPbdGgaK1anlddplBdmtqoUA91S7Vz08fIEdS)6z6faUo7y6XuVVEVTjg)l1B9u7O(kPsp2BI4Cn9Drl8Emtl3a3U6ol)OOaQ7SdSDmHw1d8RhWrnhUbkkiWMbttWaPcnIRobny3z7567y465IHE2TaOVRVhmNl1D(WCraCA646asU6yji15zaE9J5RZYSodOxncIfSHmVJh8xqggiuqeSBzEgBZkF(0DGuTVNRf2XmFEx6WfvW0zad)aFtpiAdv4YQGSoDUNLRh1z9a(yNbQxgwmVax3aOzmus8YiZp5oZlYGZ7aX)GaqOmWmiWX1wlXQa6ciSfOMctWBZhgEKsapS6ovU2eh49kIGowiA54AaAnbUAiwZClYTuWSmXHbefhqUgDzPWYCTLGuWmxagNSDWgNZsD5YfMqGFaMfeG5dLBPWrAEf907U81LAgyP4BaNA0whnM9jSoAd2xeQIj0wzCgBj0OTkSOoIWCyRflI7USmMu45BJdtR2sD)LBdZipyebLUqMh6hUH)a4nNL8T4uWDNnGxnpCd3BN6vnRZfckcF64W1XZXwu4F8qLpx8v9SsUMnnMpYqszQGO5yiJD4CXPXFjovoJ1qfizXDsexn2gnn8CrBxxXdAJdN17lXfr5Leibd2YQ2CxRgCxlvRJXUE9SHA(bxiMPXJzzydMvarlHCio7eoZJVhAkbtJVzTyExl3drITXd0tYBYW0UhsETEdemOAjk)BpaZbCZLavYNhNhK4FdPiDHWXGwSTLHdZXcmhzz4PghCHh6DPiL1E1EgIuZbtefyhGE2dZxfOrw0C8bo(W8vGUTHJYeeNhjyhuKl4qduSIrccF6l1OUsmxjVWrbzyuuKxWRsCckyEnqAqvfe1cpaSEYvd80zf5pvetbXrAMCV6fRhi0AY18H2NgTcdwTS9GR6tMI(P3O2YhQV2QD0mviTUAVMHL2oWIXb22fCCb4pmecdoEGkS0iSTiQElgPIGKZnAaKIcLXEhwuK)1hP8jjcCWIEtXk51wRHz0szedfQwNhQa92s7lARR7C(qFbcUyK5RXbZRhve)tDgs1Hj7sTHh4V1jSBa4vSnl4dMsRLICY0MVkm1xJoxXtHXW9B20rVEHTE)YxbuS1LPYB(ZjImlCDYtBtPnIHgqnuMJSH7RQWee2vxe4ieacCeDJf1p65msnjaFNMisvbiBdSMP8nXX1JgC7IRho4(hh8W9dMdfcXmS9tBJZg9nyuItSj06MUllz1L8D6XxtQwTDqrCO2YU3RYj1Ils2Xn7sP0dWszAzWVph1VVugOp(KRGAO3QlaKRkrK2V8IkXOxvnjd5Q4OEyj(Tff4vLKqhNKwfZx0Z00LuUr4HmVihqiAE4iqBIePrLl8DKrAVy6SE0FBN3Z2sD2nMIMCiqmoiSHItncJgncbUi8fum0bPP83sy8dzT3byoL6dzkcUwL)YlHVfxGWoHG8(HOeq1nF1Nvn6b7FhHI948Ig9N2ZvVIGvjtKMAy87qNmDXIP3XTmH2LAAvOEZ1OMgC(U88QT4wb7Bq9l5A53ggfNsMZpaUTRTTCKmLCA58LNJ2dYxSY6ZGIKW0)8pMqMs1uo7YbX2jd20Ow4s2tNuoAW5uvEAYAUdUS13JqMGxZ16fDcwF49eTesy)kGlrxDs4fzks4hc()Qr8TXB4wzQT50jiz8oIrYA)RaKEtz(deBAku9M2uCDSV6Q08aCbrh73LvIz9I4cszu3lCEnH03t8)xOmkmDWjkM6IV295FTKMwKJukMHZs5cbw(33hIymcF1A8x48Rvc(xicYNR4ebXpWZsx434ZTnrUyRI9O6qcHvOQV0YWvjL4u9Yvms3VEYzB5u(VVt2JOoGoGYvwvrE6565r7UQL5Xo8D24igjvoF0LBf6ZTR7dXWFiFig(xKpeS)ZWfc27Vleysq(3zxioicV(GRt0SY)15cH))s5cHEemCb8oDQG1WPci83)YCPyX13C5VDo8KJi4YSpBEc3RcZJ4vXkklbn9QabW3Gi9p0gQ5OsNVHnxZpIRd2TCD4C8C4apfE3MCgvTos(jWXYdzPj7sQIxRYMmoIGUxvGsFqmv8DHpX3NdnE9Pz48TXLYzF1A360Gn8eCxqLfIOFGSqO69MB8RoCSGNSUldZg88ZPAdc5HssCwdF1WrWL65VklhNJrJt2v639Gr6YSbZ8nz24FNWV3M9KZlueDH6UC3TdJoNVhW)VSO9)YI2jko)FDUa)VwzrRolaY1Pqm5M2z7JVnvpHmd0FAloWiMydIFQU18wB5k5AuIlIZ9XFjUOenPHDj)yUrBznsKd6LsTLtuU7A5BR5vsKvUvzxSS(eS29joAoTTEmnz2Uogqzmh5IztlnUVvGPRzGdZX2ZKzQ2Kk4MVvVXFpp9DYD0RE7)(E2bX9i8PbnaAyAeGh7rxhFxp76wN2(EmAVt5dOhtUdaiU5w9fWSClPrbpog3N0jc3UepgxizhZd3peYvw2qTnpWDrsR9koUwZMKIlnvyhnDGHCLP9Q3MK46xlo9cEh2ZViub5BWLoKUAWFm6w)TwaPNkOXe6UgvkeJVNFI4EmijVi(wPMFo8N9iTf05ov84ITjzkmrUFRlvw2crJN1K7xfZTHGIWikFFn8fHUQqFERCkr3AaUszKD2I)8paKSS2oBPMbuohSRrHyEhXGa3yiilLP37sFEAm4oLraU3yT0g42nhuz8n8)H83gk3DnlXVCf03tZlKCf3LDXXWqtD5dE17xTU21wVqQmvY9Hwe3Ft(2QVNnArpdeUDNESaY3zcYZoD7PzWP8MKxD3lLXPBWboUTEG5R13wcqmNJHzk53uhW786hAg17Ph38N0uo6WzpNds8bx680CDH7IATJkZF4M3uAocKJ6Hf4oHQQSBFrAoT8CHXJhk5ZQYHeKubJhFQi8z(2j4OxTfcqg9hqCIkWhfbVY6I8Nx24Ebz0UNREP2kJJHEBpfDqQIdru481Tgpo)X7tfDboMNcgfGO7L(gnSw3gLvfL2NyyVxjdCUFh(N1Lz7QoV7ta1Gk1vOb(Q1NnoIUW7bgAVUadz5N7)GI8bwTy1XIlOFrLQJ45o4uAbD2MASHFKQZiiEPGo4dvUkuhQHn16oWZoXnid1t97SpjtEAQlnJgsOO1E3F9M8UVr(TLtZ0PFRAkh62eEhKBMtPVd9x)4ceDNyHxESQ((s61UoAQvqLPaqxRenTJzT5BTAlLokDnrjNRyR2ff0RCKz)M2ySsoz7bEZG(R8591(WX9SR95BXPdhfvUxs7A4)A9xRtx1a4QXv8JkjV6SKMUZ1YtUIWK1kGHVfmD0WDn3A3(SIDV957uNJY5)2d3ERu28c)a(y)cFXMd(cp(2o7V9WG7h1ue(cxBnhFMovDGAWRYfQcEYTAOpTXMV8M7V8wvJCrGLOAoMIQzqPvCX93myYh1QOP8ciWvEhXysdQlVF6851dDMOwMYT4kFvQMVyW91vsUli9L9jJCA5QBgC30jxPQNNOAgYE0xSG8Q9Y(hW4h66yKDOyETCinpGseqJB3qkq5bRgBxy5vY(VQ(iXYDy7qN5NVpcF4Ht6DGXVAhQL0Xj59oFxql7grMExQ2j0Icwk2YOheDH(4dSkrhY9n8vB4fUHnU9Mgw1vgxCoObKOoTubnhd1do9HC9itASJ79V4moFmx)FNJm(V8Wgm7nSbZEdBWQrydBqxgewNPRWaoZtYVSb9O5VKTcp(91BtLiT5zilezIgHytl0LE7sUvtwh0yUhA2D6mF17ZxYOlFyonl(5kTFqZ23WsiNlo6(WiBrsf)0L3quwj05QpL2hqj7brrfXFjHsMSCxWioybJrR1TWNM0NEqTGAX9WeeO1EQMOhzrh0(To7c8UOPrRSCqd6z95T4M6QIlk2)CL4AHtUIAC3TxgvpZxCXcksenxGBCYa0dSuD2qAC4EcBMo6ghWNOES8IYi54vNr7JPGQRrpi4KVglLFCW8Dyg2wMwGUekP7Y1TBCG39KNiMiXHYZbpNMG(bO5YlPAP(bHOE9Butf)I(z1fl)J7tsxVd8buvLwprme74w4HF0CCcSSnDWZaPjZcQvROzQHl(irMU(UN6IQhFd7lQyvZleqLiqCZBfqxFFabrJDUmhBx9tefE8(c8yaoYCccSfJCAAxhxdpFe09GxkGBxr7cbuMNxUxJDCSzu6IDeRBhopJEkWtVCZJldAE3Lf4Y8CnSnmD8d8RXxpt8yS6zagz9SzQt0vH4OscgNnSDnnehcuYJgc71oMndBDyDe5U8Pu0Id3naBvuz8Wc(ykDJWiV9jw14uBmVSISP29rURwHsQL5FuTMooSCJ(2ZXiJq)kefiKxlSIgv5KwCJtz1joA4y9SafA3vOfDnqF9BV0EiKUjJdwr1MxEPmDevgCx7Lo6DBDWE)JoUXvuJO5Lr03LAw)RdwBEHMYmOoXaBBG9uBNaM4IcHBcXZbvjbtWwbE(EMo1M4Af49XUMu1tGhN9aCaz8Yh5QLT9nZkB5PF5YQw8y4z3dQY)059nwv93DwFTloDZ57JX3TzNtErepddav4v3CrzEwy6e970CC3pX32ursVi5xvYtZuzi(q7WzYtyk5XeDm5gsJ)A6rGl057S(q7nSD4AVWVkvo0N0wbljotL15MceRxfpjxmsWn1H6ox)0d8RppLVDaexnNOjqObbq9S8nvzexEmyXcNUVA6M6ZRS4(vs47z3bnI9L6(SUz31JB3gAedju1zmdhulAawNtZAUCVXJoSJqAVF6TJE8JpCZTx1Rp2z1XdzxptCdM6HC9sTTGCN(4l4m)Wr(wtapE7OFF0TnU0SA5Ixt)6EpdlDv4QTXQR6zkjD6Ni450n7hUY))w8lWhOBI9)8pwhdXN9PKS1FpViRSd7xJDTympdy4zH3fgbA33iTCrZt5IMydRjw5pYpKL91H0kCuF1zrwZ08IU2ad8a8I6dOJ50zRN)kZ3SjYYCdFhYiwl2hZcrhgE8RqVSzFbsT4JH3EcD3XGJq7(rJrfRJIJIF)qdns6qOqR3AdfnrXUrd7JHgyPks3eVlo4td50dXxWhoaSTh07(Pt9T6UZH8Dok57Or(mBkRJqW1RJBK0K5S(ffGW)tblaXz)5FmoDpTnD)PJk90TNd6Wok6W0qhhRacDgA2amg2GxLfx8usmOILawAkAlIm223ZgazldMJRJNPwuQqGOo22q8DwMGpM2U1b67bEEc6KMgyWF(S6RNMxrSPJHYzaqa12aG8hWgoIjbiS0ATNaMHd5SWeVgq0eDgxc46AgY2(uyAAtzLgHQdg(Tug7NOUU2FDjJ2DWzq0W4VbrBVceznKenwQgr77ZVHkMB2VjJpgNuwH3am)cTBCqFEgaXCZJQEOZ9d8nmiC4UMZBCNoV5()5)aCJndN1PfR31oiWYKHxVlmJahtTGVS8zwE8RBnhqjPv(LoUWqZo8mqG7An7rK)AZnke4o9zpyMgUUCN(AkkmwFeTj9F(pkltEcLqVl8PDHDAVSNC6h1xjVkq0v3EgWX4dei8H)kHJXTmha)H8SSjCmQ1C7GhJ)Z)VwtBm2oWaKOCDDyoO9s9BY9oSHAZHMomF8AkkTgcNbKmQTfYH2oWOsajJ0HeFtBIvnH1V9ry08urcTHAF3nnQ12NbHoHDuRInMR00MVeSZA6hf9RsrsjmHemAghNUMVq5nTe09mH49PMLfuOTRHTLpMlufNxyjOlxQ7PdBt(BFfxQN1YlkwKN7MwUuxUnCxy2JGSuXoz3ibelhhh(Voo3X6384CWN8D)Ammk7QZqo4o2rnjYAzs0HVE9w9q24mvP7R(5t0Qo6CizRJsYwTjzAn(N1Ktpth(Voz3U40YdJO8hq8)O87MD4zabZyhtdywdUomcTiH9PnT8p93r)rlouPVrEt6xzUXR)wvHN2YoTHXy4pscimkjnP6LhJWFN0YZekZ6AWma2PztMy2V17pLNcUBevSF12FggWB28NbxCI5rTH3y(ByYvUNf3z2VUlM)YSWSV)lr)TUZods)oZJQdB2qagVhEjDy7E0H5bMFqaE)m0E16QZGSNzFu9w726TCrCNJiIJ(s3XevVpc4An(zqStCoQ4TEYoWOv9i70tS7NyNVA7(QVJFI4dd2crw(tGS7UBohaW(OaqtUTNvaFJBB1FKRxhNKcIELBAph9pRWwB2HNbem36OXSQpxTjEpDtSNzM9px9hJHOMaxi5lQ1pBT9d6WZacMzEuDEZ2684yQQ1s8buiE17Y3t1qHRW0M3EFTGhAPVj(KDJD)z9(w0VJd2u7dpfHhhSaD0wLOs9RWG6SUsJt8ugvGBsLxksW9Q7TXvWdexZPHPP5FvLO)FpPmHp9orvIvSq9dK6cE)R9Rpm(12vRu87us7n8J(VlPYwAyp1vT2sKhmhVFP60xNQ(9bKZmosZmdpmgD3iIFar4)GI8AdDoz2B3jlUV(Iw3ZCo7a)S4xSeX3uScX35)kMeP9RO7Rn80o1PVcGqNl1JqJhJ3uxHJrNhSwLrkS(uif6hYdU2T26RDIsy0i8vKSBuNJIfnfn6Ov4v44SKts(cQF0b)AV8EU2Fv0k1xs3fRMgxyFHP6hECrIccX93(Y))


What combat text do I use ? - MikScrollingBattleText