Here are my macros for Boomkins, I never really played Boomkins in previous expansions only as an off-spec for Resto.
Seeing that Kitty is a bit odd at the moment, I wanted to see if it was possible to create something easier.
The biggest change is that Wrath is dedicated to Single Target and Starfire is now only used in AOE. This makes the macro creation a lot easier. I have the dots timer set to 50, at 40 the dots were still refreshing too quickly. So 50 should be a good number, but let me know in the comments if this should be changed.
I think this is solid, but if anybody wants to make changes go for it. I didn't include Fury of Elune and went the New Moon route, which is slightly better in M+ during stacked AOE trash packs. Wild Mushroom is included in both macros, and so is Fungal Growth which makes it useful in single target situations.
Run this at 100 ms if you use hardware emulation. If you use AHK, please run at 250 ms, but I can't support it as I don't use it.
v1 - Initial Build
v1.1 - Fixed AOE and Single Target, and made sure dots were being re-casted later on.
Talents - It's the Mushroom Build on WoWHead but I made changes.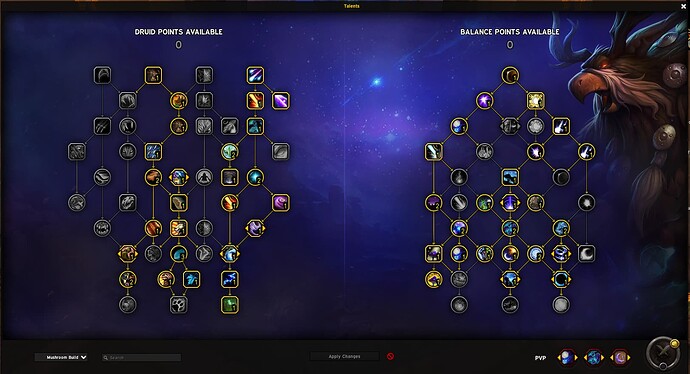 Single Target
daepeaalqXViIHruDmLSmO6zePPrL6AavBJuY3GIXbsohkLbIsvhKQwii8qijtKuQlcI2ik4JafNeKALGsVesntGu3KkzNe(jrzOurlfu5PsMQsDvGGTcK8vGsNfi0BLQCxPQ2R4VubdgvomIfJc9yiMmOQltzZuH(mkz0qPtdy1Ou51KIztQUnKy3i9BfgUu54qsTCf9CsMUkxhfTDGOZJQMVu2VQoRSJyLYLmzchGqMmxou7iWZoLlcYCOYoIv2Pafzcqyu3uzNcTXdNPBeLLDeRusqiQ75QJmvmNSSCPqB8oNMsLDeRusoYKLDg1qH)56rhyjtu63dEJaF)iWtjbHOUNRhD44yIs)NZ1yq1aqFoggtuYLlLh5aguv2rSYoIvQV9n0gVZPPuF7BrGNsccrDpxp6ablHsnDakR(phgO0cJ7iKM6BFdTXdNPBeL9TVLcA6ztqs0JyLAZ3zPGZ6mYLlc8SJyL6BFdTX7CAk13(we4PKGquNYqntJIypxp2JWCQgtyOdeSek10bOS6)Cl2CJJlncPP(23qB8Wz6grzF7BP28DwkpYbmO5IqA2rSYoIvQV9n0gVZPPuF7BrGNsccrDkd1mnkI9CSj1TCCyEoOydFbZZb(cJwW8CGVWOfmph4lmAbZZHlhxQBmrin13(gAJhot3ik7BFl1MVZs5roGbnxQnFNLc0Jrxk4SoJCrSsvN1XatkYbmOPCobgtGJpxeUZoIvQV9n0gVZPPuF7BrGNsccrDpxp6ablHsnDakR(phuqHXnMuB(olLh5ag0CraE2rSs9TVH24DonL6BFlc8usqiQ756rhiyjuQPdqz1)5WX4ghQvQnFNLYJCadAUCPGMYita9duKjaHrDtLDUC5sbwJOXZCsuzNlfOjQde6GNCg8PWLJlvoooulmGJX9kLl7iAtos2P2eDJEQuqaIGX7KDWYWalwWQZaIGDSb5YdsjWlGW79EV379EV379EV3J2Rrd0WcnSEyHTaabwGfqJgi70ajG2AGSGTJbSSaJhlQ8P8mpSJzkXycpXraQg2dAawypgNauw2mfykibLnvadAesx4SLYfHYKOdn9Sjin6bmObIucckwkxYKjCaczYC5qTtPT5iHP(fXkv1ziqRDel54P2Yqvel5YLlh8uqsDCmrmunqPJCegb0bo(arUC5sa

AOE
d8tFeaGAqcpwvEjiERkPxtrDyOMjiv3gs1SrQ5t4Mss3vL4BsGzbjTtI2Ry3OSFL(jc9xks)wrdecAOsKbJQgUK6Gu1PvvhtHZrfwiKYsLOwmIQLRIhIO4PsTmk8CknrjOPcQjdjMoWfLqxfrPlt66iYgrfTviWMPi2oiLpcs6RqiFMkACOcdJk1ZuPgncMgQ0jHOolirxtsCEKSsiYXHq9lQKZiWrosxLirPPOrKyvt9elgPrGtxf)otBGJCe40iaF(yYPvBGtdrPkR0k2QboYrAxpSfS8naFmbtthqAikvPJATboYrAxa8XPcuMIo1YFLnjGpOF5kkkgLlrAK21dBbl)v20K5b9llF15Kz(ZwEoNh0diG0(h4pz2ah5iWrosVIvarPkDuRDfRisJ0UEylWQiMKYE6YFLnFeWmMs)zoVS8dhd33CJ8o9kwbeLQSsRyRUIvKgzgqpqdth5inmvTMUSwRyqarAe4ihPxXkGOuLoQ1UIvePrAxpSfyvetszpD5VIWhPJDEqD5zZhbmJP0FMZll)WbxdJ7iVtVIvarPkR0k2QRyfPHPQ10(h4pzbe5DGJCe4ihPxXkGOuLoQ1UIvePrAxpSfyvetszpD5DCZ1TbQlphomgOU8dhChvUrD5ho4oQCJ6YpCWDu5oY70RyfquQYkTIT6kwrAyQAnT)b(twaPHPQ10qFoRtxwRvmiYr6gO1CsI9a)jlDPZFE(aQaIKBGJCKEfRaIsv6Ow7kwrKgPD9WwWYFfHpsh78G6YZMpcygtP)mNxwEo4OaUfe5D6vScikvzLwXwDfRinmvTM2)a)jlGiRe4ihPxXkGOuLoQ1UIvePrAxpSfS8xzZhbmJP0FMZllVrbCn4ye5D6vScikvzLwXwDfRinmvTM2)a)jlGasJmJCsFAacWNpMCA1g4aciG0isXM9KoyBGdin0XwazRrbduusB4242THbhJcQuHBL0vvaUqmah40WyALbSPrdkHQVeuGeNtceqenNpju4O4WdnxOirZ79EV379EV379EV3dXB2mYiHmsEKqQ)K1jI(MnxS2CXFHMl2ivZjbNq1tGm(0EsacZtA58Gc2KpZmcH(3jba5NpZPEsd1Uic0J9pzrEpmCKUkMrctJmdOhOPmWFYcAPLy010vjsuAkAejw1upXIPlunbtIge5iDxRpKlmYHBJ0WejtKd3UD7Us6ImtMNNsMj61yaM8p9hqf0ciGasa