Latest Update 10/14/2020
In brightest day, in blackest night,
No evil shall escape my sight.
Let those who worship evil's might,
Beware my power…
Green Latern yes yes but very fitting here don't ya agree!
GRATUITOUS TWITCH PLUG
GRATUITOUS YOUTUBE PLUG link HERE
Revamp of the 8.3 Macro Edition
So fire this @ 100 MS
A FEW NOTEWORTHY ITEMS (will be changing once Shadowlands fully implemented)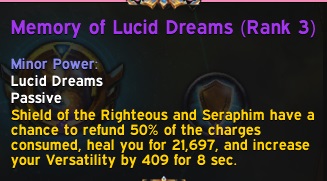 MY TALENTS (Most can be changed with no impact to macro) …
Here are the [MODS] for the macro.
/cast [mod:ctrl] Consecration
/cast [mod:shift] Avenging Wrath
/cast [mod:alt] Blinding Light
COPY AND PASTE BEGIN HERE - THIS IS THE MAIN MACRO
The name of this macro is TANK_MACRO - this is the macro you drag onto your bar and spam …
dqK2daWjsrAuqK6uqKmle0Uuk(fLAyQWXiQLPIEMcMgPsxJkTne6BssJtHQZPqzDusdKuOoicSqsvEiPIjskXfjf1gjLYhjfYijL0jvcwjeEPsOzQe5Mkj7Kq)KuGHsjSusv9uvnvQyRqeFLueVfrUlIAVG)skObl6WqTyf5XqAYe5YcBgI6ZkQrlPonv9AkrZwLUnb7gPFtXWvkDCsPA5s8CsMUuxxPA7kr9DLuJxsCEfY(rnidoGOm8oeiUOgUIaD0xdaXtWbEh8nOTc(k2vSRyxXUIDf7kWVcJwmijkkVHQahqugCarz4TrXQwfAFpOObNUdepoiKt3bIhheYP7aXJdc50DG4XbHCoUlXQdG4j82OyvZ5PUNvDbXb4TrXQMZb5XgCbrDH3gfRAopR6wT6yGOl82OyvZP7G7yUWVKXSDjVGVHhElmQEfgTyahOHxRbwcMGxmqTeMGxV42We867PZYWe8lgJSOekf4aIYWB34YC0bnegXjjQPgxeitskWsKbXt4TrXQMtsOgHjCtiNcgjRQApYnzohKhFCDbXb4TrXQMtscgjR4BtMtzz3QUhGOUWBJIvnNKemswr7YLmNNeDRoan8lgJ0pUbwfGd0W)DSvB7u02BOW)H23dA7Xx4DkEQLrldtWRVNoFctWBrjwHrlgWbA4DkEQLrFctqdn8A0RzKefL3qbXtIhNWVct3X3fODuwoOT3qb9GNG9U2uGxNlwvdVwJ7w4DQdor2CVM1E6mNKemskYCIlbN7QqYkJGrqsWizvv7rUjZjblh0zpDMtnPG7AgbjbJKv0UCjZPogQkql42BOmcscgjR4BtMt9UEQKNoZ5s(56MrWi0MV4PZCQXCkFCWPGIrWiSy)EvCU231CIyxAwiOnNMcNeSCqNJIMQ48R9XvItor6rM9cNM1uovX2OG7GtlJrCU2SFL4Ck4Ck6okifNyQeNQgxAo76GtbmAXW566GYPGzsXjUeCU231EkNcXncoly6CWiyeRgXPd(g0wX5cCURcjo9uo76GZouTNoBLZZnYBg2iVrEJ8Mb41sGmE)2GOm8ibx84PBOahOH)3gOlOfqKir41mfztbn0XiSf34j)13Ja9GgAaa
** Shadowlands / Covenant Abilities will be added at a later time**
Seeing it in action
Operation Mechagon: Junkyard - Easy Two-Chest
The Goodies
The thing about Protection Paladins' in higher keys is their damage mitigation. When their SOTR (Shield of The Righteous) is down they effectively are glass cannons. With the BFA Essence system that introduced Lucid Memory Dreams it allowed higher uptime with SOTR.
With the introduction of Holy Power and the Essence removal this will have to more fully tested to see what the maxiumum uptime on SOTR will be.
As of this writting now this macro is able to implement very high uptime % of SOTR which can be seen via the following screenshots and varied pulls in a Mythic+ dungeon.
With SOTR varied between 80% - 90% I am extremely happy and am looking forward to continue using Paladin as my main in Shadowlands.
My RaiderIO
One thing to keep in mind - your RaiderIO score is only as good as the people you play with … this or any other macro will not turn you into a RAIDER . IO monster