Defensive Build using the Fiery Soul legendary. Talents 1323311, you can also switch from Abyssal Strike to Agonizing Flames freely
duepkaakuQ0PqHywQKSlvs5xsudJa1XeflJq1ZqbnnjuDnjTncIVHsHXjL1Hsf3JkKbIcLdsaTqrPEOeYejqUibyJuj(ibPrIsjNKkPvIc8svsLzsO0nPc2jk5NOuQHIcPLIsrpvftLk6QQKQ2kkv9vuO6SsO4TsK7QsSxu9xQqnyHdR0If5XuMmWLHAZiFMqgTk1PLQxtqnBqDBu0UH8BQA4sWXLqPLRQNdY0j66IQTlk57ekopvQ5Ry)KMNH7KZkd)WEbWsOowOSnlhluxzVaCSRoDSt22XfJa5SeN7KFylmCb4osy(HFCUWyKeIFYWqXzidZKHFeaI8VHlYZSWk3uhUlDZZMFCyT3ZE8d19iiUtoRmCNCwz4NXica2LOY2cjNxJXiQ1sjaymIQvZQ1siVDViegUJeDzEngJOwlLaax643Tgz)lcm)8CwIZpJreaSlrLTfsoVgJruRLsaWyevRMvRLqE7ErimChj6Y8AmgrTwkbaNoIYH1i7FrG5NNZIH8Zyeba7suzBHKZRXye1APeamgr1Qz1AjK3Uxecd3rIUmVgJruRLsaWXNdRrrW4nl88ZZzvC(zmIaGDjQSTqY51ymIATucagJOA1SATeYB3lcHH7irxMxJXiQ1sjaWvMm9WRS7rAiW8FNFEoRk)mgraWUev2wi58AmgrTwkbaJruTAwTwc5T7fHWWDKOlZRXye1APea4YVMm)XZppNLq4NXica2LOY2cjNxJXiQ1sjaymIQvZQ1siVDViegUJeDzEngJOwlLaGJphwJIGXBw45NNZIn4NXica2LOY2cjNxJXiQ1sjaymIQvZQ1siVDViegUJeDLgMNzALxXyfGx34)kZZmTYlZRXye1APeaC6I6WA4jnCbEzINFEoRg)mgraWUev2wi58AmgrTwkbaJruTAwTwc5T7fHWWDKOlZRXye1APea4cgwdbHZAHKRS7rZpp)487iHXsX5zZpI17li2oZUKFexW8Z1HDZMyy8cH5o5SYWpJreaSlrLTfsoVgJruRLsaWyevRMvRLqE7ErimChj6Y8AmgrTwkbaU8RjZF88ZZL8Z1HDZOpgcI7KZkd)mgraWUengraWUevwUViSeJWmDp)8Auc5V3N5Lsa8cUWzjo)mgraWUev2wijeUyZXidpVgJruTcaMngr1Qz1QgpgclDKCFryPgZpVgJruRLsaWye1APea48(9IrdHcV9SWZp)vAmgrTwkbaJrercricriOCy45NNZIH8Zyeba7suzBHKZRXye1APeamgr1Qz1AjMEa7aD3j5vAWyw(d5)lZRXye1APeaC6I6WA4jnk6E7iO5NNZQ48Zyeba7suzBHKZRXye1APeamgr1Qz1AjMEa7SWYR0GXkaVUX)vMNzALxMxJXiQ1sjaWveHF0cRXr(DHXZppNvLFgJiayxIkBlKCEngJOwlLaGXiQwnRwlX0dyht(WxMxJXiQ1sjaOipckNjwdhwrDB(55s(X53rcJLz4zZphjUGl5it29i(5Gl2Cms2xy(HrFSdR9EUtoRm8Zyeba7suzBHKZRXye1APeamgr1Qz1AjK3Uxecd3rIUmVgJruRLsaGGWm9inof6cJHMFEolX5NXica2LOY2cjNxJXiQ1sjaymIQvZQ1siVDViegUJeDzEngJOwlLaax643Tgz)lcm)8CwmKFgJiayxIkBlKCEngJOwlLaGXiQwnRwlH829Iqy4os0L51ymIATucaoDeLdRr2)IaZppxYpmQhs6WAVN7Kl5sUKFe6raSh)qDpIZsCHWWg)4WIYxyxrs8Nfgj7EepB(HXXRWcm)xiUtUKFylmCb(jJGfmtiLbkdoSLRU4udhPXPlQdRHN0OO7TJG0GDDE3H0OdPH0Rroewd3(8xdbY2cqdM(KgIEFEbnYlWikdkYjBkwnCKgf5rq5mXA4WkQBAWUccNYjsdpsdbGWmDFnnkAHKAiV7qAiMBmsd5nwdNyyyhWm(ngPHRMhPrbFbinYlWikdeOyDQHJ0WveHF0cRXr(DHXAWUoSO8fwdBHKA4jnCfr4hTWACKFxymJOmWbSC1WrA4WIYxynSfsQmqzGdR9EnYHWqAiVXA0ri8RbS3xqd4oZUudPxJCiSgccZ0J04uOlmgsdpcRbKCnH1yLASAi7mXAiQNvhjsd3(CnYOroewdY)Ai7mXqAiMBmsdegdWGRPbJVqAWCbyni)RroewdX0L3AiVXAWMytyymeKgc9xOcA4jnCPJF3AC85WAaJfHrG9DFLglKgIbddRXcPH8gRb7Xi5T7xdZNfgTi510Oy85AylsdMEqNCRH8UdPH0RHy8VWAq(xJf5wdZNfgTiPgj3AGbDzhjsJthr5WAK9ViGgK)1WTp)1WU9DdRHN0W8zHrlsQXM6WDP7RXpcctBoSKZkd)i2fsE9faRed4hXfS4zeCgbZgINjtXloBWpSF)(MGXqCNCj)CkGnxfeNvTLHFeyU82)8Jl53F3NdXLCjNd

Usage Information
100ms/70ms/50ms
SHIFT = Sigil of Chains (This is to use your AOE mob group up)
CTRL = Consume Magic (Debuff on Enemy. Cast this when the TellMeWhen Icon pops up)
ALT = Infernal Strike (Manual cast of Infernal Strike)
Meta = Manual cast
Macro uses the inner loop limit to use Demon Spikes one stack at a time giving you 1 use for times when needed. Was made for use with the Reckless Grasp of Fiery Soul legendary, as well as the Venthyr covenant. You can modify this to work for any covenant by editing Sinful Brand for your choice of covenant ability.
This macro contains 1 macro version. This Sequence was exported from GSE 2.6.38.
Macro Version 1
Step Function: Sequential

Pre Macro:

KeyPress: Contains various utility functions.

Main Sequence:

KeyRelease: Contains various utility functions.
Test run in Twisting Corridors layer 3 floor 1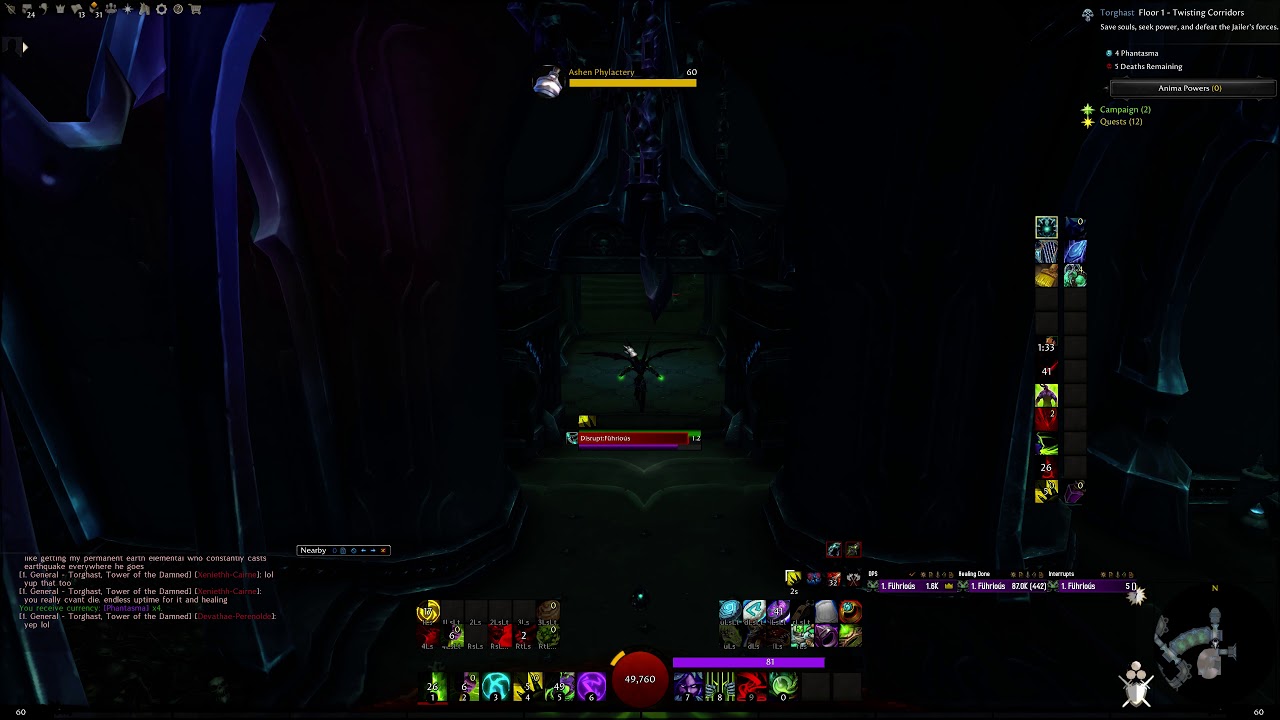 Using ' Lutechi 9.x+ Vengeance Macro All-in-One ' as a baseline as its a popular all in one genral purpose macro. this is the results from the tank test dummy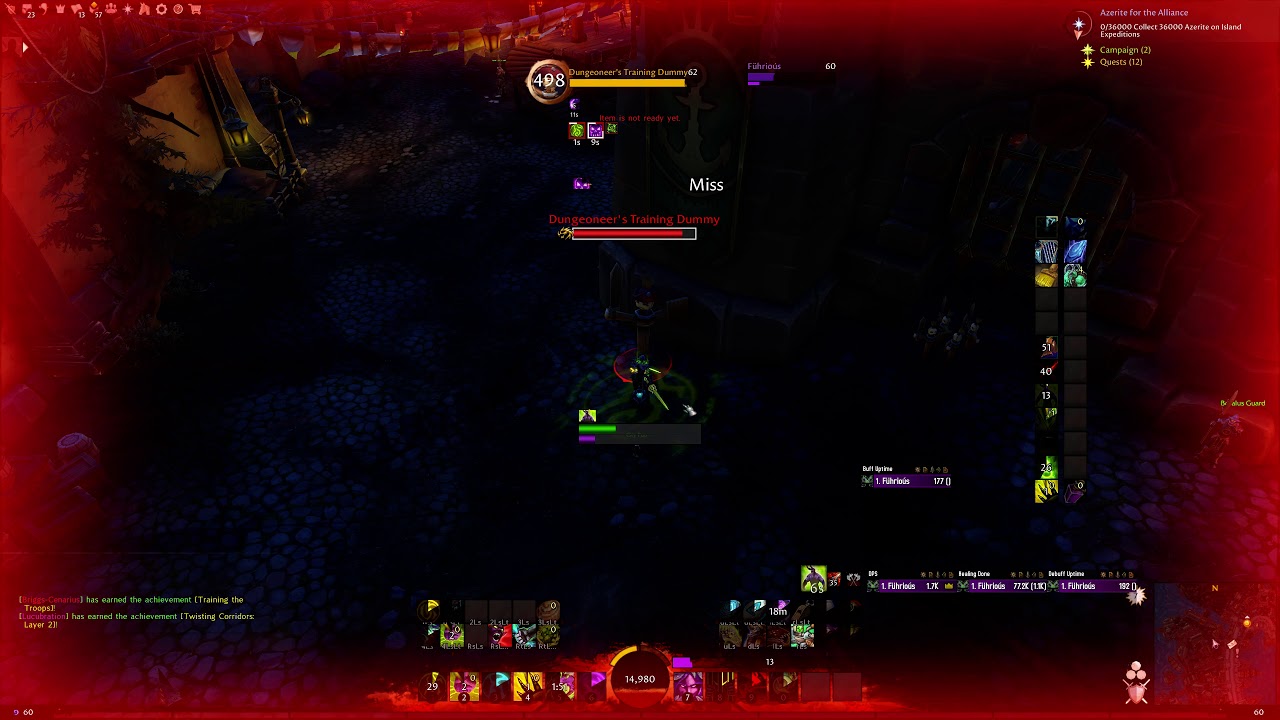 Using Veng Gon Give It To Ya @ 100ms on the tank test dummy

Using Veng Gon Give It To Ya @ 70ms on the tank test dummy

Using Veng Gon Give It To Ya @ 50ms on the tank test dummy