In brightest day, in blackest night,
No evil shall escape my sight.
Let those who worship evil's might,
Beware my power…
Green Latern yes yes but very fitting here don't ya agree!
GRATUITOUS TWITCH PLUG
GRATUITOUS YOUTUBE PLUG link HERE
The First (and only) Click Pause macro within another macro that I can get to work
So basically what this macro does is call another macro RIGHTEOUS and does the ability Shield of the Righteous every 5 seconds. Why 5 seconds? Well the ability itself gives ya 4.5 seconds of super armor with 3 charges and each charge comes with a recharge ttime of roughly ~14 seconds (depending on your HASTE - which is why HASTE is the #1 stat for Protection Paladins). 5 seconds should give you ~ >=75% uptime on Shield of the Righteous for fights.
If you are using this for +15 keys it is RECOMMENDED you run the essence MEMORY OF LUCID DREAMS as your MAJOR (seperate key) so you can pop it on big big pulls for ~>=90% Shield of the Righteous uptime. My guild does NOT run many +15 keys so I normally just use VISIONS OF PERFECTION for my MAJOR.
My season 4 Raider.IO stats can be found HERE

My season 4 Warcraft Logs can be found HERE

Of course my scores could be higher but I also HEAL so I tend to split my time healing and tanking so meh.
So fire this @ 100 MS. This of course is dependent on your end. Start with 100 then adjust accordingly.
A FEW NOTEWORTHY ITEMS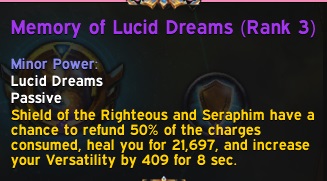 MY TALENTS
Here are the [MODS] for the macro. No I don't know why they don't work for you. That's something that is going on with your end. Here is where you can also tailor this to your needs: You can easily sub Cleanse Toxins with your healing spell Light of the Protector to be able to manually fire that off if you feel the macro isn't doing it fast enough for you.
/cast [mod:ctrl] Consecration
/cast [mod:shift] Avenging Wrath
/cast [mod:alt] Blinding Light
COPY AND PASTE BEGIN HERE - THIS IS THE MAIN MACRO
The name of this macro is RIGHTEOUS_PROTECTOR - this is the macro you drag onto your bar and spam …
duedfaWjPeAuuLItrLOMLkLDjLGFrHHrv4yuXYePNjjtdr6AiSnvIVPOghvkNdvSovQUhqvdKkroiIWcre9qGktukrxukvBukjFKkHrsLQtsvYkLGxkLuZeO4MkI2jf9tQIgkIYsLqpfPPkfxfO0wPkL(kvPQ3kr3vsTxs)LQuzWehwvlgv9yuMSiUSsBwkLpJknAQQtlvVMkPzd42Qy3I63GgoIQJRsQLRWZP00fUoq2UkjFxr48ks7hA1rButhLw0lx4Et7EcwQ3rwrpBAhCnEwunt1gL28aBoSk1Xi1OYi1i1i1WrPTCB7bbeQPJsDFbixPn(DlkKdcaWIYNHH)oq58SbeLEoGO0duypaWMGsrVCH7nT7jyPOequsGOe(lku)(cKGcSnuc)fLIDU(Xcbzr557a9ykk7v7ykkKIIDzWCITfqPXVBr58SbeLe4ArHbZX3ZOCGj27ybSq5bMC363BlQrHexTzU9mxu8(Xh(yHYdm5olga1Oaoy2USXhDygluEGj3FGOgfsc0Zj9mxuatNRFGfWcTQp6zUO4sOq4bkhlwalqgiaauMOh(Ouauc3ZMduGduiXvBM7oArlku)(cKGckEZuiObkWjYOyxY3XhlkUUtDzu(Cck24hbkH)IY5zdikt4VzuoqElk)yrzIE43ZOCwGDrz8zURsPKVmVAPAE5IsjbOWhouk4aERVsN8zdO3UdBhMTAJA6OnQPJsnyVnqPKbp8FuJsLdNkc1mvPgS3gOKotmpZrnRuQb7THDVg0MzlkLm4H)JAugRDdWZGh(pqbL0leZv3qjdcaqnjvPgS3gOuYGh(pQrPYHtfHAsOud2BdukzWd)h1O44gPEWjvnVOud2BdukzWd)h1OKotmpZrnNvQb7THDVg0MzlkLm4H)JAugRDdWZGh(pqbL0leZv3qjdcaqnDtPgS3g29AqBMTOuYGh(pQrzS2napdE4)afuiQi4qCdL0leZv3qXXns9Gt6nuiQi4qCdL0leZvQjhLAWEBGsjdE4)OgL0zI5zoQPJhk1G92aLsg8W)rnkvoCQiuthhLAWEBGsjdE4)OgfIkcoekfmqi5GPF6HsvkzqBm5ZgqTrdL6((jkVsnxMRkVsj5cekVsl2ZCDuELsJL8wbkZIomRuYgD4OhtvAR3PfxG9TR2OHsBg9SRBKQ8kTz0ZUUHJYR0I9m3uLxPKn2jF2aQnAO0wVtjBSwR2OMok1i(b3n28EMIszg6)JtDzY(j1QzQsnyaDMROu0lx4Et7EcwQAwPud2BdukzWd)h3q5atUB97Tf1Ou54MBKQMKQud2BdukpWK7pquJIJdXmHhQjHsnyVnqP8atUZIbqnkPxiMR0qdnu6KFg0d4vo2XvBo6WSssn0qva
COPY AND PASTE BEGIN HERE - THIS IS THE MINI MACRO FOR SHIELD OF THE RIGHTEOUS
This is the mini macro for the ability Shield of the Righteous - you need both but this doesn't get put on your bar … just import it and leave it alone
b4vmErLxofJxtjvshHevf9uvt5LtY4fvEnfvHXwzUr3CEnvmYiJmXeZmEnfrLzwy1XgDE5umEnvq1rhAVjNxt1uyKn3DHD2zLjhqbD2zYfwBHjNxtnfCLnwse5Lt2yJxt1uyJj3BwvMCZL2BUnNxu5LtX4fvE5umEn1lJf2C05hy1mJnWaJxojJxt9YySL2yR5hyWfwDZvMFGvJxtrLCP52ALrxmEjMxtHuzHrMxI51uov2yR5LyEnLqLXgDEjMxtjvAUDwmEjMxtb1BZrxtHnMCV5fvErNxtjvAUDMmEjMxtrLCP52ALrNmEjMxtnfDLbNr152y0L2BU51utvwC1vMB0LwyS51ulvwEqjxzZnNxu5fDEnfuYvwtHnMCV5fvErNxtTuz5jvzSvwyZvMxu5fDErNx051unfMB1fgBj5gDLjNDL5gDP9MBEjKx05fDE5f
No SIMS (because it's a tank) - the only numbers I want to look at is the UPTIME on the SHIELD OF THE RIGHTEOUS ability:
Fight stat for a 14 Mechagon boss fight:
I am not a math wizard so I have NO CLUE on what the theoretical max uptime (with varying haste bonues) for Shield of the Righetous should be … but without using Memory of Lucid Dreams as a MAJOR I shoot for +>70% uptime for boss fights.
I don't run TWILIGHT DEVASTATION or INFINITE STARS or any of them corruptions. I use HASTE procs and VERSATILITY proc items. Bruh … time to up that game and run with the big dogs …
If you have any problems getting the macro to work check out this video first:
Disclaimer: This macro was based off of the great Flashgreer's macro over @ 8.2 Protection Paladin. ~Easy Mode~ Become the God of M+, Work smarter, not harder